Hurricane damage can have significant impacts on housing availability after a storm. Here volunteers work to refurbish homes in southeast Houston after Hurricane Ike. ©Neighborhood Centers, Inc., 2009.

Immigrants, especially undocumented immigrants, often live in shadow communities that are difficult to study, and by extension, difficult to effectively assist in disasters. New work by the Natural Hazards Center Graduate Research Assistant and Bill Anderson Fund Fellow Melissa Villarreal will attempt to address one area of this gap by examining how immigrant populations navigate long-term housing recovery post-disaster.
Villarreal will travel to Houston, Texas, in the summer of 2019 to explore the unique challenges that members of those communities, both documented and undocumented, are facing during recovery from Hurricane Harvey—and the ways in which they move forward despite of them.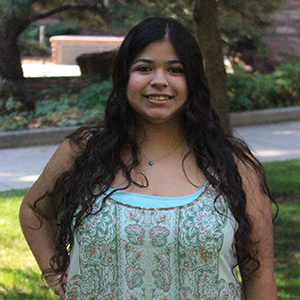 Natural Hazards Graduate Research Assistant Melissa Villarreal will study housing recovery among immigrant communities in Houston, Texas.
"As a Houston-native born to two immigrant parents, I witnessed firsthand the impact that members of the population experienced as a result of Harvey," said Villarreal. "My parents had to move out of their home and had to learn how to navigate a system that often disregarded their needs, such as those arising from issues such as socioeconomic status or language barriers. I want my work to shed light on the matter. More importantly, I want my work to assist in bringing forth a solution."
Villarreal, a PhD student in the Department of Sociology here at the University of Colorado Boulder, is able to begin collecting her initial data thanks to an award from the Center to Advance Research and Teaching in the Social Sciences (CARTSS). The $1,000 Graduate Student Award provides small start-up funds for interdisciplinary research that addresses broad issues in the social sciences.
Villarreal's project, Documenting the Undocumented Story, will use semi-structured interviewing to illuminate the barriers and resilience of the community after Harvey. She will interview both Houston organizations serving the community with disaster recovery and members of the community themselves to paint an overall picture of the circumstances. She plans eventually expand on the data collected to advance her dissertation.
"I'm extremely grateful to have received funding from CARTSS that will grant me the opportunity to get in the field and begin collecting data," says Villarreal. "This work, which I'm hopeful will lead to the ability to better serve immigrant communities after disaster events, is imperative and long overdue."