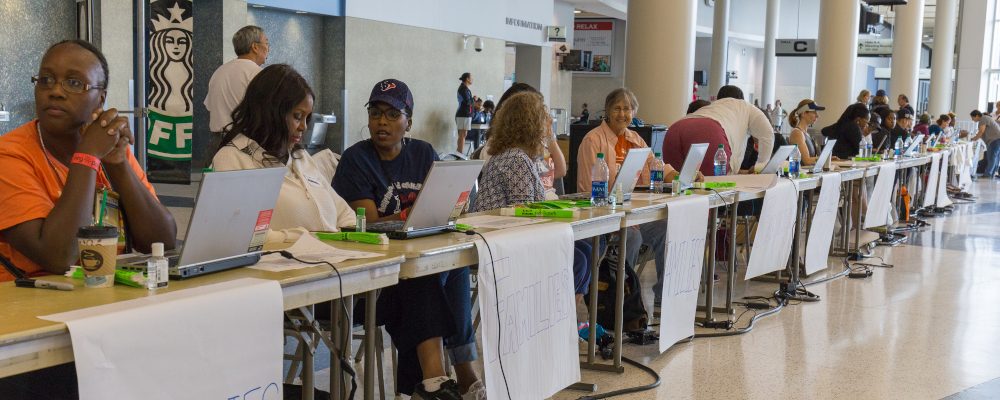 Volunteers wait for evacuees at a large-scale shelter in Texas. Image Credit: Shutterstock Images, 2017.
By Richard V. King and Carol S. North
Implications for Public Health
Coordination and teamwork are key to planning for and providing essential mental health services—such as counseling, acute treatment, and medication—in large-scale emergency shelters.
As a major population center with major hurricane risks, the Dallas, Texas metropolitan area is no stranger to establishing large disaster evacuee shelters with robust mental health services. During Hurricanes Katrina and Rita in 2005, and Gustav and Ike in 2008, thousands of Gulf Coast residents were evacuated to Dallas, where the city had set up large shelters in the Dallas Convention Center, as well as smaller shelters in the area.
Providing mental health support in shelters of this size—which can accommodate thousands of displaced people—is both necessary and complex. The experiences of Dallas during these mass evacuation events can help guide other communities that need to deliver mental health services on such a scale. Our research team has documented the lessons learned from these repeated experiences to help inform future mass evacuation responses.
The Dallas Design
Part of the success of mental health care offerings in the Dallas shelters was that each followed a consistent design that situated a mental health clinic, staffed by volunteer mental health professionals, next to the main medical clinic. A first-stop entry desk for the clinics assessed and triaged patients, referring them for further psychiatric care or to crisis counseling to address their psychosocial needs. For the first few days following the hurricanes, the clinics were staffed around the clock by psychiatric providers and later reduced to regular daytime hours with on-call availability after hours.
Psychiatric providers in the clinics conducted focused psychiatric assessments; dispensed or prescribed medication; and ensured patients were referred to the level of treatment needed. Adjacent mental health counseling areas were staffed by counselors, social workers, and psychologists who met with shelter guests and regularly circulated through the shelter checking for unmet needs.
Consultation Needs
Initially, mental healthcare workers in the Dallas shelters had to adjust their approaches. For instance, during Hurricane Katrina, posttraumatic stress disorder (PTSD) was originally expected to be one of the main presenting psychiatric problems at the shelter. However, since PTSD cannot be diagnosed until a month after exposure to the instigating stressor, this was not the case. Furthermore, a majority of evacuees were not directly exposed to physical disaster trauma.
Instead, workers came to realize that clinical consultations would be primarily for pre-existing chronic psychiatric illnesses, as well as alcohol and drug addiction—all of which were over-represented in the disadvantaged populations of evacuees transported from other overpopulated shelters. Individuals who presented to the clinics for other reasons commonly needed to refill medications that had been left behind while evacuating or had run out. Additionally, the stress of evacuation, displacement, and separation from loved ones often generated anxiety, sadness, anger, and disrupted sleep in many evacuees.
Psychological First Aid
These normal responses to the extraordinary stresses of disaster were largely addressed through provision of psychological first aid and dispensation of nighttime sleep aids. Psychological first aid is an essential skill for disaster workers that consists of targeted listening and information-gathering, followed by providing education, immediate comfort, compassion, and social and emotional support. De-escalation of acute mental states and triage to appropriate care might also be employed. Caring for oneself and colleagues is also an essential part of psychological first aid, since it can be difficult to help others if you're in crisis. This reality, however, can be easily forgotten in the adrenaline rush of acute emergency response and cause personal capacity to be overextended.
Strategies for Providing Care
After documenting many of these lessons, our team developed a plan for large evacuee shelter mental health care that can be adapted by shelter planners and responders who need to plan for and deliver resilient mental health care in their large shelter. A few main strategies to achieve this are:
Surveilling mental health needs in the shelter population

Stabilizing pre-existing and emerging psychiatric conditions

Managing acute mental health problems using appropriate supportive counseling

Replacing or providing small amounts of medication, as needed

Triaging patients to higher levels of care or long-term treatment, as appropriate
In addition to the comprehensive plan, a supplemental publication with more detailed information and an extensive collection of checklists, forms, floor plans, and templates that can be used in disaster health care operations is also available. These materials were informed by the Federal Emergency Management Agency National Incident Management System and can be modified to meet specific shelter needs.
Shelters housing large numbers of individuals need special consideration in addressing the mental health needs of evacuees. Counseling, medication provision, and active surveillance are essential services to ensure these needs are satisfied. Successful delivery of mental health services in mass evacuations and sheltering depends on coordination and teamwork in the shelter setting. Placing these values at the center of pre-disaster planning can help ensure that no mental health need is unmet.
Suggested Tools
---
Shelter Rapid Needs Recognition Cards
American Red Cross
Cards with questions to assist shelter workers in making assessments of clients' immediate needs at reception and as needed throughout the shelter.
CONVERGE Disaster Mental Health Training Module
CONVERGE Facility, University of Colorado Boulder
An online training module that focuses on mental health outcomes associated with disasters, with a particular emphasis on risk factors over time that make certain populations vulnerable to poor disaster mental health outcomes.
Psychological First Aid: Guide for Field Workers
World Health Organization
Psychological First Aid is an evidence-informed modular approach to help children, adolescents, adults, and families in the immediate aftermath of disaster and terrorism. It is designed to reduce the initial distress caused by traumatic events and to foster short- and long-term adaptive functioning and coping.
Planning for Mental Health Care in Disaster Shelters
Carol North, Richard King, Raymond Fowler, Rita Kucmierz, Jess Wade, Dave Hogan, and John Carlo
A formalized set of policies and guidelines to use in planning for a mass shelter response.
---
For a list of all the tools included in this special collection, visit the Mass Sheltering Tool Index. A list of further readings are also available.