Holistic Disaster Recovery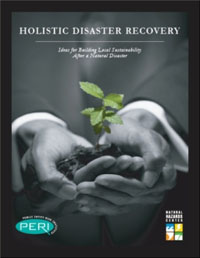 Ideas for Building Local Sustainability After a Natural Disaster (2006)
Produced by the
Natural Hazards Center
with funding from the
Public Entity Risk Institute
(PERI).
The 2006 version of Holistic Disaster Recovery(140 pp., $35.00) is currently only available from PERI; (703) 352-1846;
This handbook was originally produced in 2001 as a guide for local practitioners on how to build sustainability into a community during the recovery period after a disaster. In the fall of 2005, after witnessing the catastrophic devastation of the Gulf Coast of the United States from Hurricanes Katrina and Rita, and as the nation was embarking on a recovery period of unprecedented scale in its history, the Natural Hazards Center took a second look at Holistic Disaster Recovery and how it could be improved to help communities take a comprehensive and long-term approach to recovery.
The new version contains updated resources, including a more specific focus on the Hurricane Katrina recovery, and new examples of recovery success stories. The document's text was streamlined to make it easier to use and more practical for those managing recovery decisions and activities on the ground. Holistic Disaster Recovery encourages communities to incorporate as many of the principles of sustainability into the recovery process as possible, including environmental quality, economic vitality, quality of life, social equity, citizen participation and disaster resiliency. It is intended for local government officials and staff, state planners, activists, emergency management professionals, disaster recovery experts, mitigation specialists, and others who help communities recover from disaster.