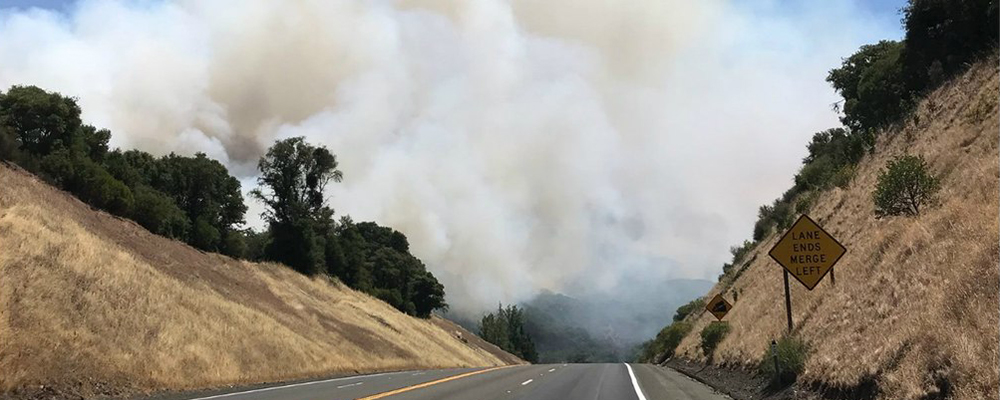 Smoke from the Mendocino Complex Fires looms over Highway 20 in late July. The fires have grown to be the largest in California history. ©Mendocino County Sheriff's Office, 2018.
As Santa Clara County firefighters worked to deploy resources to the burgeoning Mendocino Complex Fire in late July, they were thwarted when data speeds in their mobile command vehicle slowed to a virtual standstill.
The outage—which was a result of what boils down to a billing dispute between the fire department and service provider Verizon Wireless—is an unsettling reminder of the power telecommunications companies can wield in emergency response scenarios.
In the Santa Clara case, the county had purchased an unlimited data plan from Verizon that stipulated that, after a certain amount of data was used, data delivery would be greatly decreased—to about 1/200 of normal speed, according to a legal filing by county fire chief Anthony Bowden. The speed restrictions, known as throttling, weren't lifted until the agency upgraded to a more expensive plan with no constraints.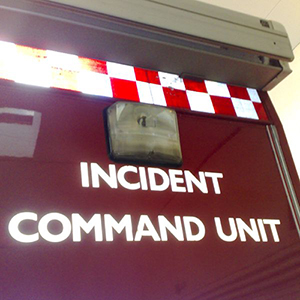 Mobile incident command units rely on wireless data to run communications systems and coordinate resources and personnel. ©William McInnes, 2007.

"This throttling has had a significant impact on our ability to provide emergency services," Bowden stated in the filing, which is an addendum to a petition to review the recent repeal of net neutrality regulations. "Verizon imposed these limitations despite being informed that throttling was actively impeding County Fire's ability to provide crisis-response and essential emergency services."
It was reasonable for the fire department to assume their data wouldn't be restricted during an disaster situation since its fairly common practice for wireless providers to lift speed restrictions for emergency agencies and prioritize their network access during active response.
Verizon, specifically, has done so for emergencies such as the Boston Marathon bombing, and is currently doing so for responders bracing for Hurricane Lane in Hawaii. In this case, however, Verizon said it made "customer support mistake" and that they would review the situation to avoid a reoccurrence.
While that may be the case, the kerfuffle points to the broader implications of public safety agency reliance on private telecommunication companies—especially since those companies are at the heart of the development of the national interoperable communications system known as FirstNet.
FirstNet, which was mandated by Congress in 2012, languished until March 2017, when AT&T was awarded a $6.5 billion begin building the secure system dedicated public safety.
The company plans to invest another $40 billion of its own funds over the next 25 years. In return, AT&T will be able to sell bandwidth during downtimes on the dedicated spectrum space and will collect revenue from service plans—similar to a cell phone plan—that will be purchased by agencies. Agencies can choose not to purchase a plan and opt out of the network instead, but because it's meant to be interoperable, the process is onerous.
"If you are going to opt out, you are going to have to jump through a lot of hoops to make sure you are technically interoperable, financially viable—there is a whole litany of things and it's a long process to opt out," FirstNet spokesperson Ryan Oremland told Emergency Management last year. "In designing this, Congress wanted the network to be interoperable, so there are a lot of checkpoints if you want to opt out."
That's where Verizon has entered the fray, offering a similar product to their public safety customers for free and working to give agencies and out-of-the-box solution to opt-out hurdles.
As early as 2010, public safety officials expressed concern about having private entities control the network. The now defunct Public Safety Alliance—whose membership was made up of organizations such as the International Association of Fire Chiefs, the National Sheriffs' Association, the Association of Public-Safety Communications Officials—lobbied congress to keep the spectrum in public hands because of fears on scenarios such as the one faced by Santa Clara firefighters.
"It's got to be a system that is run by public safety," former FEMA director and Alliance founder R. David Paulison told Politico in June of 2010. "We're selling our souls and the future of our first responders."
Since private companies are playing a role now, though, it seems as if working together would in the best interest of both emergency agencies and network providers. Responders need fast, reliable data to do their jobs, and providers can't afford the public relations hit that a gaffe like Verizon's could cost.
Time will tell if private companies shore up the capacity of first responders or impede it, but some agencies aren't optimistic. Bowden's statement makes it clear he, at least, fears the worst:
"In light of our experience, County Fire believes it is likely that Verizon will continue to use the exigent nature of public safety emergencies and catastrophic events to coerce public agencies into higher cost plans ultimately paying significantly more for mission critical service—even if that means risking harm to public safety during negotiations."