Our Vision and Mission
Vision: We envision a just and equitable world where knowledge is applied to ensure that humans live in harmony with nature.
Mission: We are the one academic center in the nation dedicated to linking researchers, practitioners, and policy makers to reduce the harm from disasters. We share and advance social science and interdisciplinary knowledge, with a special emphasis on the most vulnerable populations and places. Every day, we work to empower a culture where all people are educated and inspired to take positive action to mitigate hazards losses and to build stronger communities.
A Brief History: The Natural Hazards Research and Applications Information Center was founded more than 40 years ago as a result of the landmark Assessment of Natural Hazards Research in the United States. Among the recommendations included in that publication, which would come to be known as the First Assessment, was that a national information clearinghouse be created to compile, translate, and share information, as well as connect the academic hazards research, emergency management, and policy communities. Shortly after the First Assessment was published, Gilbert White, who was the primary author of the work, led the charge to do just that. In 1976, he and his wife Anne—along with a small group of committed staff and students, at the University of Colorado Boulder—began what is today's Natural Hazards Center.
21st Century Purpose: More than four decades have passed, and the Natural Hazards Center is still an institution committed to creating a center of gravity for the hazards and disaster community. We care deeply about facilitating scientific and practice-oriented connections because we recognize that we are all living at risk, we are all interconnected, and we must all play a role in effectively responding to 21st century social and environmental challenges. Everything we do at the Center is informed by a justice and equity approach, and our core values are focused around our commitment to human dignity, collective wellbeing, scientific understanding, sustainable hazards mitigation, and environmental stewardship.
Who We Are: Our team currently includes a director, four professional staff, four postdoctoral research associates, two research associates, four graduate student research assistants, and six undergraduate research assistants. More than twenty tenured or tenure-track faculty members and advanced graduate students in the University of Colorado system have joined the Center as research affiliates.
Funding Support: The Center is funded by the National Science Foundation, Division of Civil, Mechanical, and Manufacturing Innovation (CMMI), Program on Humans, Disasters, and the Built Environment (Award #1635593) with supplemental support from the U.S. Geological Survey, the Centers for Disease Control and Prevention, and the National Integrated Drought Information System of the National Oceanic and Atmospheric Administration. In addition, Center faculty and researchers have contracts and grants from a variety of other federal agencies and nonprofit organizations.
To actualize our vision and mission and to fulfill our organizational purpose, we work closely with a variety of people, decision-makers, and organizations.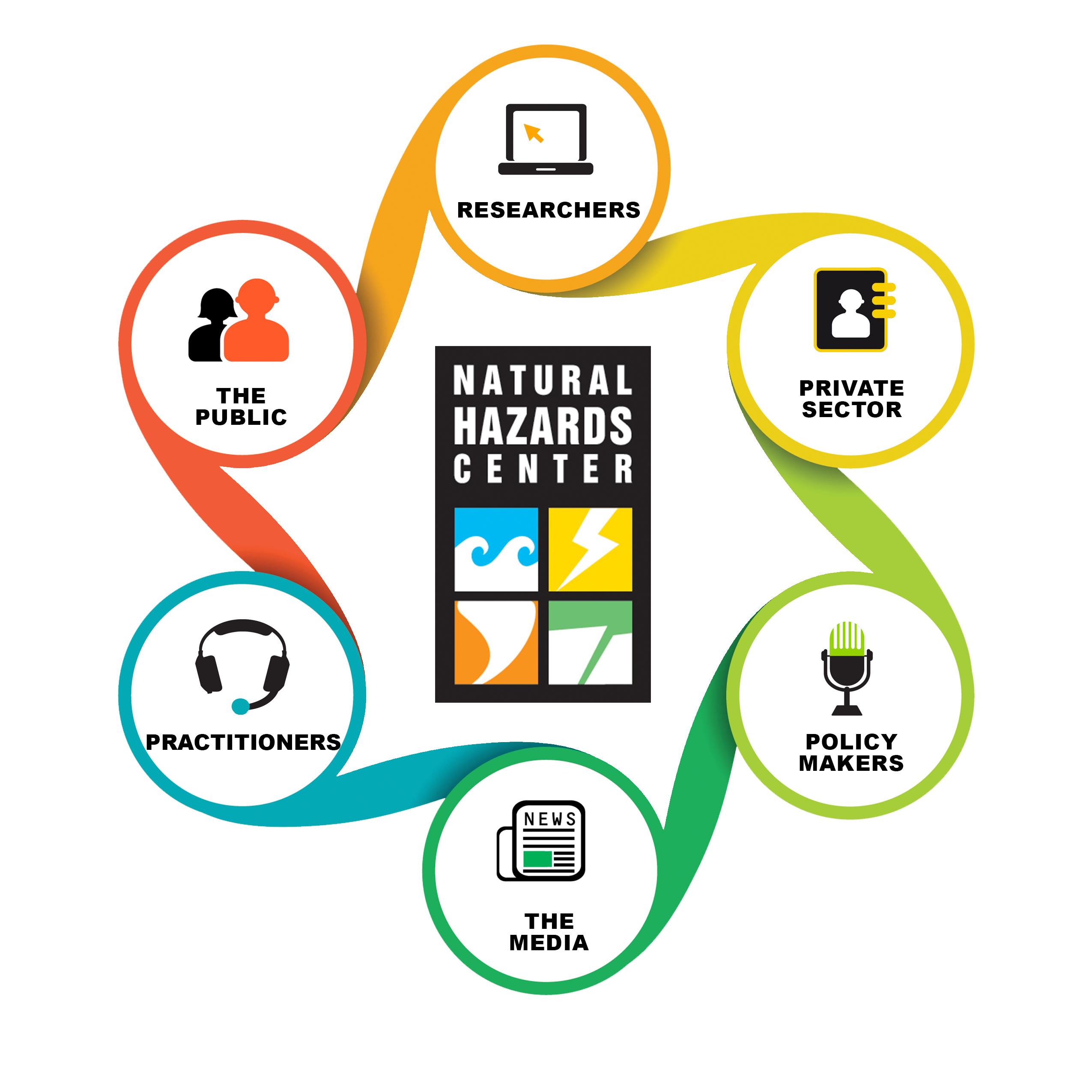 We engage in four interconnected work streams to generate a variety of outputs.
Translating and Sharing Information
Facilitating Connections
Advancing Social Science and Interdisciplinary Knowledge
Training and Mentoring the Next Generation
DR: Disaster Research News You Can Use
Annual Natural Hazards Research and Applications Workshop
NSF Interdisciplinary Science and Engineering Extreme Events (ISEEER) Platform and Network
NSF INCLUDES – Increasing the Number of Racial and Ethnic Minorities in Hazards and Disaster Research
Research Counts
Researcher Meetings in Collaboration with the International Research Committee on Disasters
NSF Social Science Extreme Events (SSEER) Platform and Network
Researcher in Residence Program
New Reads Series
Hazards and Disaster Center Director's Meetings
NSF Interdisciplinary Approaches and Methods for Hazards and Disaster Research
Undergraduate and Graduate Student Teaching and Mentoring
Director's Corner
CDC Vulnerable Populations Project
Natural Hazards Informer
FEMA Safe Schools Initiative
Website – hazards.colorado.edu
FEMA – ASFPM 2017 Survey of State Floodplain Managers
Twitter – https://twitter.com/HazCenter
Facebook – https://www.facebook.com/hazcenter
NSF Quick Response Research Program
Natural Hazards Center Library – HazLib Database
Additional Collaborative Projects on: Community Resilience; Cumulative Disaster Exposure among Children; Evacuation and Sheltering Behavior; Engineering Sustainable Systems