Mary Fran Myers Gender and Disaster Award
The Mary Fran Myers Gender and Disaster Award recognizes disaster professionals who continue Mary Fran Myers' goal of promoting research on gender issues in disasters and emergency management.
As co-director of the Natural Hazards Center, Myers recognized that disaster vulnerability is influenced by social, cultural, and economic structures that marginalize women and girls. The Natural Hazards Center and the Gender and Disaster Network established the award in 2002 to honor women and men whose advocacy, research, or management efforts have had a lasting, positive impact on reducing disaster vulnerability.
Individuals eligible for the award will have added to the body of knowledge on gender and disasters or furthered opportunities for women to succeed in the field. Recognizing that women and men rarely act alone, the award is also now open to gender and disaster-focused organizations which have made similar contributions.
2021 Award Winner: Melinda González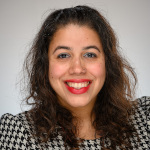 Melinda González
Melinda González is an Afro-Indigenous scholar, activist, and poet of Puerto Rican descent. She is a socio-cultural anthropologist who focuses on environmental anthropology and whose work maps how disaster impacts are differentially distributed across race, class, and gender. González uses decolonial and indigenous research methods to study new media technologies in environmental justice research.
A native of Newark, New Jersey, with an ancestral home in Moca, Puerto Rico, González's dissertation research "Rhyming Through Disaster" examined the lived experiences of the survivors of Hurricane Maria in Puerto Rico and New York and how they used digital space, poetry, and community organizing in long-term disaster recovery. Her next project, tentatively titled, "Urban Water Wars," will address racial disparities in the ongoing water crises in U.S. urban centers, particularly in Newark.
González received a bachelor's degree in anthropology from Barnard College, Columbia University, where her undergraduate research focused on the role of women in the New York Chapter of the Puerto Rican revolutionary civil rights organization, The Young Lords Party. In October 2012, she graduated with a master's degree in anthropology from Rutgers University. Her work there examined poetry and hip hop as tools of resistance against femicide and colonial repression in Mexico and Puerto Rico. She received a PhD in Anthropology from Louisiana State University in May 2021 and will serve as a postdoctoral fellow at Rutgers' Institute for the Study of Global Racial Justice in the fall. González has engaged in collaborative ethnographic writing and research on feminist anthropological approaches to creating research methods for anthropologists with disabilities and single parents in the academy. She believes that decolonizing the academy starts with providing graduate students and contingent faculty with livable wages and access to free medical and mental health care.
González is also a performance and spoken-word poet and a practitioner of the Brazilian martial art capoeira.
---
To see a list of all previous winners, please click here: Award Winners
---
Eligibility and Nomination
Nominations of individuals and disaster-focused organizations that have advanced gender-sensitive policy, practice, or research in the areas of disaster risk reduction will be accepted.
The selection committee is especially interested in nominations from outside the United States. Previously nominated individuals who have not won the Mary Fran Myers award are still eligible.
Award winners are invited to participate in the Workshop and will be acknowledged in the Workshop program. The winner is also invited to serve on the Mary Fran Myers Gender and Disaster Award selection committee.
The nomination period is now closed.
---
Our Thanks
We would like to extend our thanks to the 2021 Mary Fran Myers Gender and Disaster Award Selection Committee: Kevin Blanchard, JC Gaillard, May Maloney, Debra Parkinson, and Cheney Shreve.
---
The Gender and Disaster Network consists of women and men from around the world interested in gender relations in the context of disasters. The network's goals are to document and analyze gendered experiences before, during, and after disasters and to conduct interdisciplinary and collaborative research projects.