Mary Fran Myers Gender and Disaster Award
The Mary Fran Myers Gender and Disaster Award recognizes disaster professionals who continue Mary Fran Myers' goal of promoting research on gender issues in disasters and emergency management.
As co-director of the Natural Hazards Center, Myers recognized that disaster vulnerability is influenced by social, cultural, and economic structures that marginalize women and girls. The Natural Hazards Center and the Gender and Disaster Network established the award in 2002 to honor women and men whose advocacy, research, or management efforts have had a lasting, positive impact on reducing disaster vulnerability.
Individuals eligible for the award will have added to the body of knowledge on gender and disasters or furthered opportunities for women to succeed in the field. Recognizing that women and men rarely act alone, the award is also now open to gender and disaster-focused organizations which have made similar contributions.
---
2018 Winner
May Maloney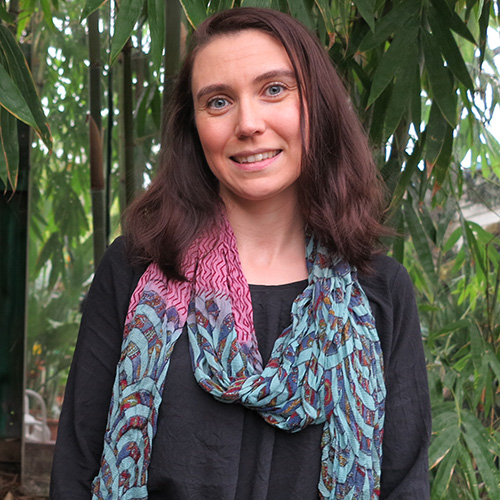 May Maloney has promoted gender-sensitive and socially-inclusive humanitarian operations for a decade. In the past four years, she has been able to establish three Gender and Diversity in Disaster Response Networks through her work with the Asia Pacific office of the International Federation of the Red Cross and Red Crescent Societies (IFRC). The networks—in South Asia, Southeast Asia, and the Pacific—are comprised of local frontline disaster responders in 30 countries. Through mentorship and peer-to-peer learning, network members have developed and implemented new approaches to inclusivity in disaster response. Network members have collectively responded to hundreds of emergencies—from small to large scale—and have ensured gender-sensitive work, promoting dialogue and inclusion of sexual and gender minorities as humanitarian leaders and as affected community members.
Maloney was recognized as the 2018 Mary Fran Myer Gender and Disaster award winner for advancing ground-breaking, community-based research—along with Priyanka Bhalla and other Red Cross colleagues—on the dynamics and prevalence of gender-based violence in the aftermath of disasters. The forthcoming publication The Responsibility to Prevent and Respond to Sexual and Gender-Based Violence in Disasters and Crisis will give voice to affected communities' concerns about these matters. The research contributes knowledge on how the reemergence of rigid gender norms after disasters increases prevalence of gender-based violence and drives new violence to emerge. It also focuses attention on the failures of responders to address the issues and gives depth to the gendered nature of safety after disasters.
Maloney has provided leadership on these themes to Bangladesh Red Crescent Society, Myanmar Red Cross, and Samoa Red Cross, resulting in an agreement between the Geneva Convention signatory governments and their local IFRC societies to work together to address this issue.
Maloney is from Melbourne, Australia, and has worked with the UN Refugee Agency, the Centre and for Refugee Research at the University of New South Wales, the Victorian Foundation for Survivors of Torture, Save the Children, and the IFRC. She holds a bachelor's in international relations from La Trobe University and a master's of european and international studies (law) from Monash University.
---
To see a list of all previous winners, please click here: Award Winners
---
Eligibility and Nomination
Nominations of individuals and disaster-focused organizations that have advanced gender-sensitive policy, practice, or research in the areas of disaster risk reduction will be accepted.
The selection committee is especially interested in nominations from outside the United States. Previously nominated individuals who have not won the Mary Fran Myers award are still eligible.
Award winners are invited to participate in the Workshop and will be acknowledged in the Workshop program. The winner is also invited to serve on the Mary Fran Myers Gender and Disaster Award selection committee.
Our thanks
We would like to extend our thanks to the 2018 Mary Fran Myers Gender and Disaster Award Selection Committee: Kevin Blanchard, Rosemary Du Plessis, Lourdes Meyreles, Mahbuba Nasreen, Debra Parkinson, and Cheney Shreve.
The nomination period is now closed.
The Gender and Disaster Network consists of women and men from around the world interested in gender relations in the context of disasters. The network's goals are to document and analyze gendered experiences before, during, and after disasters and to conduct interdisciplinary and collaborative research projects.