Mary Fran Myers Gender and Disaster Award
The Mary Fran Myers Gender and Disaster Award recognizes disaster professionals who continue Mary Fran Myers' goal of promoting research on gender issues in disasters and emergency management.
As co-director of the Natural Hazards Center, Myers recognized that disaster vulnerability is influenced by social, cultural, and economic structures that marginalize women and girls. The Natural Hazards Center and the Gender and Disaster Network established the award in 2002 to honor women and men whose advocacy, research, or management efforts have had a lasting, positive impact on reducing disaster vulnerability.
Individuals eligible for the award will have added to the body of knowledge on gender and disasters or furthered opportunities for women to succeed in the field. Recognizing that women and men rarely act alone, the award is also now open to gender and disaster-focused organizations which have made similar contributions.
2019 Winner
Bernadette Resurrección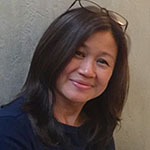 Bernadette Resurrección has researched gender issues in contexts of environmental change for more than 20 years. In 1995, she explored deforestation and upland rice agriculture in Northern Luzon in the Philippines. Her research showed the dynamics of gender and forest resource politics as indigenous women and men transitioned from traditional swidden (slash and burn) farming systems to begin farming hybrid rice varieties in fragile environments already degraded by logging, erosion, and frequent landslides. Her insights paved the way to further research in the Mekong Region on changing gender subjectivities, livelihood practices, and power relations.
Resurrección took up teaching in gender and development studies at the Asian Institute of Technology (AIT) in Thailand after completing her doctoral studies at the International Institute of Social Studies in The Hague, Netherlands.
During her 13 years at AIT, Resurrección designed cutting-edge courses on gender, environment, and natural resource management. Her teaching modules on gender, climate change, and disasters as well as mentoring doctoral and master's students on these topics has supported the growth of many scholars in diverse contexts from Nepal and Bangladesh to Laos, Cambodia, Myanmar, and Vietnam.
Resurrección has continually been involved in designing and leading regional projects on gender and climate change adaptation, as well as poverty-reducing bio-innovations in Thailand, Vietnam, and the Philippines. Together with like-minded researchers and practitioners in the region, she was one of the leading players in establishing a Mekong water network comprised of 22 institutions known as the Mekong Programme on Water, Environment, and Resilience (M-POWER). The network's research and policy engagement efforts were aimed at democratizing water governance in the Mekong Region.
In 2012, after research in the Philippines on post-disaster gender and migration issues, she left AIT as associate professor and took up a full-time post as senior research fellow with the Stockholm Environment Institute (SEI) Asia Center based in Bangkok, where she continues to work at present. Resurrección continues to seek creative and inclusive ways to bridge the complexities of research on the ground with the contingencies of policy decision making.
At SEI, Resurrección established the Gender, Environment & Development (GED) Research Cluster and co-leads the Gender, Social Equality, and Poverty Programme across the institute. Her team collaborates with partners on various gendered themes such as disaster displacement, GIS and drought forecasting, gender-based violence in disaster contexts, climate change adaptation, mitigating climate change through energy transitions, as well as in natural resource management contributing to the analytical growth of feminist political ecology.
Resurrección is a well-known writer on gender and environment. She has authored scientific papers and co-edited a number of books in the general field of gender and sustainable development: Gender and Natural Resource Management: Livelihoods, Mobility and Interventions; Water Rights and Social Justice in the Mekong Region; Linking Bio-innovation with Poverty Alleviation: Evidence from Case Studies in Asia ; and Gendered Entanglements: Re-visiting Gender in Rapidly Changing Asia.
She is currently leading the completion of a background paper on gender and climate change adaptation for the Flagship Report of the Global Commission on Adaptation. Together with Rebecca Elmhirst of Brighton University, she is co-authoring a feminist political ecology book on the troubling and triumphant times of gender professionals in environment and development knowledge organizations.
---
To see a list of all previous winners, please click here: Award Winners
---
Eligibility and Nomination
Nominations of individuals and disaster-focused organizations that have advanced gender-sensitive policy, practice, or research in the areas of disaster risk reduction will be accepted.
The selection committee is especially interested in nominations from outside the United States. Previously nominated individuals who have not won the Mary Fran Myers award are still eligible.
Award winners are invited to participate in the Workshop and will be acknowledged in the Workshop program. The winner is also invited to serve on the Mary Fran Myers Gender and Disaster Award selection committee.
The nomination period is now closed.
---
Our Thanks
We would like to extend our thanks to the 2019 Mary Fran Myers Gender and Disaster Award Selection Committee: Kevin Blanchard, JC Gaillard, May Maloney, Mahbuba Nasreen, Debra Parkinson, and Cheney Shreve.
---
The Gender and Disaster Network consists of women and men from around the world interested in gender relations in the context of disasters. The network's goals are to document and analyze gendered experiences before, during, and after disasters and to conduct interdisciplinary and collaborative research projects.