Mary Fran Myers Scholarship
The Mary Fran Myers Scholarship recognizes outstanding individuals who share Myers' commitment to disaster research and practice and have the potential to make a lasting contribution to reducing disaster vulnerability.
At least one scholarship recipient each year will receive financial support allowing them to attend the Annual Natural Hazards Research and Applications Workshop. Scholarships can cover part or all of transportation, meals, and Workshop registration costs.
Recipients are recognized at the Workshop and will be asked to present a poster or to serve as panelists, where they can highlight their research or practical experiences with hazards and disasters.
As the longtime co-director of the Natural Hazards Center, Myers recognized that many of the people and organizations that could benefit from and contribute to the workshop—including local practitioners, students, and international professionals—were among those least likely to afford it. The scholarship was established in 2003 to fulfill Myers' request that qualified and talented individuals receive support to attend, ensuring that representatives of all ages, professions, and communities be represented at the workshop.
Myers served as co-director of the Center for 16 years until her death in 2004. Reducing disaster loss was her life's work. During her tenure, she helped to bring about fundamental changes in hazards perspectives and instituted farsighted and sustainable ways of dealing with extreme environmental events. In addition, she provided leadership, guidance, grace, and laughter and established a standard of excellence admired and emulated by her colleagues. She was an innovator, a mentor, and a creative spirit who touched many lives. Her legacy has had a lasting impact on the global hazards community.
---
Eligibility and Application
Hazards practitioners, students, and researchers with a strong commitment to disaster management and mitigation
For the 2019 competition, applicants must reside outside North America and the Caribbean. Eligibility is based on current place of residence, not citizenship. Applicants from North America and the Caribbean will be eligible for the scholarship in 2020. Previous attendees of the Natural Hazards Workshop are not eligible. Preference is given to those who can demonstrate financial need.
The Application period for the 2019 Scholarship is now closed.
Please check back early next year for information on the 2020 scholarship.
---
2018 Mary Fran Scholarship Winners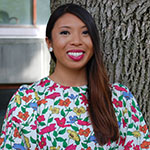 Lily Bui
Lily Bui: Bui is a PhD student in MIT's Department of Urban Studies and Planning. Her work focuses on disaster risk reduction planning on urbanized islands. Bui is also a researcher for the Civic Data Design Lab and Urban Risk Lab, where she works on projects at the intersection of information systems and disaster risk reduction.
Bui has served as a research fellow at the National Disaster Preparedness Training Center in Honolulu, Hawaii; the Department of Natural and Environmental Resources in San Juan, Puerto Rico; SensingCity, a smart city initiative in Christchurch, New Zealand; and Making Sense EU and SmartCitizen at Fab Lab Barcelona in Spain. She is as an affiliated expert on urbanization for the U.S. Naval War College Humanitarian Response Program and is a staff officer in the U.S. Coast Guard Auxiliary.
Bui received her master's from MIT's Comparative Media Studies and a dual B.A. in Spanish and international studies from the University of California Irvine.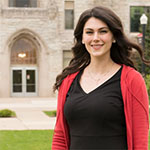 Hannah Eboh
Hannah Eboh: Hannah Eboh is a masters student at Northern Illinois University where she studies risk perception in small island developing states and geographic information science. In 2017, she received a Fulbright grant to the Commonwealth of Dominica in the Caribbean where she conducted a case study looking at the population's perception of the island's notable volcanic risk.
While conducting research in Dominica, Eboh experienced the eye of Hurricane Maria, a Category 5 event that devastated the island. This experience further increased her interest in risk perception as she observed differing reactions during the preparation, landfall, and the immediate response to the hurricane.
Eboh was contracted to co-develop a geographic information systems course by the Barbados Red Cross Caribbean Disaster Risk Management Reference Center. She has also served as a national preparedness intern with the Federal Emergency Management Agency where she worked on the 2015 Threat and Hazard Identification and Risk Assessment.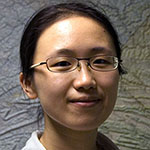 Chongming Wang
Chongming Wang: Wang is an assistant emergency management professor at Jacksonville State University. Wang's research revolves around the themes of vulnerability and resilience to natural hazards—particularly elder vulnerability to coastal hazards. As a broadly-trained human-environment geographer, she draws on research from various disciplines to understand what makes people vulnerable and how vulnerability can be reduced.
Wang's master's thesis was a fine-grained quantitative vulnerability analysis of older adults to hurricane hazards, which earned the Gilbert F. White Thesis Award given by Association of American Geographers. Her doctoral dissertation used a qualitative inquiry to answer questions surrounding hurricane risk perception and preparedness, as well as evacuation attitudes and decision-making among older adults.
She received doctorate and master's in geography from Pennsylvania State University. She also holds a bachelor's in GIS from East China Normal University in Shanghai, China.
---
To see a list of all previous winners, please click here: Scholarship Winners
---
Special Thanks
The Mary Fran Myers Scholarship is made possible by generous contributions from numerous individual donors as well as support from:
We would also like to extend additional thanks to the current Mary Fran Myers Scholarship selection committee: David Butler, Ray Chang, Eve Gruntfest, Lisa Jackson, Betty Lai, and Ponmile Olonilua (chair).
---
Request for Contributions - Mary Fran Myers Scholarship Fund
All contributions are appreciated. A gift account has been established with the University of Colorado Foundation, which will administer the scholarship funds. Checks should be written to the University of Colorado Foundation and sent to:
Mary Fran Myers Scholarship
Natural Hazards Center
University of Colorado
483 UCB
Boulder, CO 80309-0483
For questions regarding the scholarship, please email committee chair Ponmile Olonilua.
---