Mary Fran Myers Scholarship
Mary Fran Myers Scholarship Program Impact
Since 2004, the Mary Fran Myers Scholarship has brought 52 people to the Workshop who could not have otherwise attended. Of those winners, 38 were women; 23 were racial or ethnic minorities; and 18 were from countries outside of the United States.
The Mary Fran Myers Scholarship recognizes outstanding individuals who share Myers' commitment to disaster research and practice and have the potential to make a lasting contribution to reducing disaster vulnerability.
At least one scholarship recipient each year will receive financial support allowing them to attend the Annual Natural Hazards Research and Applications Workshop. The Workshop will be held virtually in 2021. The winner of this year's competition will have their fees waived to attend the virtual meeting in 2021, and travel and registration to attend the next in-person Workshop will be covered, as well.
Recipients are recognized at the Workshop and will be asked to present a poster or to serve as panelists, where they can highlight their research or practical experiences with hazards and disasters.
As the longtime co-director of the Natural Hazards Center, Myers recognized that many of the people and organizations that could benefit from and contribute to the Workshop—including local practitioners, students, and international professionals—were among those least likely to afford it. The scholarship was established in 2003 to fulfill Myers' request that qualified and talented individuals receive support to attend, ensuring that representatives of all ages, professions, and communities be represented at the Workshop.
Myers served as co-director of the Center for 16 years until her death in 2004. Reducing disaster loss was her life's work. During her tenure, she helped to bring about fundamental changes in hazards perspectives and instituted farsighted and sustainable ways of dealing with extreme environmental events. In addition, she provided leadership, guidance, grace, and laughter and established a standard of excellence admired and emulated by her colleagues. She was an innovator, a mentor, and a creative spirit who touched many lives. Her legacy has had a lasting impact on the global hazards community.
---
Eligibility and Application
Hazards practitioners, students, and researchers with a strong commitment to disaster management and mitigation are encouraged to apply.
For the upcoming competition, applicants must reside in North America and the Caribbean. Eligibility is based on current place of residence, not citizenship. Applicants who reside outside North America and the Caribbean will be eligible for the next open scholarship call. Previous attendees of the Natural Hazards Workshop are not eligible. Preference is given to those who can demonstrate financial need.
This year's application period is now closed.
---
2020 Mary Fran Scholarship Winners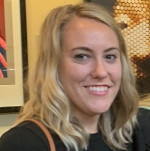 Kristen Cowan
Kristen Cowan: Cowan is an epidemiology research fellow at the Centers for Disease Control and Prevention (CDC) in the National Center for Environmental Health's Asthma and Community Health Branch where she works on a Hurricane Crisis Cooperative Agreement with state and territory health departments affected by 2018 Hurricanes Maria, Irma, and Harvey. This work measures the impact of the hurricanes and flooding on children with asthma. She also contributes to a variety of research projects seeking to understand how hurricanes and floods impact human health.
During her fellowship at CDC, Cowan has been detailed to emergency operations epidemiology tasks forces for Hurricane Florence, lung injuries associated with e-cigarettes and vaping, Ebola virus response, and the at-risk task force for the COVID-19 response. She participates in various volunteer activities such as serving as the epidemiology section councilor for American Public Health Association and as a peer reviewer for the Journal of Disaster Medicine and Public Health Preparedness.
Cowan completed her Master of Public Health in global epidemiology with a certificate in complex humanitarian emergencies at Emory University in 2018. She is dedicated to investigating how disasters and displacement impact vulnerable populations and will be pursuing a PhD in epidemiology at University of North Carolina in Fall 2020. She looks forward to learning new methods for disaster epidemiology.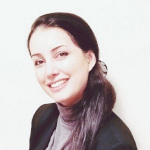 Pegah Farshadmanesh
Pegah Farshadmanesh: Farshadmanesh is a research associate in the Socio-Technical Risk Analysis Research Laboratory at the University of Illinois at Urbana-Champaign. Farshadmanesh has conducted interdisciplinary research that crosses boundaries between various engineering disciplines (e.g., civil, nuclear and systems engineering), computational sciences, and social sciences.
Farshadmanesh developed an innovative risk model to improve fire risk estimation for areas with insufficient post-earthquake fire data as part of her PhD research. Her professional aspirations are to improve the safety of infrastructure to withstand natural hazards and develop technologies that mitigate their impacts on the public and the environment. Her current research evaluates the impacts of hazards such as earthquakes and tornados on nuclear power plants, as well as the influence of human and organizational factors on the risk and reliability of complex systems.
Farshadmanesh is the recipient of the 2019 Zonta International Women in Technology District Award and was selected as a participant for the 2019 Rising Stars Women in Engineering Workshop in South Korea. She received her PhD the Illinois Institute of Technology in May 2017. In addition, she has nine years of structural engineering experience and has worked on diverse projects that include the design of hydraulic structures such as water treatment facilities.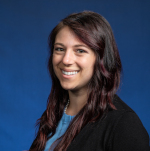 Chelsea LeNoble
Chelsea LeNoble: LeNoble is an assistant professor of industrial/organizational psychology at Embry-Riddle Aeronautical University Worldwide. Her research focuses on multilevel factors related to employee engagement, resilience, and recovery from work stress. LeNoble works with communications and emergency management scholars as part of a new human resilience and emergency services faculty cluster to support high-stress occupations, such as healthcare workers and first responders.
LeNoble brings an organizational science perspective to disaster management and is focused on the concept of convergence—the understanding that the greatest challenges of society cannot be solved by one discipline alone. She works to give a voice to the workers, teams, and multiteam systems in extreme contexts by better understanding their stressors and the reciprocal effects of their work on their well-being and that of the communities they serve.
LeNoble earned her doctorate in industrial/organizational psychology from Florida Institute of Technology. After graduating, she completed a postdoctoral fellowship focused on occupational health psychology at Clemson University. As an embedded scholar within Prisma Health, she led resilience, leadership, and and team development projects.
---
To see a list of all previous winners, please click here: Scholarship Winners
---
Special Thanks
The Mary Fran Myers Scholarship is made possible by generous contributions from numerous individual donors as well as support from:
We would also like to extend additional thanks to the current Mary Fran Myers Scholarship selection committee: Co-Chairs Betty Lai and Ponmile Olonilua, Ray Chang, and Lisa Jackson.
---
Request for Contributions
The Mary Fran Myers Scholarship provides financial support for recipients to attend and participate in the annual Natural Hazards Workshop to further their research or practitioner career paths. To make a gift, please visit the CU Foundation site by clicking on the link below.
Donate to the Mary Fran Myers Scholarship
---
For questions regarding the scholarship, please email committee co-chairs Betty Lai at betty.lai@bc.edu and Ponmile Olonilua at Oluponmile.Olonilua@tsu.edu.
---