Mary Fran Myers Scholarship
The Mary Fran Myers Scholarship recognizes outstanding individuals who share Myers' commitment to disaster research and practice and have the potential to make a lasting contribution to reducing disaster vulnerability.
At least one scholarship recipient each year will receive financial support allowing them to attend the Annual Natural Hazards Research and Applications Workshop. Scholarships can cover part or all of transportation, meals, lodging, and Workshop registration costs.
Recipients are recognized at the Workshop and will be asked to present a poster or to serve as panelists, where they can highlight their research or practical experiences with hazards and disasters.
As the longtime co-director of the Natural Hazards Center, Myers recognized that many of the people and organizations that could benefit from and contribute to the Workshop—including local practitioners, students, and international professionals—were among those least likely to afford it. The scholarship was established in 2003 to fulfill Myers' request that qualified and talented individuals receive support to attend, ensuring that representatives of all ages, professions, and communities be represented at the Workshop.
Myers served as co-director of the Center for 16 years until her death in 2004. Reducing disaster loss was her life's work. During her tenure, she helped to bring about fundamental changes in hazards perspectives and instituted farsighted and sustainable ways of dealing with extreme environmental events. In addition, she provided leadership, guidance, grace, and laughter and established a standard of excellence admired and emulated by her colleagues. She was an innovator, a mentor, and a creative spirit who touched many lives. Her legacy has had a lasting impact on the global hazards community.
---
Eligibility and Application
Hazards practitioners, students, and researchers with a strong commitment to disaster management and mitigation
For the 2020 competition, applicants must reside in North America and the Caribbean. Eligibility is based on current place of residence, not citizenship. Applicants outside North America and the Caribbean will be eligible for the scholarship in 2021. Previous attendees of the Natural Hazards Workshop are not eligible. Preference is given to those who can demonstrate financial need.
The Application period for the 2020 Scholarship is closed. Check back in early 2021 for next year's scholarship!
---
2019 Mary Fran Scholarship Winners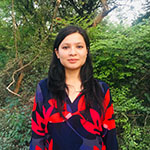 Homolata Borah
Homolata Borah: Borah is a PhD candidate at the Centre for the Study of Regional Development at Jawaharlal Nehru University in New Delhi, India and has served as an assistant professor at Kamala Nehru College in University of Delhi for the past two years.
Borah's research is focused on Majuli, the world's largest inhabited river island on the Brahmaputra river in northeast India. She is currently working to identify strategies for improving the resilience of livelihood systems, explore the role of tangible and intangible cultural heritage in community resilience, and find ways to develop synergies between community organizations and local government. She is passionate about ensuring that disaster management frameworks duly recognize and integrate indigenous knowledge.
Borah is an ardent advocate for social science approaches. By teaching—in the classroom, in the field, and through collaborative learning platforms—she is working towards preparing a cadre of professionals adept in social science approaches to disaster research and applications.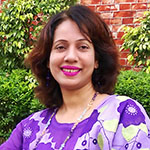 Shaila Shahid
Shaila Shahid: Shahid is the senior advisor for climate change, disaster risk reduction, and gender with the International Centre for Climate Change and Development. She has 15 years of experience working in the areas of action research, capacity building, strategic communications, and policy advocacy.
Shahid is an environmental lawyer and a World Wildlife Fund fellow with experience in disaster risk reduction, integrated water resources management, climate change adaptation, and building community resilience. She is involved in a number of global and national policy development processes, such as the Disaster Management Act, Water Act, Gender and Equity Strategy, and the Risk Reduction Action Plan for Climate Change.
Shahid is an advisory board member of the Stakeholder Engagement Mechanism of UN Office for Disaster Risk Reduction (UNDRR), formerly known as UNISDR; the advisor of the Krisoker Sor (Farmers' Voice), local farmer's research institute; and an active member of Women's Major Group, Women and Gender Constituency of UN Framework Convention on Climate Change, and of the Global Network of Civil Society Organizations for Disaster Reduction.
In 2018 Shahid served as the lead discussant in the high level political forum on the review of the UN's Sustainable Development Goal 11 on building resilient cities and communities. She was the UNDRR-nominated Global Champion Community on Disaster Resilience in 2015 from Bangladesh and was recently awarded for the Charles Wallace fellowship by the British Council.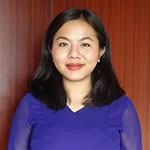 Lalrinpuii Tlau
Lalrinpuii Tlau: Tlau is a mitigation officer at GeoHazards International, where she supports a comprehensive approach to reduce extreme earthquake and landslide risk in the fast-growing city of Aizawl, Mizoram in northeast India. In 2014—in partnership with the GeoHazards International team and local professionals—Tlau developed a scenario of a plausible earthquake with specific consequences, titled, "Effects of a Magnitude 7 Earthquake on Aizawl, Mizoram and Recommendations to Reduce Losses." She works closely with the Government of Mizoram and the Aizawl Municipal Corporation as they implement site development regulations and plans to reduce landslide and seismic danger.
In westernmost Nepal, Tlau assists with efforts to mitigate earthquake and landslide risk in the once remote, but now urbanizing, middle hills. Tlau also coordinates efforts to build technical capacities of local Mizoram geologists, engineers, and planners. Since 2013, she has conducted school safety trainings with schools in Aizawl and with the Tibetan Children's Village School in Dharamshala.
Her previous work engaged rural and urban vulnerable communities on a range of issues, including disaster management, solid waste management, advocacy, consumer rights, female sex workers, community organizing, health care, and street children.
---
To see a list of all previous winners, please click here: Scholarship Winners
---
Special Thanks
The Mary Fran Myers Scholarship is made possible by generous contributions from numerous individual donors as well as support from:
We would also like to extend additional thanks to the current Mary Fran Myers Scholarship selection committee: David Butler, Ray Chang, Eve Gruntfest, Lisa Jackson, Betty Lai, and Ponmile Olonilua (chair).
---
Request for Contributions
All contributions are appreciated. A gift account has been established with the University of Colorado Foundation, which will administer the scholarship funds. Checks should be written to the University of Colorado Foundation and sent to:
Mary Fran Myers Scholarship
Natural Hazards Center
University of Colorado
483 UCB
Boulder, CO 80309-0483
For questions regarding the scholarship, please email committee chair Ponmile Olonilua.
---