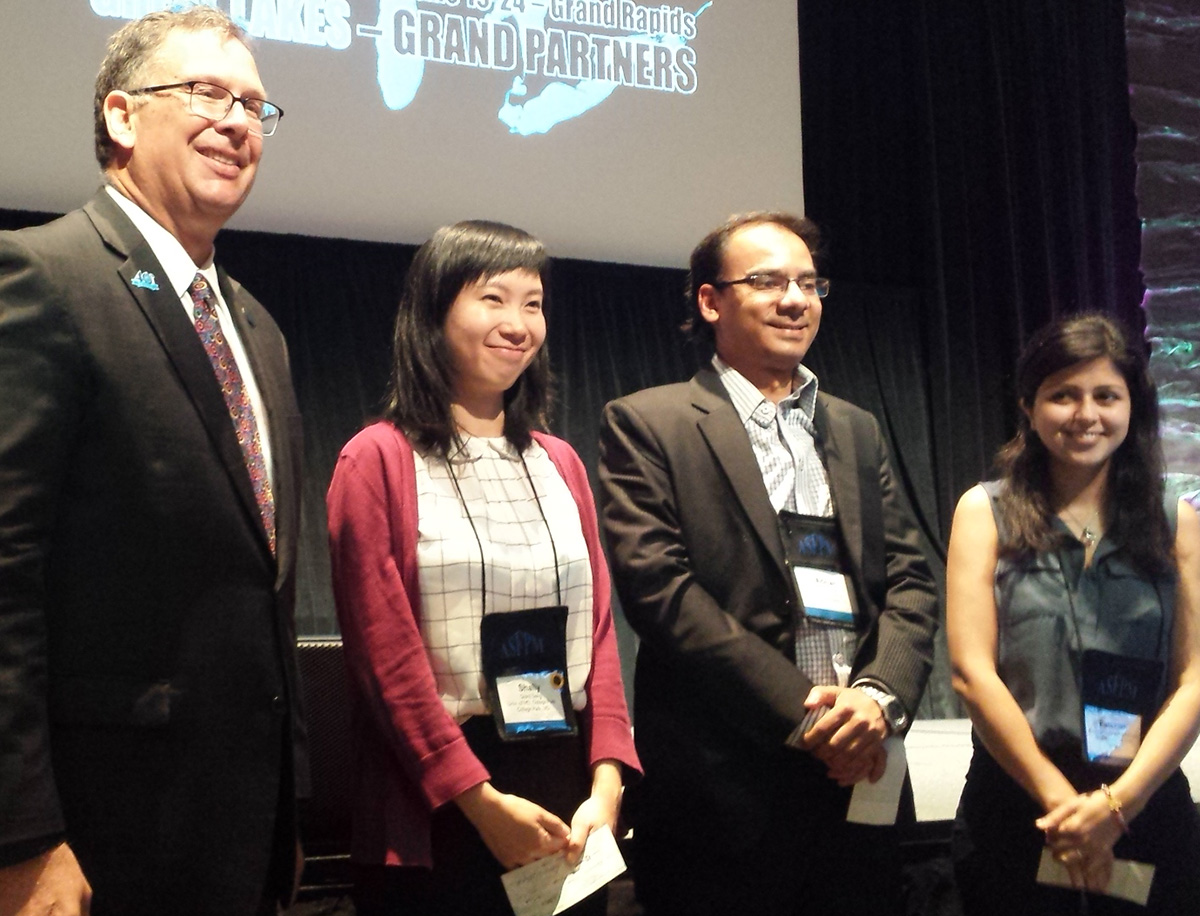 Winners of the ASFPM Foundation Student Paper Competition receive awards at the 2016 ASFPM conference in Grand Rapids, Michigan. From left to right: Foundation President Doug Plasencia, second place winner Qianli Deng, first place winner Adnan Rajib, and third place winner Fatemeh Alighalenbabakhani ©Michele Mihalovich, 2016.
When it comes to success in business and politics, it's long been said that it's not what you know; it's who you know. For students interested in floodplain management, it's both—that's because they have a great opportunity to use what they know to really expand who they know. And it all starts with the Association of State Floodplain Managers Foundation.
The Foundation has just announced the opening of its seventh annual Collegiate Student Paper Competition, which was designed to encourage student engagement in floodplain management topics and identify individuals who have the potential to make lasting contributions to field's body of knowledge.
Winners receive scholarship funds and—perhaps even more importantly—an opportunity to present their work at the annual ASFPM conference. The conference, which draws hundreds of flood professionals, is an excellent place to make connections and learn about the multifaceted world of floodplain management, according to Patrick Johnson, a law and water resources student at the University of Idaho and first-place winner of the 2015 competition.
"My generation will be the next floodplain managers, and this competition encourages young people to begin to grapple with and discuss these incredibly important issues," Johnson wrote in his thank you letter to the Foundation. "While we certainly have a lot to learn from you and all of the members of ASFPM, this competition allowed us to begin the process of learning the size and depth of the field of floodplain management."
Full-time college students have until January 31 to submit an abstract on studies in a range of more than 35 different flood-related topics, including risk assessment, regulations and standards, coastal management, mapping and modeling, and insurance issues. Three semifinalists will be selected to present their papers at the 2017 ASFPM Conference, to be held in Kansas City, Missouri, from April 30 to May 5. Travel expenses of up to $1,000 will be provided for all three presenters. The presentation awarded first place will receive a $1,000 scholarship, while the second and third place winners receive $500 and $250 respectively.
To see what sort of papers swept last year's event, check out the following:
For more details on the competition and where to submit an abstract, visit the competition page on the ASFPM Foundation website. Best of luck!