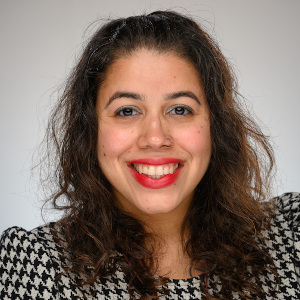 The Mary Fran Myers Gender and Disaster Award recognizes disaster professionals who continue Mary Fran Myers' goal of promoting research on gender issues in disasters and emergency management. The award honors men and women who added to the body of knowledge on gender and disasters or furthered opportunities for women to succeed in the field.
This year's award selection committee has named Melinda González as the 2021 Gender and Disaster Award winner:
Melinda González is an Afro-Indigenous scholar, activist, and poet of Puerto Rican descent. She is a socio-cultural anthropologist who focuses on environmental anthropology and whose work maps how disaster impacts are differentially distributed across race, class, and gender. González uses decolonial and indigenous research methods to study new media technologies in environmental justice research.
A native of Newark, New Jersey, with an ancestral home in Moca, Puerto Rico, González's dissertation research "Rhyming Through Disaster" examined the lived experiences of the survivors of Hurricane Maria in Puerto Rico and New York and how they used digital space, poetry, and community organizing in long-term disaster recovery. Her next project, tentatively titled, "Urban Water Wars," will address racial disparities in the ongoing water crises in U.S. urban centers, particularly in Newark.
González received a bachelor's degree in anthropology from Barnard College, Columbia University, where her undergraduate research focused on the role of women in the New York Chapter of the Puerto Rican revolutionary civil rights organization, The Young Lords Party. In October 2012, she graduated with a master's degree in anthropology from Rutgers University. Her work there examined poetry and hip hop as tools of resistance against femicide and colonial repression in Mexico and Puerto Rico. She received a PhD in Anthropology from Louisiana State University in May 2021 and will serve as a postdoctoral fellow at Rutgers' Institute for the Study of Global Racial Justice in the fall.
Learn more about the scholarship and see past winners on the Mary Fran Myers Gender and Disaster Award page.