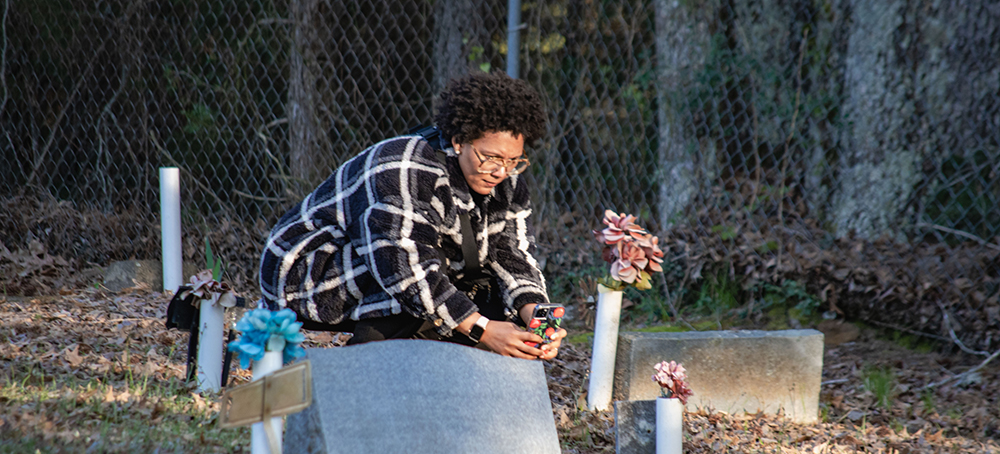 Author Jennifer Blanks conducts an assessment of headstones in the Pyland African American Cemetery in Marion County, Texas. ©Jennifer Blanks, 2023.
Coffins, grave ornaments, and floating corpses were among the first images to appear in news coverage of Hurricane Katrina's devastation. Photos captured cemeteries submersed in haunting flood waters and caskets balanced in the thick branches of oak trees. For many, these scenes might have been the first thought they gave to graveyards in the context of disaster.
This was nothing new for cemetery caregivers and local Louisianans; however—cemeteries in southeast Louisiana flood frequently. The level of damage, though, was different and profoundly concerning as multiple crises descended on the Gulf Coast region in the aftermath of the hurricane. When limited resources are focused on rebuilding the lives of the living, do the cities of the dead even matter?
The answer is yes—cemeteries are non-renewable resources that, once destroyed, cannot be replaced. Their cultural importance and the role they play in preserving our history and heritage is immense. Therefore, managing and protecting cemeteries is a vital activity the intersection of disaster and preservation planning. The number of cemeteries impacted by disasters is increasing, so reducing threats through cultural resource risk management is more essential now than ever.
Cultural Resource Risk Management
Cultural resource risk management allows disaster planners to explore, plan, and deploy risk management practices for cultural heritage sites such as cemeteries. Without it, burial grounds can suffer from catastrophic damage caused by floods, tornadoes, wildfires, and other hazards. Original headstones can be displaced or damaged beyond repair. It is typical for crypts and caskets to open, exposing human remains. Mausoleums, headstones, and other landscape features can cost thousands of dollars to replace.
While applying cultural risk resource management to cemeteries was in practice before Hurricane Katrina, the storm's impact on gravesites was significant enough to move discussion from policy into action. For example, in response to the frequency of coffin displacement, the State of Louisiana and the Federal Emergency Management Agency (FEMA) created the Louisiana Cemetery Response Task Force in 2018. This group assesses cemetery responses and recovery needs when an emergency is declared by the state. Following the assessment, FEMA representatives are deployed to the disaster site to assist the Louisiana Cemetery Board, cemetery managers, and family members with resources to address issues. Today, this program has led reburial processes after Hurricane Laura in 2020, Hurricane Ida in 2021, and other storm events.
Unfortunately, the task force program is only active in Louisiana. Other states, however, can still access FEMA Disaster Assistance Recovery Grants to restore cemeteries and other cultural resources after a disaster—but doing so isn't always straightforward. Protecting cemeteries is a shared responsibility between multiple disciplines and stakeholders who must work together to achieve their goals.
Who is Responsible for Managing Cemetery Risk and Recovery?
Government agencies like FEMA can enforce regulations related to financial assistance, provide technical assistance to restore damaged plots, offer resource coordination and allocation, and facilitate coordination among various groups involved in cemetery recovery. This includes working with stakeholders from state historic preservation offices, local governments, and volunteer groups to centralize resources and expertise. That's where things can get complicated.
Cemetery owners—which can be a single person, a private company, or a nonprofit group, among other options—are responsible for cemetery management, including daily maintenance, security, and disaster preparedness. Although larger entities might have disaster plans in place, smaller cemetery groups such as churches, grassroots organizations, and formal and informal volunteers are often left to resolve recovery issues with limited information from local and state municipalities.
Community members, too, are essential stakeholders who report issues, provide feedback, and support initiatives to preserve their cemeteries. Including the voices of community members, cemetery volunteers, and other caregivers can enrich cemetery risk management—especially when sharing the cultural heritage and practices within the landscape. This aspect, however, is often largely overlooked, even though local community knowledge provides critical information to disaster planners who lead cemetery recovery efforts.
Although cultural site recovery grants often provide the primary funding cemeteries receive to make repairs, the complexity of cemetery management, ownership, and stakeholder engagement means that these funds aren't always distributed equally, which is a situation that needs to be addressed.
Strategies for Successful Preservation
Ensuring equitable and effective risk management of cultural resources provides fair treatment of different cultural sites, mainly historical sites within marginalized communities. There are several strategies that disaster, preservation, and planning professionals can adopt to foster positive engagement with cultural resource managers. Conducting risk assessments routinely can ensure conditions are not exacerbated post-disaster. Local and state agencies can also create culturally sound policies and procedures that increase the cultural competency of disaster volunteers and responders. Finally, disaster planners must identify the caregivers of key cultural sites—those with local knowledge of the site—to ensure that cultural heritage is not lost.
State and federal agencies are responsible for creating a policy that improves disaster management. Clear guidance and funding for cemeteries and other memorialized landscapes is needed. Without both, cemeteries across the United States will continue to suffer devastating impacts from hazard events—and we all risk losing the physical landscape and cultural heritage that makes cemeteries relevant beyond their primary function of housing the deceased.