This is a revised and expanded version of an earlier piece published by the BBC.

Motorists drive through so-called nusiance flooding in Norfolk, Virginia. The city has enacted a vision plan to address frequent inundation. ©Will Parson, Chesapeake Bay Program, 2015.

By Philip Berke
The tragedy unfolding across Houston offers an opportunity to plan to rebuild a more resilient city. Urban growth is not itself the problem—development can reduce risk as well as produce more viable living conditions, jobs, and public health.
Developers and builders in Houston and surrounding areas have received short-term financial rewards while local governments have received an expanded tax base from unfettered development. But Harvey has opened a window of opportunity to change this conventional approach to the way the nation builds cities.
The risk presented by flooding has been passed to residents and the federal government. Public funds, especially from the federal government, bear an increasing share of the cost of disasters. The resulting moral hazard leads to continued development and redevelopment in high-hazard areas. The nation must stop subsidizing the development that costs taxpayers so much. Any government or corporation that chooses to pave over the landscape should pay the costs of that decision.
To survive on the Texas Gulf Coast in the coming century, Houston and its surrounding regions must guide growth with careful planning decisions and make massive investments in improving flood control infrastructure. A more unified vision to for better planning and management of risk and better coordination among federal, state and local governments is needed now.
Innovative Proactive Planning from the United States and the Netherlands
Hurricane Harvey is a dramatic case of flooding. But the severity and frequency of urban flood disasters is growing around the world. There are an increasing number of innovative examples of cities taking on this challenge in the United States and elsewhere. Norfolk, Virginia, and Rotterdam in The Netherlands are two such cities.
Norfolk's response to rising exposure to coastal storms and sea level rise along the Atlantic Coast has been to adopt long-term strategies for guiding future land use and development. The strategies focus on different parts of the city, depending on the asset values and risk to flooding. In Norfolk, low-risk areas with limited development will be transformed into high-density and mixed-income neighborhoods. High-risk areas with essential assets will be protected by major flood infrastructure investments and land use policies that encourage dense mixed-use developments connected by transit lines. High-risk areas where neighborhoods are already established will be gradually withdrawn from shorelines using housing buyouts and by maintaining—but not expanding—key sewer and water utilities and roads.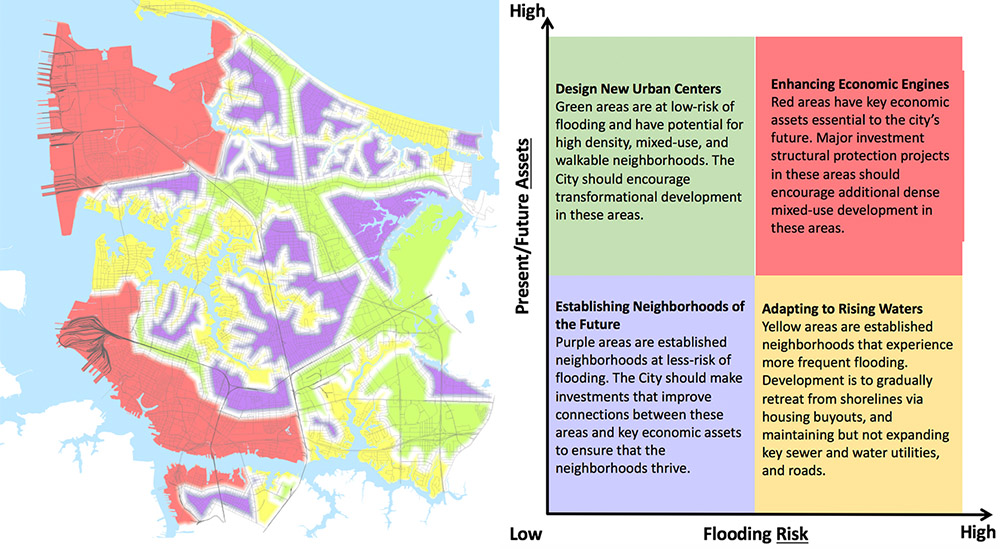 Norfolk, Virginia's Vision 2100 includes land use strategies to address long-term vulnerability to coastal hazards and sea level rise. Source: Philip Berke, via www.norfolk.gov.
Rotterdam provides another model. Situated on a major river delta, densely populated Rotterdam is Europe's lowest lying city with 90 percent of residents living below sea level. The city's pioneering solutions to flooding entail living with the water, rather than containing it. Flood control efforts take place within a regional flood protection framework that includes a complex levee system along the river, and massive flood control gates and sand dunes to prevent flooding from the sea.
Rotterdam recognizes that more flooding and rainfall is a growing possibility because of climate change. The city focuses on letting water in where possible, not subduing it through flood control. Rotterdam has installed underground garages, green roofs that absorb water, and water plazas that support urban vibrancy while serving as huge storage reservoirs during extreme rainfall or the overtopping of seas and rivers.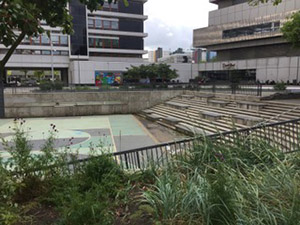 The water plaza in Rotterdam, Netherlands serves as a public gathering place, as well as a stormwater basin. ©Philip Berke, 2015.
Norfolk and Rotterdam demonstrate that flooding and climate change are not an obstacle to economic development, but an opportunity. Indeed, both cities recognize that to achieve a vision of resilience requires including the broad and intensive engagement of residents, civic leaders, and experts in the city and beyond.
More than 50 years of natural hazards research has clearly established that with greater and more diverse stakeholder involvement, planning efforts are improved and the plans that are ultimately developed are more likely to be implemented. The cities highlighted here have planners who have aimed to open up multiple venues for participation in in the planning process. This has led to more open dialogues where the public is informed about planning issues and able to voice their concerns and visions for the future. Cities that engage in these positive and proactive planning processes actively promote a shared understanding that communities are stronger and more resilient when everyone has the opportunity to contribute.