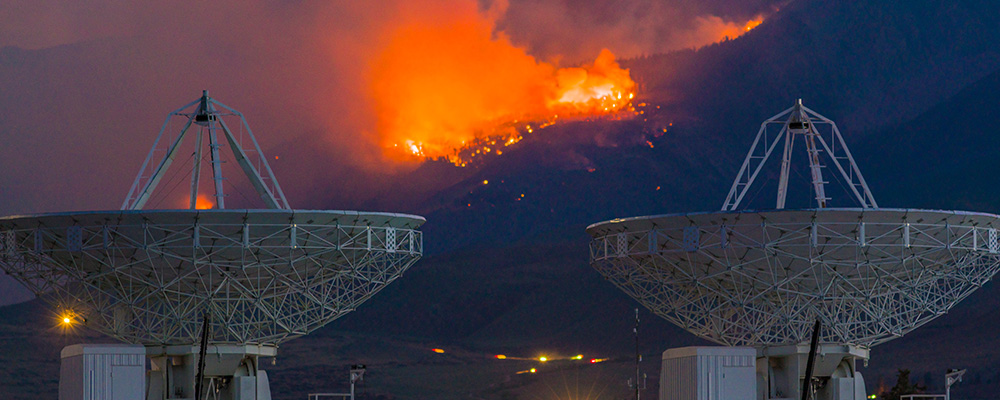 Fires rage beyond the Owens Valley Radio Observatory near Big Pine, California. Photo credit: Morphius Film/Shutterstock Images, 2019.
Devastating wildfires raged through California in 2018 only to be followed by yet another damaging series of events late last year. The Natural Hazards Center Quick Response Grant Program made special funds available to collect perishable data to learn how the lessons of previous fires were integrated into planning and policy making. The following research projects were funded:
A First Step Toward a Longitudinal Study of Homeowners' Proactive Actions for Managing Wildfire Risks
Ji Yun Lee, Washington State University
Yue Li, Case Western Reserve University
The decisions of homeowners to protect themselves from wildfire risks are based on numerous factors, including the characteristics of houses and the homeowners themselves, but they affect the recovery of the entire community. This research, based on an online survey and field study of Sonoma County residents whose properties were damaged by the 2019 Kincade Fire, is a first step toward a longitudinal study aimed at understanding the proactive actions of homeowners in response to wildfire.
---
Modeling Evacuation Behavior in the 2019 Kincade Fire in Sonoma County, California
Xilei Zhao, University of Florida
Ruggiero Lovreglio, Massey University
Erica Kuligowski, National Institute of Standards and Technology
Daniel Nilsson, University of Canterbury
Wildfires have become an escalating problem in California. In order to adapt to the changing threat of wildfires, it is important to understand the household evacuation process, including how people perceive wildfire threat and respond to it. To better understand the wildfire evacuation behavior during the Kincade Fire in Sonoma County, the research team will survey those affected using interpretable machine learning to explore how different factors influenced risk perception, evacuation decision making, and subsequent evacuation behavior during the fire.
---
Grantees deliver a report of no more than 12 pages that outlines their initial observations to the Center within 90 days of completing their research, so what they learn is available everyone.
This research is supported by the National Science Foundation under Award #1635593. Any opinions, findings, and conclusions or recommendations expressed in this material are those of the authors and do not necessarily reflect the views of the National Science Foundation.
Those interested can learn more about the program and read past reports on the Natural Hazards Center Quick Response page.