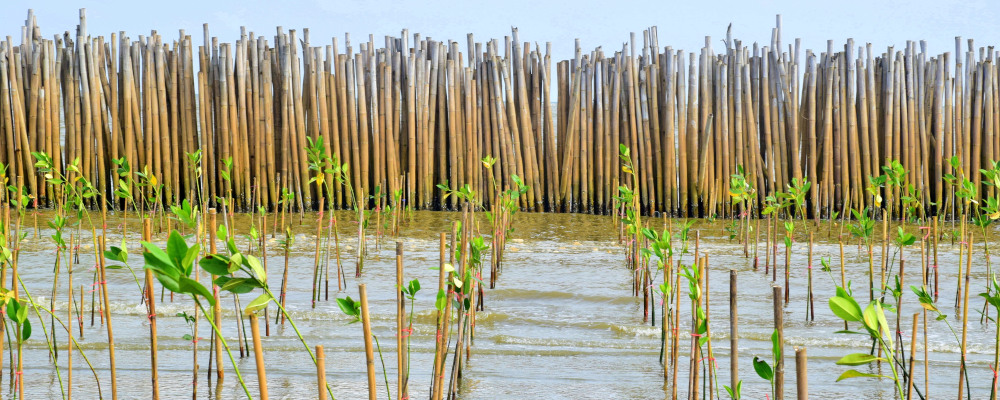 Mangrove saplings will eventually grow into a natural barrier that protects the coastline from extreme weather and other climate change impacts. Image source: Shutterstock Images.
When it comes to mitigating against disaster, behavioral change can have as much impact as brick and mortar efforts—and the second series of Mitigation Matters Research grants recognizes the role human behavior plays in keeping communities safe.
The latest round of mitigation research to be funded includes work that will focus on wildfires, climate change, and the use of traditional knowledge for mitigation on Indian reservations. Projects on the ways effective messages motivate mitigation behavior, how socially vulnerable households respond to planned power outages, and the use of building code evidence to reduce health disparities were also supported.
In all, the Natural Hazards Center funded ten mitigation-focused projects in the second call of our Mitigation Matters Research Grant Program. The program, which is supported by the Federal Emergency Management Agency and the National Science Foundation, provides small grants to study topics related to the social, behavioral, and economic aspects of mitigation.
Our second application period drew nearly 30 highly competitive and innovative proposals. The following ten proposals were selected:
Effective Messages to Motivate Mitigation Behavior: Experiments Testing Self-Efficacy, Social Norms, and Messages
JungKyu Rhys Lim, University of Maryland
Behavior Analysis of Socially Vulnerable Households Responding to Planned Power Shutoffs
Youngjib Ham and Seulbi Lee, Texas A&M University
Assessing the Influence of Active Learning on Perceptions and Household Wildfire Mitigation Behavior
Brittany D Brand and Carson MacPherson-Krutsky, Boise State University
Promoting Mitigation Through Post-Disaster Small Business Recovery Programs
Sua Kim and Divya Chandrasekhar, University of Utah
The Intersection of Mitigation Measures on Household Adaptation to Climate Change
Brianna Castro, Harvard University
How Climate-Induced Coral Bleaching Impacts Community Wellbeing and Hazard Vulnerability
Kelly Dunning, Auburn University
Examining Digital Vulnerability to Flooding Among Subsidized Housing Residents in Florida
Yan Wang and Seungbeom Kang, University of Florida
A Traditional Ecological Knowledge and Mitigation Nexus: The Pamunkey Indian Reservation
Nicole Hutton and Thomas Allen, Old Dominion University
Understanding the Impacts of Managed Retreat and Resettlement on Informal Communities
Monique A. Lorenzo Pérez and Santina Contreras, Ohio State University
Reducing Health Disparities of Natural Disasters: Evidence from Building Codes
Ausmita Ghosh and Jamie Kruse, East Carolina University
Natural Hazards Center Research Associate Courtney Welton-Mitchell, who administrates the program, noted that the most recently funded proposals will help fill gaps in mitigation research and strengthen the evidence base for disaster preparedness.
"These compelling projects will make significant contributions to the research literature, with immediate life-saving implications," Welton-Mitchell said. "This group of projects builds on and expands the innovative work funded during our first call."
More information, including a brief abstract of projects from the first and second funding calls, can be found on the program's Recently Funded page.
For questions or more information, please contact Courtney Welton-Mitchell at mitigationmatters@colorado.edu.
---
The Mitigation Matters program is based upon work supported by the National Science Foundation (Award #1635593) through supplemental funding from the Federal Emergency Management Agency (FEMA). Any opinions, findings, conclusions, or recommendations expressed in this material are those of the author(s) and do not necessarily reflect the views of NSF, FEMA, or the Natural Hazards Center.