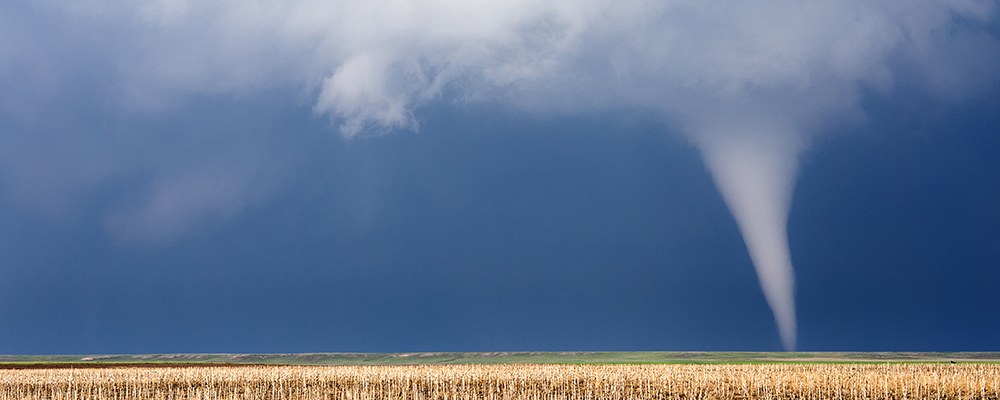 When tornadoes strike, it's vital to collect perishable data that could provide insight on how to best communicate warnings, improve forecasts, and reduce injuries and property damage. The latest call from the Weather Ready Research Award program is focused on doing just that.
The special call—the third in the series supported by the National Oceanic and Atmospheric Administration (NOAA) and National Science Foundation—is a novel opportunity to build a body of work that consistently collects data across tornado events. The data will then be published to help researchers, policymakers, and practitioners better understand tornado strikes from a social science and interdisciplinary perspective. Here's how it works.
Proposals
The Natural Hazards Center will accept proposals to collect data on specific tornado events—including those where warnings were issued but no event occurred—beginning December 28, 2021 and staying open through October 31, 2022.
Data collection must include the NOAA Tornado Post-Event Survey. By employing this common instrument in each of the 10 to 20 research awards to be distributed, hazards professionals will get a clear and consistent look at how community members receive, interpret, and respond to tornado watch and warning messages.
Along with including the survey instrument, research teams can also optionally choose to pursue other aspects of tornado research they're interested in. Proposals that expand on focus areas related to the survey and employ social science and interdisciplinary methods—especially solution-focused convergence research—are especially welcome.
Deployment
Successful applicants will need to be ready to enter the field quickly. The survey instrument must be administered within 60 days of the tornado being studied.
Because of this short timeline and the uncertainty of when a tornado will strike, it's highly recommended that researchers draft a proposal in advance and work with their institutional review board to get their research design preapproved.
Publications
Publications for the data collected through these awards are two-fold.
First, data collected from the survey instrument must be published and made publicly available via the National Science Foundation-supported DesignSafe Cyberinfrastructure. Only the survey data is required to be published, although we do recommend proposers learn more about how they can publish other data and instruments and become data ambassadors.
Second, a report of up to 20 double-spaced pages on the data collected will be published on the Natural Hazards website. Results must also be returned to relevant stakeholders.
A comprehensive list of award details—including all requirements, deliverables, and more on the funding process—is available on the special call web page.