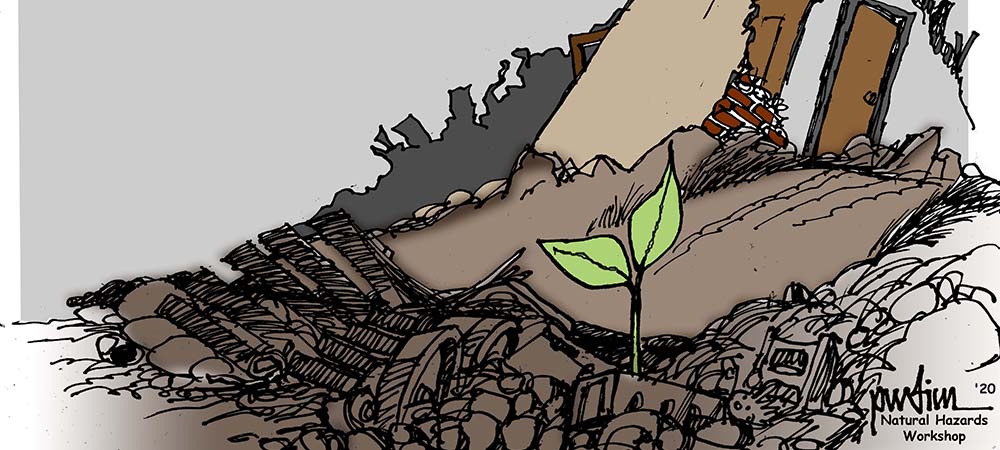 We have received many inquiries regarding whether there will be a Workshop this summer. We want you to know that the 45th Annual Natural Hazards Research and Applications Workshop will take place—even if we are not currently certain about the format.
The Natural Hazards Center team, like you, is closely monitoring the impacts of the COVID-19 pandemic and related travel restrictions. Considering the rapidly changing circumstances, we may need to take a dramatically different approach to organizing the Workshop and Researchers Meeting than previously. But we will persist because this is what our community does. It is who we are.
At its heart, the Workshop has always been about bringing together people from the broader hazards and disaster community who might not otherwise get to know one another. We realize that it is in this space that special exchanges of ideas can and do occur. We therefore will continue to work to build connections, whether virtually or in person.
For more than four decades, the Natural Hazards Center has had the honor of convening the Workshop. Just weeks ago, in February, we released this year's theme, Active Hope in an Era of Environmental Extremes. We know it is more important than ever to continue with the plan to assess the current reality, set a vision rooted in hopes for the future, and take the steps necessary to build just and resilient communities.
Currently, the release of our program schedule and the opening of registration will be delayed, most likely into early May. We will continue to update the Workshop pages and Researchers Meeting pages as more information becomes available. We will also be in touch with those who submitted Workshop ideas and Researchers Meeting abstracts in the coming weeks. Thank you for continuing to hold the dates for the Workshop and Researchers Meeting, and know that we look forward to being in touch with you.
Please also consider signing up for Workshop updates, if you aren't already. You can also always reach out to us at hazards.workshop@colorado.edu if you have further questions, comments, or suggestions.
For now, know that you are in our hearts and on our minds during this historic moment. You drive the work that we do at the Natural Hazards Center, and we gain strength and hope from each of you.
Please take care of yourself and others,
Lori Peek, Director
Natural Hazards Center