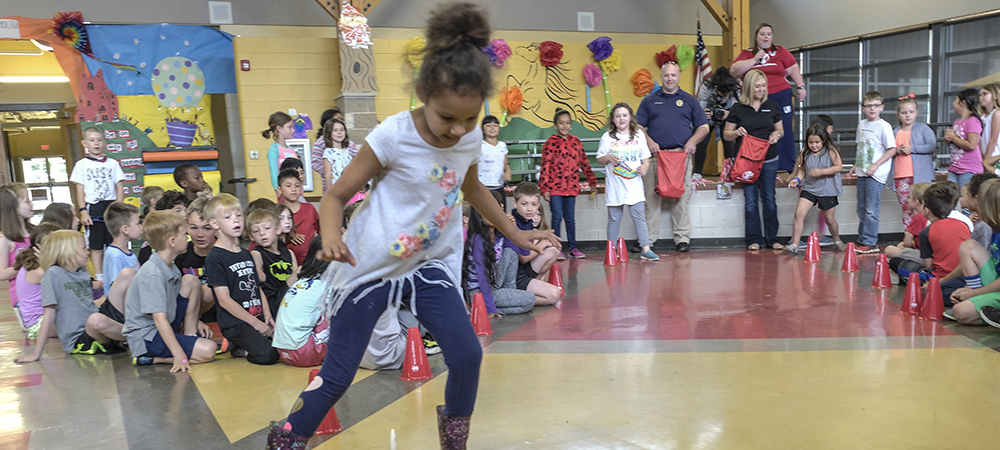 Students participate in a preparedness rally in Washington County, Arkansas. ©Save the Children, 2017.
By Jeffrey Schlegelmilch and Jonathan Sury
Implications for Public Health
Child-serving institutions play an essential role in safeguarding children in disasters. Community coalitions can identify and implement child-focused preparedness strategies to build community resilience.
Each day, approximately 69 million children say goodbye to their families and head off to school, daycare, or a variety of child-centered programs. This is a reminder that, while parents and caregivers lead their children's development, they are also part of a broader community that influences children's growth, development, and safety. In a disaster, these communities can become more important than ever for a child's wellbeing.
School-age children are in the care of over 8.5 million school staff members at more than 132,000 public and private schools across the nation, as well as numerous other childcare settings (with another 1.2 million staff employed). In addition, some children might be cared for at health facilities, foster homes, or other long-term places.
Because so much of children's growth and development occurs outside the home, their resilience to disaster is directly tied to their community's resilience. According to our survey of Americans and their opinions on children in disasters, however, more than one-third are not confident in their community's ability to meet the needs of their children in a disaster. And while this same survey shows decreased trust in government in the decade that preceded it, it also finds that more than half of the respondents expected to be reunited with their children within a few hours of a major disaster.
This disconnect between expectation and reality means that policymakers and practitioners have huge hurdles to overcome if they're going to meet the level of service demanded by parents and caregivers. To address this challenge, they often work to approach issues on a national or global level. Examining questions at this level allows them to build frameworks and strategic objectives with a smaller number of actors, but they are not creating a solution that includes the voices of the millions of stakeholders who respond to disaster—and that input may have the greatest influence on our children.
Because of this, there are a limited number of community-level tools, plans, partnerships, and exercises focused specifically on the needs of children. The programs and policies inherited by community institutions are often designed at higher levels of government that gives communities little input into their development. They sit in the middle of a pyramid that saddles them with the dual burden of broad strategies inherited from the top that have to be translated into actions that can be taken by the child-serving institutions, individuals, and families that make up the foundation of our national resilience.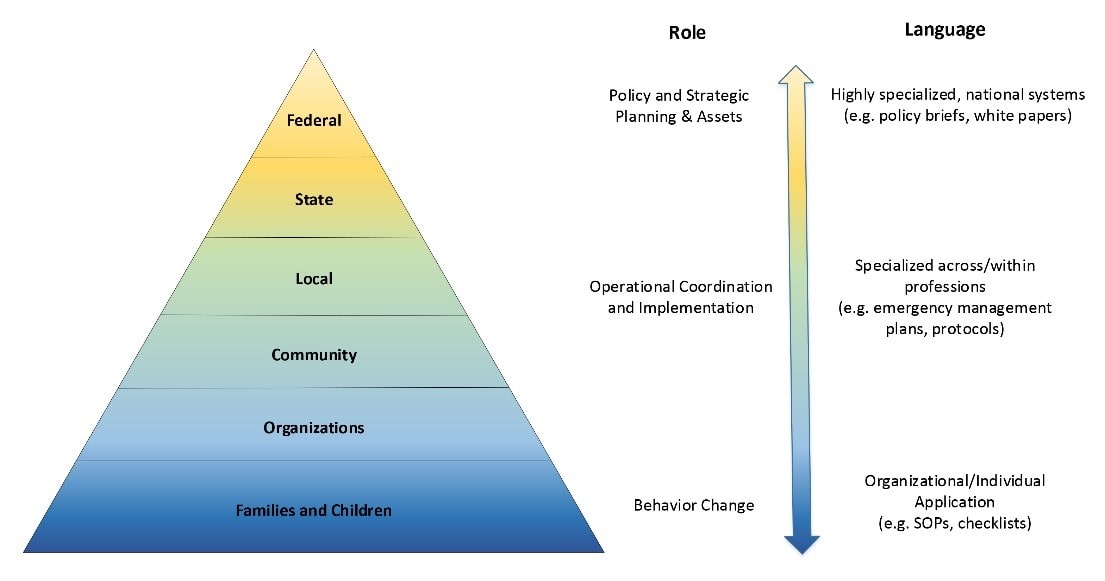 Figure 1. Civil Society Roles and Language Styles for Resilience.
The Resilient Children/Resilient Communities Initiative
To address this deficiency, the National Center for Disaster Preparedness (NCDP) at Columbia University's Earth Institute and Save the Children piloted the Resilient Children/Resilient Communities (RCRC) Initiative. , thanks to a grant from biopharmaceutical company GSK. The initiative initially concentrated on building community-based, child-focused resilience using a lens of preparedness. Now, in its second phase, it has expanded to apply what was learned from pre-disaster preparedness to helping communities in post-disaster settings build back stronger.
The RCRC Initiative posits that building cross-sectoral preparedness at the community-level can connect and build a more resilient network of individuals and organizations by connecting child-serving institutions to state and federal preparedness efforts. The initiative is based on local Community Resilience Coalitions (CRCs) that develop and implement strategies aimed at enhancing a community's ability to meet the needs of its children in disaster. CRCs are formed in partnership with existing community organizations and centered on children, the institutions that serve them, and community partners such as emergency managers and first responders. In addition to CRC strategies, the RCRC Toolbox was created to provide tools communities can use to achieve their objectives and to be share with others interested in enhancing child-focused community resilience.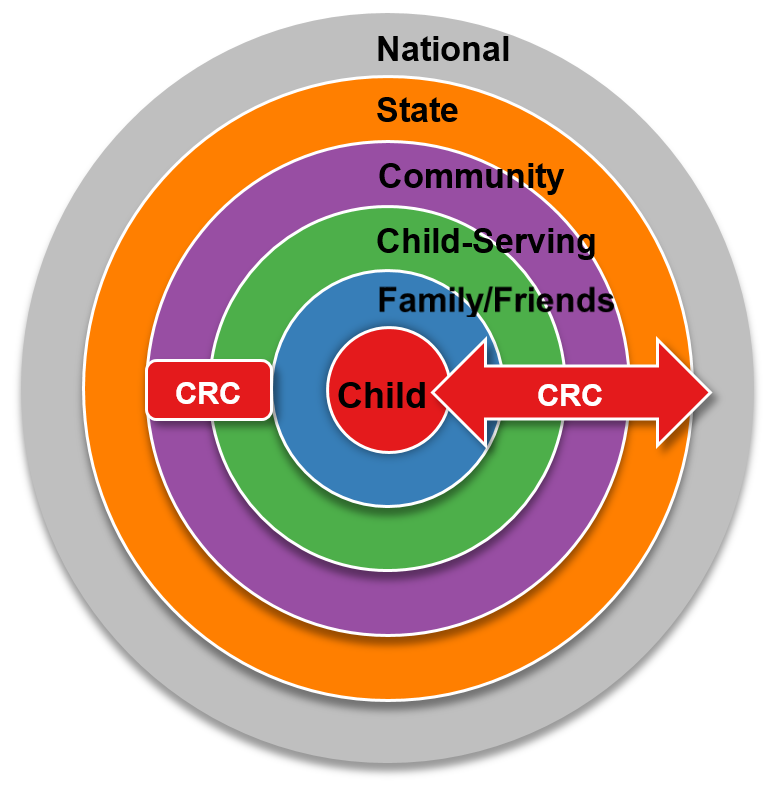 Figure 2. Child-Focused Community Resilience Model—Direct CRC Membership (Left) Impact and Reach (right).
This initiative has also served to amplify the voice of communities in national discussions. Under this initiative, the CRCs have been included in higher level discussions through a congressional briefing, agency meetings, national conferences, op-eds, and extensive media coverage.
The success of the initiative can be measured by the amount of engagement in preparedness-focused community events, workshops, and trainings and efforts to keep the needs of children in disasters at the forefront of conversations about building more resilient communities. While more difficult to measure, we have also heard anecdotally that shifting preparedness conversations to put children at the fore strengthens preparedness culture and decision making overall.
We quantified the success of the initiative using the Community Preparedness Index (CPI), which assessed communities current inventory of child-focused preparedness policies, guidelines, leadership, and best practices. The eight community sectors measured by the tool include where children are cared for by others (e.g. public and private schools, childcare centers, home-based care, foster care), where they may end up after a disaster (e.g. hospitals, emergency shelters) and which coordinating organizations might oversee the event (e.g. emergency management).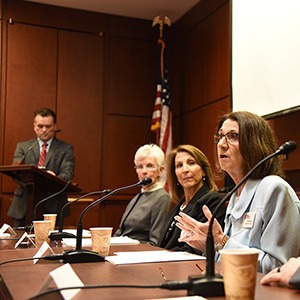 Community resilience coalition members speak at a congressional briefing in Washington, D.C. ©Jonathan Sury, 2018.
Our goal was to increase each community's CPI score in two of these sectors by 25 percent or more, which would indicate the sector's ability to address children's disaster needs had increased. After two and a half years, the pilot communities had increased five or more sectors by this threshold. Measuring the collective policies, governance, and best practices that allow communities to meet the needs of children is a huge challenge. The CPI provides an avenue to measure these systems.
Working at the community-level is challenging and systematic change is slow. Community resilience is a mosaic of variable governance structures, personalities, context, historical trauma, and resource limitations. However, these are not insurmountable factors. By trusting community partners and recognizing their accomplishments and strengths, while simultaneously listening to and anticipating their needs, we can help build sustainable solutions.
The roadmap for resilience may be lauded nationally, but it should be rooted in the individuals and institutions in our communities that can illuminate how to operationalize strategies where it matters most. By leaning into this complexity, rather than running from it, we can truly build national child-focused resilience from the ground up.
This Research Counts is also available in Spanish.
Suggested Tools
---
RCRC Toolbox
A dynamic collection of resources developed and curated throughout the Resilient Children/Resilient Communities (RCRC) initiative for the benefit of those working to make our communities and our children more resilient to disasters.
Resilient Children/Resilient Communities Fact Sheet
A fact sheet describing the Resilient Children/Resilient Communities (RCRC) Initiative, a child-focused disaster preparedness model targeting child-serving institutions.
For a list of all the tools included in this special collection, visit the Children and Disasters Tool Index.