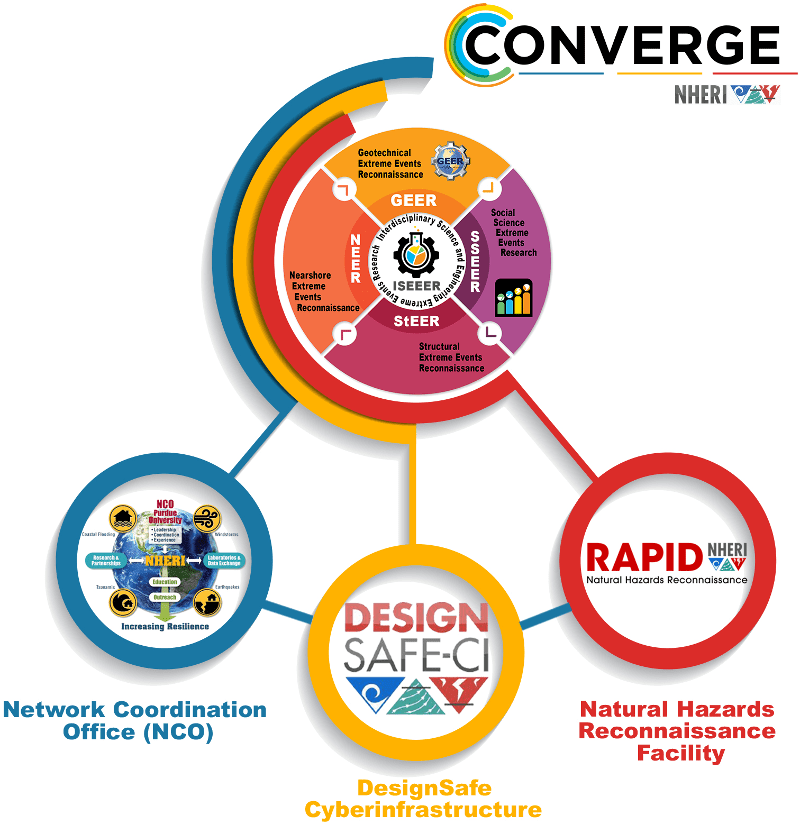 As Hurricane Florence drenches the southeastern United States, academic researchers from varying disciplines stand at attention; waiting to see what the impacts of the historic storm will be and how it will inform their work.
For some, getting into the field to collect perishable data will be key to furthering the understanding of disasters. For others, the data they collect and tools to assist with visualizing and analyzing it will be critical.
Regardless of discipline or approach, chances are the suite of resources available from the National Science Foundation's Natural Hazards Engineering Research Infrastructure (NHERI) and its various Extreme Events Reconnaissance (EER's) networks will be invaluable in studying the coming disaster. Please read more about how these initiatives can facilitate Hurricane Florence disaster research and check back for updated information.
DesignSafe
DesignSafe is web-based platform of the NHERI network, where researchers will find a variety of computational tools to manage and analyze disaster research data. It allows for data sharing and publication, integrated analysis, reconnaissance support, and provides access to high-performance computing. Although tools are currently geared toward natural hazards engineering research, the Natural Hazards Center CONVERGE facility and DesignSafe will soon be collaborating build a social science data model, as well. To explore the many available resources, data sets, and collaboration tools available, visit the DesignSafe web site.
Natural Hazards Reconnaissance (RAPID) Facility
The RAPID facility allows researchers to conduct next-generation rapid response investigations, evaluate the effectiveness of design methodologies, calibrate simulation models, and develop solutions for resilient communities.
Equipment Checkout: The facility has a variety of state-of-the-art reconnaissance equipment that can be rented at affordable rates. For instance, borrow a drone with a high-powered camera for about $35 per day to conduct NSF-funded research or about $58 per day for non-NSF research. You can find more about the process for requesting equipment on the RAPID Facility webpage.
CONVERGE
The CONVERGE facility is a new Natural Hazards Center effort that includes two initiatives to identify and connect social science researchers to one another, to interdisciplinary teams, and to communities at risk to and affected by hazards and disasters. The facility will eventually develop training modules, data and data collection instrument repositories, and many other resources for the hazards and disaster research community.
Quick Response Grant Program: The Natural Hazards Center's Quick Response Grant Program provides funds for researchers to quickly travel to disaster-affected areas to capture perishable data. Small grants of approximately $2,000 are available to cover travel-related expenses. Up to $5,000 may be awarded for joint proposals where members of research teams are working together across disciplines, institutions, or other boundaries to leverage resources and access to populations of interest.
For more information and to submit a proposal, visit the Quick Response Grant Program web page.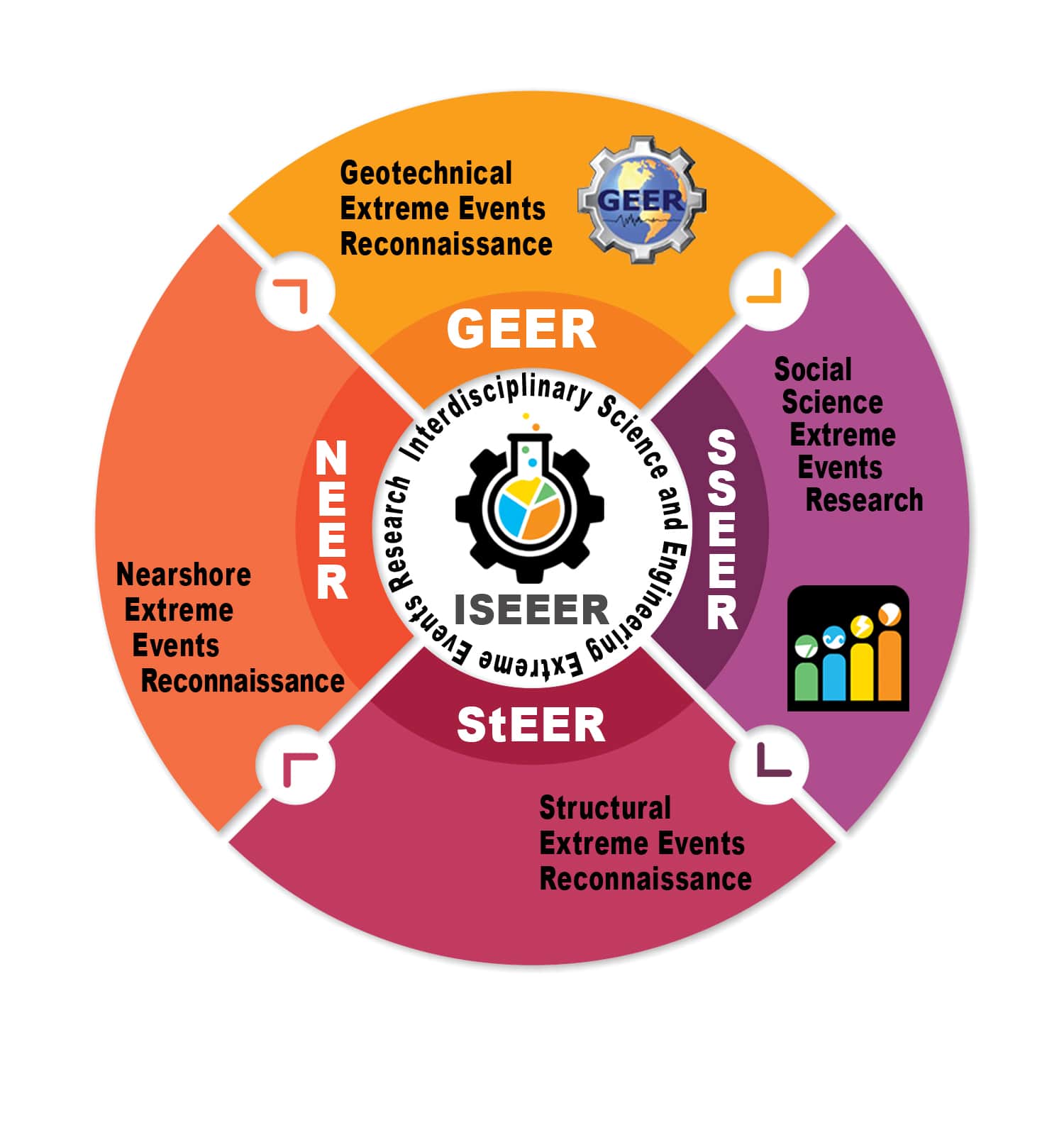 Extreme Events Reconnaissance (EER) Networks
In addition, the Natural Hazards Center, through CONVERGE, will continue building and maintaining SSEER and ISEEER and partnering with other National Science Foundation-supported extreme events research networks, including GEER, StEER, and NEER described below.
Social Science Extreme Events Research (SSEER) Network
SSEER is a network and online platform for social science hazards and disaster researchers. We are currently asking all members of the social science hazards and disaster research community to sign up to be included in the network. We'll soon launch a beta-map that will place the nearly 700 current members geographically. Learn more about SSEER and upcoming CONVERGE activities on the CONVERGE site.
Structural Extreme Events Reconnaissance (StEER) Network
StEER is devoted to increasing the capacity of the structural natural hazards engineering community to conduct reliable post-event reconnaissance. The recently funded effort will promote standards, best practices, and training for conducting rapid response field work and coordinate official event responses.
Preliminary Enrollment: The StEER network is opening preliminary enrollment for researchers interested in participating in possible responses to Florence or other major hurricanes this fall. Researchers will have the opportunity to deploy without delay as part of a coordinated, multi-institution effort with logistical support and travel funding. Industry partners such as insurance specialists, practicing engineers, and mitigation product specialists are encouraged to participate in deployments, although they will l not be eligible for NSF funding.
Those interested in participating in Hurricane Florence Responses can sign up using this form. Those interested in deploying to future disasters should sign up here.
Geotechnical Extreme Events Reconnaissance (GEER) Association
GEER is an association of geotechnical engineers, engineering geologists, and earth scientists who collaborate to conduct post-disaster reconnaissance missions. They use and share the findings from their missions to advance research and improve engineering practice. The GEER web site has report from past missions and a wide range of information about conducting rapid reconnaissance work, including protocols for deploying and ethical standards.
Nearshore Extreme Events Research (NEER) Association
The goal of the NEER Association is to conduct interdisciplinary site characterization and measurements immediately prior to, during, and after coastal extreme events spanning the region where ocean, land, aquifer, estuarine, and human processes and infrastructure interact. The initial organization of this effort recently was funded as part of a NSF convergence proposal.
Preliminary Enrollment: Those interested in participating in the development of NEER can sign up here.
Interdisciplinary Science and Engineering Extreme Events Research (ISEEER) Network
ISEEER is dedicated to linking social scientists, engineers, and interdisciplinary teams of researchers before, during, and after disaster. Please check back here for more information on the ISEEER network.