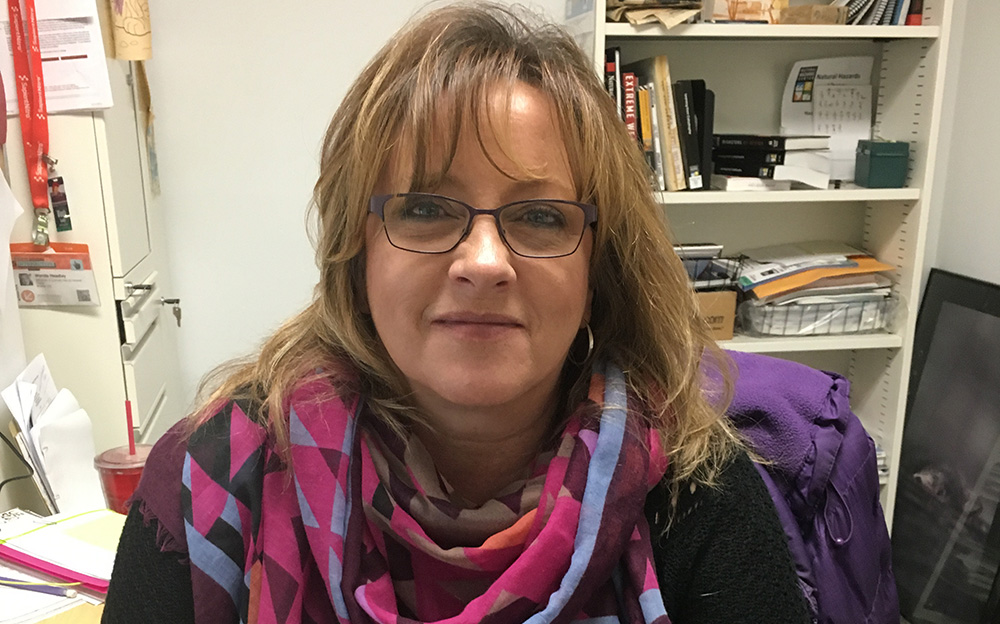 Wanda Headley, the Natural Hazards Center librarian for nearly 20 years, is set to retire. ©Allison Madera, 2017.
By Lori Peek
As director of the Natural Hazards Center, I'm both pleased and saddened to announce the retirement of our librarian Wanda Headley. Pleased because so many new adventures lie ahead for Wanda, but saddened because it is difficult to lose someone so vital to the Center's past and present. Wanda has served the Center for nearly 20 years, starting her career here as a library assistant in 1998.
Since then, Wanda has dedicated herself to helping the public find hazards and disasters resources. She has familiarized researchers new to the field with hazards literature, directed practitioners to resources that help protect their communities, and provided policymakers with information they can use to make evidence-based decisions.
Over the years, Wanda has left her mark on the Natural Hazards Center Library, which began informally in the early 1970s as researchers conducted the first U.S. assessment on natural hazards. By 1976, when the Center was founded, the library was an in-house service for Center staff.
Over time the library has transformed into one of the largest disaster libraries in the United States. Wanda has been integral to that growth, helping curate an extensive collection on the social, political, economic, and behavioral aspects of natural and technological hazards. Since 1999, the number of resources in the collection has nearly doubled from 22,000 to 41,000.
As Wanda has helped develop the library, she has also grown professionally. She was named library manager in 2001 and earned a master's in library science from Texas Woman's University in 2008.
In 2010, Wanda and other staff members led an effort that allowed the Center to begin digitizing materials in its collection. To date, nearly 36,000 reports, journal articles, and other materials are available to patrons through the online library catalog HazLib.
It is difficult to think of the Hazards Center without Wanda. She has been a steadfast contributor to the work that we do here. Although her absence will be felt at the center and in the broader hazards community, we are thankful for the legacy that her years of dedicated service leave at the Natural Hazards Center Library.
Please join us in wishing Wanda the very best as she takes the opportunity to enjoy the things she loves most—including gardening, traveling, and spending time with her rambunctious new puppy. I think there may be some non-hazards related reading she wants to catch up on as well! If you'd like to wish Wanda the best, you can reach her directly at wanda.headley@colorado.edu.
—Lori Peek, Natural Hazards Center Director