Disaster and Disability Award Winners
The Disability and Disasters Award supports people with disabilities working in disasters, as well as those who care for, study, or advocate on behalf of those with disabilities. Funds from the award, which was established in 2021, will allow the recipient to attend the annual Natural Hazards Workshop and the Researchers Meeting that follows. Learn more on the Disability and Disaster Award page.
---
2023 Winner: Alina Engelman
Alina Engelman
Alina Engelman is an associate professor of public health at California State University, East Bay. Her scholarly work focuses on health disparities for the deaf and disabled, including emergency preparedness and response and global disability justice in climate disasters. Other work explores the emergency preparedness and response role of community-based organizations serving older adults and people with disabilities in Puerto Rico. Engelman received her doctorate from the University of California, Berkeley; her Master of Public Health in global health from Yale University; and her bachelor's at Brown University.
---
Inaugural Award Winner: Kimberly R. Mills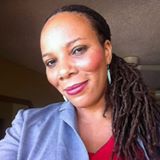 Kimberley R. Mills
Kimberly R. Mills is the senior executive director of the Virgin Islands University Center for Excellence in Developmental Disabilities (VIUCEDD) at University of the Virgin Islands and an affiliate faculty member with the University of Hawaii's Center for Disabilities Studies. She has more than 20 years of experience in executive management, direct service, research, technical assistance and clinical management and is a doctoral level board-certified behavior analyst.
Mills' research and community priorities include best treatment practices for autism spectrum disorders, technical assistance and evaluation, study of phenomenon surrounding the school-to-prison pipeline, cultural and linguistic competence through a behavioral analytic lens, disability employment, health disparities research, and emergency preparedness.
Mills lived through through two back-to-back Category 5 hurricanes in the Virgin Islands while helping to usher her organization and the U.S. Virgin Islands disability community navigate the disasters—which decimated the region—as well. She actively participates on many local and national boards, work groups, and special interest groups related to disaster preparedness and prevention for people with disabilities.
Mills is a professional fellow in the Professional Fellows Program on Inclusive Disability Employment program at the U.S. Department of State's Bureau of Educational and Cultural Affairs, which supports mid-career professionals from Kenya, Tanzania, and Uganda. She is a member of the board of directors of the Association of Assistive Technology Act Programs (ATAP) that oversees the operations of ATAP in each state, as well as in the District of Columbia, Puerto Rico, American Samoa, Guam, the Northern Mariana Islands, and the U.S. Virgin Islands.