Brandi Gilbert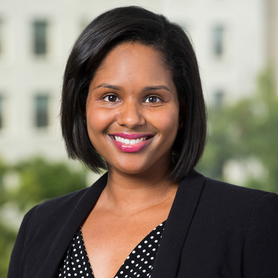 Community Science
Brandi Gilbert is a research associate in the Metropolitan Housing and Communities Policy Center at the Urban Institute, where her research primarily focuses on disaster resilience. She is deputy director of Rockefeller Foundation's Resilience Academies and Capacity Building Initiative evaluation, a qualitative study involving 18 site visits to assess technical assistance efforts for the U.S. Department of Housing and Urban Development's National Disaster Resilience Competition. Gilbert joins Urban from Community Science, where she researched and evaluated disaster preparedness and response, education, and public health initiatives.
She has also examined the social and economic impact of disasters such as Hurricane Katrina and the BP oil spill on youth and their families. Gilbert has conducted evaluations for several organizations, including the W. K. Kellogg Foundation, Bill & Melinda Gates Foundation, Kaiser Family Foundation, U.S. Geological Survey, and Corporation for National and Community Service.
Additionally, she served on several task forces and committees and was chair of the American Evaluation Association Disaster and Emergency Management Topical Interest Group and conference co-organizer of the Annual Hazards Research and Applications Workshop. Gilbert earned her bachelor's in elementary education from the University of Delaware and her PhD in sociology from University of Colorado Boulder, where she was a graduate research assistant at the Natural Hazards Center.