Elaina Sutley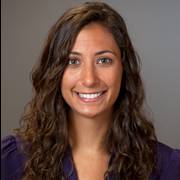 University of Kansas
Elaina Sutley is an assistant professor at the University of Kansas in the civil, environmental, and architectural engineering department. Sutley's work aims to demonstrate how investing in hazard mitigation in the most vulnerable communities can pay a large dividend, particularly when less obvious social costs are considered over the decision life cycle. She incorporates holistic metrics of sustainability and resilience into her research, and also focuses on developing interdisciplinary science, particularly with respect to hazards and disaster research.
Sutley's research began with the performance-based design of woodframe structures for extreme events. For her dissertation, Sutley managed the full-scale testing of a three story soft story woodframe building over a six month time period where seven seismic retrofit strategies were investigated via hybrid testing. Following which, Sutley developed a framework for a community-level seismic retrofit optimization incorporating social vulnerability into the engineering loss estimation and optimization to better estimate the consequences of mitigation decisions. The optimization framework was based on performance measures of initial cost, direct and indirect economic loss, morbidity, including persons diagnosed with post-traumatic stress disorder, and the time to recovery.
Sutley is part of the Center of Excellence for Risk-Based Community Resilience Planning, which is funded by the national Institute of Standards and Technology, and contributes to the buildings team, social and behavioral science team, field study team, interdependency team, hazard modeling team, and various test bed and hindcast teams. She is currently leading the effort on developing a quantitative and holistic housing recovery model which incorporates physical, social, economic, and political interdependencies.