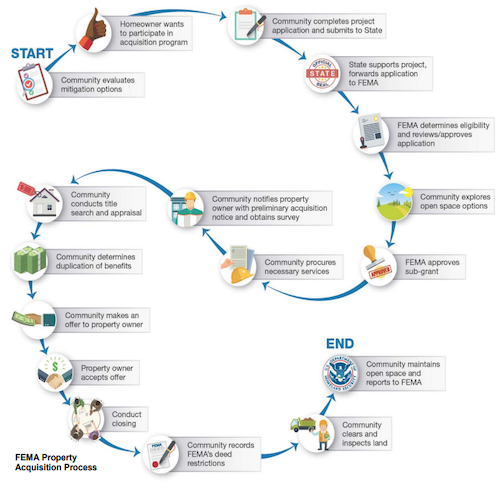 State of Indiana Mitigation Program process. Image credit: The Polis Center.
ArcGIS capabilities support every phase of hazard mitigation planning. From performing detailed risk assessments to collaborating with stakeholders to sharing project information with the public, apps and tools can help bridge the gap between data management, visualization, and analysis.
Join us on September 8 in the next Making Mitigation Work webinar, ArcGIS Capabilities for Mitigation Planning as speakers share their experiences working on the State of Indiana 2019 Mitigation Plan Update, as well as a new ArcGIS capabilities such as 3D flood analysis and data sharing applications.
The webinar is the latest in the Making Mitigation Work webinar series, which is presented in partnership with the Federal Emergency Management Agency. The free webinars feature innovative speakers and highlight recent progress in mitigation policy, practice, and research.
Space for this webinar is limited, so please register using this online form. If you're unable to attend or miss an installment, recordings of past events are available on the series web page. Continuing education credits from the International Association of Emergency Managers are also available for those who attend Making Mitigation Works Webinars. You can learn more on the webinar page.
Check out the recording of the most recent past webinar in the series Collaborative Risk Communication: Landslide Guide for Residents of Puerto Rico—now.