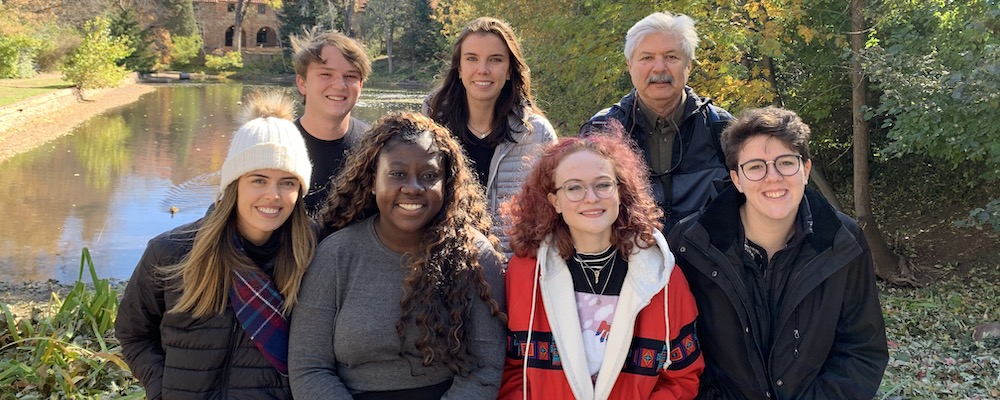 NHC Undergraduate asssistants gather at Varsity Lake on the CU campus. ©Katherine Murphy, 2019.
The Natural Hazards Center is pleased to introduce our Fall 2019 undergraduate research assistants. These seven promising scholars, each who bring a diverse set of talents and perspectives, will be working with us this semester on a range of projects. We have some new faces this semester and others whom you might recognize from previous semesters. All are vital members of our team.
These students are joining us as part of the training and mentoring program we launched in 2017. The program allows University of Colorado Boulder undergraduate students working toward their bachelor's degrees to apply for paid undergraduate research assistant positions or receive credit through internship programs in their respective departments.
Please join us in welcoming (or welcoming back!) the following students:

Sandra Appiah joins the Natural Hazards Center from the molecular, cellular and developmental biology department and also brings knowledge from her sociology minor. She supports the Research Counts publication series, as well as the Quick Response Research Grant Program. Appiah wants to become a physician, and she believes that her work at the Center will be valuable in her practice. "It will help me recognize social conflicts and issues and give me tools that ultimately help me be the best provider I can be," she said.
---

Zoe Boiarsky is a double major studying Spanish and Portuguese literature and culture, as well as geography with an environment and society concentration. She is also minoring in studio art. Boiarsky supports the Natural Hazards Center publications program, including Disaster Research: News You Can Use, Research Counts, the Quick Response Research report series, and other special projects. Boiarsky said that she was drawn to the Center because of its mission and its alignment with her interests. "I am excited to be working and learning important skills that I will be able to take with me with throughout life," she said.
---

Megan Costa is a sociology major who supports the Natural Hazards Center website, completes program management tasks, and assists with Disaster Research: News You Can Use, Research Counts, the Quick Response Research report series, and the Making Mitigation Work webinar series. Costa joined the Center in the spring of 2018. She plans on pursuing graduate studies after she completes her undergraduate degree, and she notes that her time at the Center has already helped with that goal. "The staff at NHC have been wonderful in welcoming me to the team and allowing me to pursue topics that interest me."
---

Helen Gardner is a major in evolutionary biology and ecology with a minor in business. She works on the NSF-supported CONVERGE project. Over the last year, she has been focused on coding data as part of the Social Science Extreme Events Research (SSEER) network. Gardner said she loves working at the Center because of its environment of inclusivity and mutual respect for everyone. "I have grown and learned so much through the time I've been here and been a part of so many different projects," she said. "I love working side by side with such compassionate, kind, and motivating people."
---

Luther Green received his bachelor's degree in geography, Luther returned to the University of Colorado Boulder to earn a second degree in sociology. Green is working on a Save the Children -supported evaluation project and a new U.S. Geological Survey-funded project on earthquake early warnings and schools. Noting that he had the opportunity to take a class with Gilbert White—the founding director of the Natural Hazards Center—while obtaining his first degree, Green said he was drawn to the Center's "history of great directors, starting off with Gilbert White and his legacy."
---

Kamryn Roper-Fetter is a human geography major who also works on the SSEER Network project. Roper-Fetter strongly believes in considering both natural and social elements in disaster prevention, management, and mitigation, and stated that he was "especially drawn to NHC because it has a great dynamic of using both the social and natural sciences to create a comprehensive and multifaceted analysis of disasters."
---

Mary Yoder joins the Natural Hazards Center from the technology, arts and media program, and brings with her additional expertise from a computer science minor. Mary will be using these skills to assist with design projects at the Center, ranging from publications to posters to the website. Yoder is also providing assistance to the USGS earthquake early warnings and schools project. Yoder said she was interested in the Center because of its multi-disciplinary approach and added that it "aligns with my passion for interdisciplinary learning and research that recognizes the critical impacts that humanities and sciences have on one another."
The Natural Hazards Center Team looks forward to working and continuing to work with each of these outstanding individuals.