In the past year, disaster researchers around the world have undertaken important, caring, and difficult work. They have put aside shock, terror, and grief to come together and attempt to make sense of the cascading disasters and compounding impacts that we now face—public health, social, economic, political, and ecological. Many, like myself, have been personally affected. Researchers do not just collect perishable data about other people's experiences, they are also affected by them. The emerging climate reality, COVID-19 pandemic, and other increasingly damaging events mean that researchers from adjacent disciplines, many who might not be trained in disaster research, will need to conduct emotionally challenging research in emerging disaster contexts. Yet, how can they keep at it as disasters intensify and systems break down around them? What does and should an ethical strategy for conducting disaster research look like? I'd like to reflect on two.
As this difficult and caring work persists into 2021, I want to explore how strategies of researching with care and research as care can enable researchers to nurture themselves, and others, even as they live with daily experiences of uncertainty. I developed these strategies based on grounding truths I learned while working with people from diverse backgrounds in Australia.
Researching With Care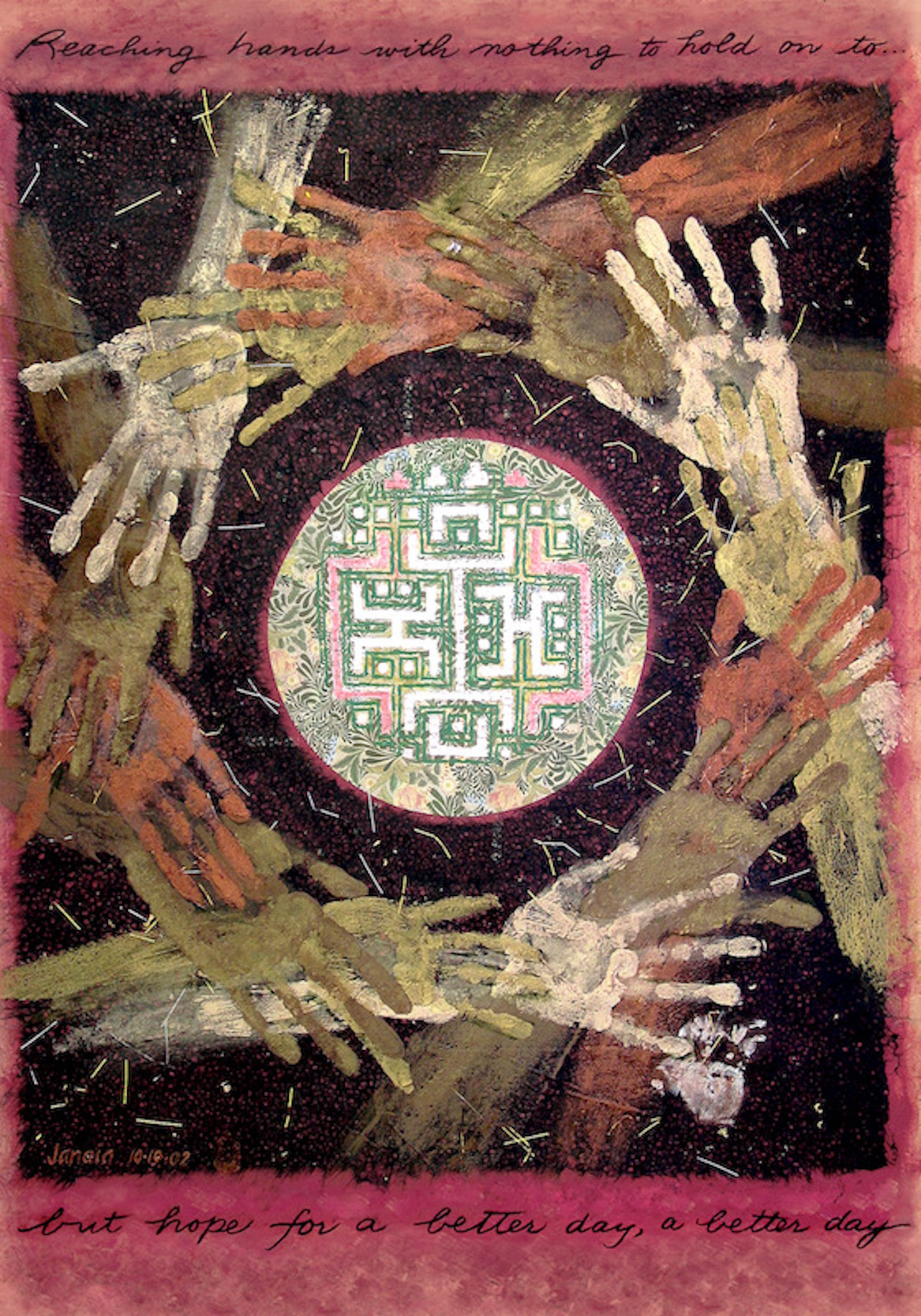 Reaching Hands by artist Janaia Donaldson. ©Janaia Donaldson, 2002.
Researching with care has been a long-standing aspiration for disaster researchers. This is something institutional protocols are set up to do. Yet, there are many unknowns that can never be fully anticipated. Even after scholars receive an Institutional Review Board or Ethics Review Committee approval, they are still likely to grapple with a range of subjective and relational dilemmas once their work is underway. They often must navigate contested relationships in the field, with institutions and funding bodies, and within the academy. They also have to negotiate how to make meaning from people's experiences—and their own—of compounding disasters.
I developed the ethical framework of researching with CARE—an acronym for collaboration, accountability, responsiveness, and empowerment—because it can hold us, as researchers, accountable to research participants and collaborators. The CARE framework emphasizes the need for collaboration by encouraging researchers to engage in ongoing engagement and partnerships, with the objective of holding themselves accountable to the people and institutions they work with. It positions them to listen deeply and be responsive to people's lived experiences while empowering them to speak truths and engage in transformative and healing work, wherever they stand. Partaking in a culture of sharing such guiding frameworks and including them in research protocols is important, especially when collaborating with other researchers. Because when research is done with care, it is important to state the ethics that are foregrounded, both personally and collectively.
Research as Care
Caring doesn't stop with our research methods, tools, and modes of data collection. Research can also be approached as care—as a relational way of being in the world. Research as care calls on researchers to be reflexive about their positionality and biases; their power and privilege; and their personal beliefs about other people's claims on identities, places, and disciplines. In committing to research as care, researchers must ask themselves, how they extend care in their everyday lives, conversations, and research practices. It is important to look at not just at what they publish in journals and books, but also what they say, unedited, in Zoom meetings, on social media, in email correspondence, and in daily conversation.
And it isn't always about what is said or written in these situations. We must also pay attention to the silences—what is not being said? Who is not in the room, and why? Because when research is approached as care, then we can commit to care as ongoing work that reaches beyond research projects, methods, and data collection. Our experiences in the world are too visceral, too much of consequence, to not push ourselves to speak important and grounding truths about power, inequity, and injustice. But we have to know, this work will never be done. We have to keep at it. I am hopeful that, for researchers, the strategies of researching with care and as care can contribute to the emergent code of ethics in disaster research. Perhaps these strategies can enable all researchers to imbibe more caring relationships with beings, places, and institutions, especially as they continue to live with daily experiences of precarity.
The author initially shared this material in the form of comments at the 2020 Researcher's Meeting Plenary session, on July 15, 2020.