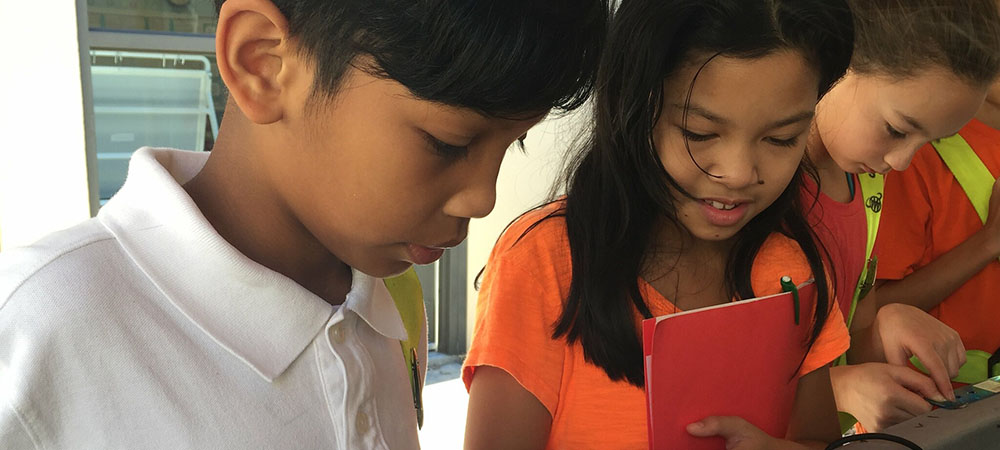 Students at the Mayport Elementary School Coastal Sciences Academy conduct an experiment on rainbow trout. The school received community assistance to assure the experiment remained operational during Hurricane Matthew. ©Jaxport, 2016.
By Cassandra R. Davis, Sarah C. Fuller, Sarah R. Cannon, and Rex Long
Implications for Public Health
School children and educators have many pressing needs after disasters. Mental health support and other resources should be targeted to both students and school staff after such events.
The primary mission of schools is to educate children—and this includes the obligation to instruct students before, during, and after a disaster. In the wake of a storm, schools must balance the need to educate students with the ability to provide them with recovery support. Schools that are able to provide academic and personal support to both students and teachers will be better equipped to quickly return to normal after a disaster.
Hurricane Matthew came ashore on October 8, 2016 and generated massive flooding across a large area of eastern North Carolina. Data from the North Carolina Department of Public Instruction indicated that at least 600,000 students were impacted by the storm—that's 600,000 students at risk of experiencing the psychological issues and reduced academic achievement that research has shown can stem from children's exposure to hurricanes. We know that support from schools can lessen these issues, however, minimal research is available to guide educators on the types of support that work best.
In Spring 2018, we surveyed school and district personnel from 10 eastern North Carolina school districts that were severely affected by Hurricane Matthew. A total of 1,722 personnel representing 178 schools completed the survey. The fall after we conducted the survey, Hurricane Florence made landfall, impacting many of these same districts. These repeated disasters underscore the importance of understanding what support students and educators need during recovery.
The following summary of responses to three of our survey questions shed some light on what type of support was available after Hurricane Matthew, what educators found helpful, and what was missing during the recovery process.
What support was provided to students and educators following Hurricane Matthew?
Participants perceived that a much wider array of support was available to students than to school and district personnel. Most indicated in the survey that their school was closed for approximately two weeks. It is therefore perhaps unsurprising that adjustments to the regular school calendar were the most frequently identified type of support provided to both students and personnel. Calendar adjustments typically took the form of missed school days that were either made up later in the year or "forgiven" by the state legislature. Other forms of support available to students and school personnel—as identified by the school and district personnel who completed the survey—are listed in Table 1.
Support Provided
Perceived Support Available to Students (%)
Perceived Support Available to Personnel (%)
Adjustment to the school calendar
86
74.8
Personal supplies
56.8
8.8
School supplies
56.1
8.4
Emergency housing
41.8
6.0
Free meals
35.5
6.0
Referrals to agencies
35.1
5.5
Financial support
34.5
4.5
Transportation
33.9
1.9
Mental healthcare providers
33.3
4.2
Table 1. Types of support offered after Hurricane Matthew and the percentage of survey participants who identified such support as available to students or personnel.
Of the support identified, what was the most beneficial?
Among the types of support available, participants identified emergency and temporary housing as the most beneficial support for students. Adjusting the school calendar and providing free meals also ranked high as beneficial for students.
Participants also indicated that modifying the academic calendar was the most beneficial way to support school and district personnel, followed closely by school relocation and the launching of emergency response plans. See Table 2 for further information.
Ranking by Level of Benefit
For Students
For School and District Personnel
1
Emergency/temporary housing
Adjustment to the school calendar
2
Adjustment to the school calendar
School relocation
3
Free meals
Emergency response plan
4
Personal supplies
Financial support
5
Emergency response plan
Emergency/temporary housing
Table 2. The top five items educators ranked as most beneficial for students and personnel.
What support was missing?
Finally, and as shown in Table 3, participants identified the types of support they felt were missing after the hurricane. The support most commonly identified as missing for both students and personnel included access to mental healthcare providers, financial support, and free meals.
Rank by Missing Items
For Students
For School and District Personnel
1
Amended policies for student achievement
Financial support
2
Mental healthcare providers
Free meals
3
Medical healthcare providers
Personal supplies
4
Financial support
Mental healthcare providers
5
Free meals
School supplies
Table 3. The top five items commonly identified as missing for students and school personnel.
Conclusion
It is imperative for educators, policy makers, and interested stakeholders to assist schools recovering from reoccurring hurricanes. Although students receive a wide range of support after a disaster, educators facing the same impacts are often left to address their personal and professional needs alone. Further support from mental healthcare professionals could assist both students and educators to recover faster and return to the classroom. Moreover, taking a systems approach to trauma-informed schools can help students, staff, administrators, and families recover more effectively from disasters.
Teachers spend so much time teaching lessons to others, it is important that we learn lessons from them after disasters.
Suggested Tools
---
Creating, Supporting, and Sustaining Trauma-Informed Schools: A System Framework
National Child Traumatic Stress Network
Framework for creating a trauma-informed school environment that addresses the needs of students, staff, administrators, and families who could be at risk for experiencing the symptoms of traumatic stress.
For a list of all the tools included in this special collection, visit the Children and Disasters Tool Index.
---