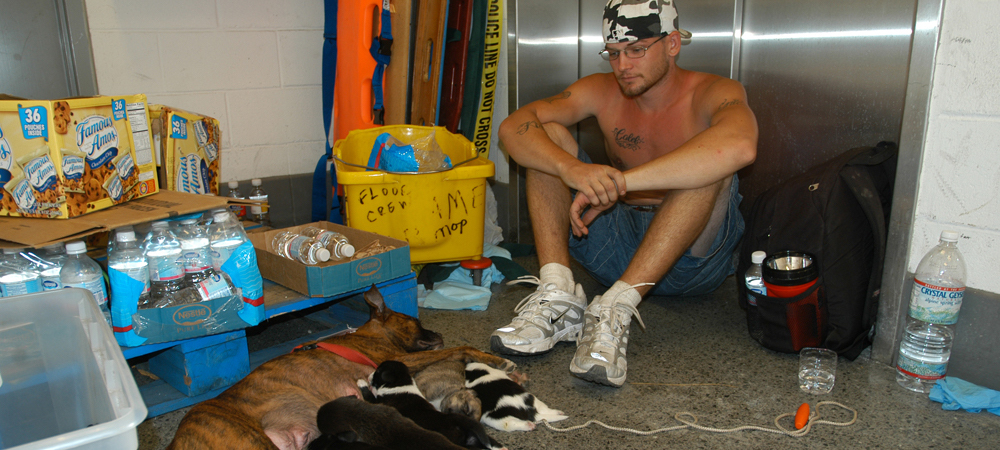 An evacuee watches his dog nurse her puppies after Hurricane Katrina. Some people chose to shelter in place after learning they could not evacuate with their pets. ©Federal Emergency Management Agency/Win Henderson, 2005.
Implications for Public Health
Jurisdictions that develop a comprehensive, actionable plan for sheltering companion animals can help protect pets and the physical and mental health of pet owners during a disaster.
For most people with pets, their beloved cats, dogs, and other animals are much more than companions—they're considered members of the family. It is therefore unsurprising that, when faced with leaving their animals behind, many pet owners choose to remain in their homes rather than evacuate in times of emergency. Given that there are nearly 77 million dogs and 58 million cats in U.S. households, emergency management officials at all levels would benefit from designing plans for disaster response that accommodate companion animals. Unfortunately, the extent to which animals are included in evacuation and shelter planning varies widely across states, resulting in a piecemeal landscape of companion animal preparedness.
When pets are not included in planning, their owners can suffer. They may be less likely to take protective action for themselves, for instance. There may be increased stress on their present and future mental health—pet loss in a disaster situation predicts higher levels of psychological distress, post-traumatic stress disorder, and anxiety among companion animal owners. For the animals left behind, they are at risk of harm, illness, and death. These factors place economic burdens on both human and veterinary care systems, which might already be overwhelmed in times of disaster. As the State of New York (2020) points out in its Comprehensive Emergency Management Plan, "It is clear through analysis of these local and national disasters that planning for animal welfare is planning for human welfare."
Different Levels of Emergency Planning
The United States Congress recognized the need to plan for human and animal welfare following Hurricane Katrina, in which thousands of people were forced to leave their pets behind in order to access safe shelter. Soon after, the Pets Evacuation and Transportation Standards (PETS) Act was passed, stipulating that states that receive federal funding for emergency operations must incorporate protections for companion animals into their emergency plans. Even though companion animal emergency planning is now mandated by law, it varies quite widely among states. Aiming to find where these differences lie, I analyzed the companion animal planning documents for nine randomly selected states, one from each of the Federal Emergency Management Agency's 10 planning regions: Alabama, Hawaii, Illinois, Iowa, Louisiana, New York, Rhode Island, Utah, and Washington (the tenth selected state, Delaware, did not respond to requests for information). I conducted a comprehensive literature review to determine the model attributes of both general and pet-specific emergency planning documents and compared adherence to the recommendations across states.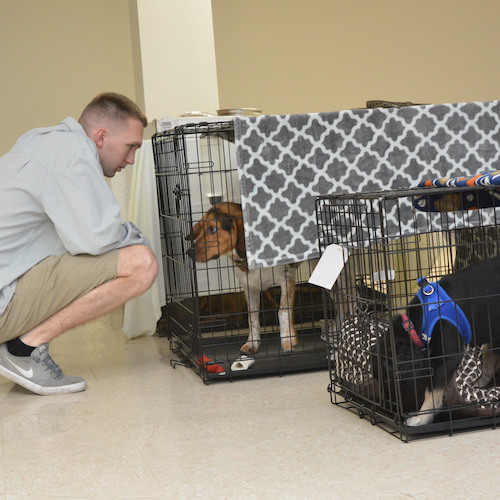 A man sheltering from Hurricane Dorian at the Naval Medical Center at Camp Lejeune checks on his dog housed in the center's pet room. ©Navy Medicine, 2019.
I found that some states have highly considered, robust plans, while others have only rudimentary plans or no plans at all. The extent to which states adhered to recommended plan elements (attention to data; consistency with legislation; clarity of authority; responsibility for public information; collaboration with multiple sectors; and detailed logistics) varied widely. For example, although the American Veterinary Medical Association offers formulas to assist jurisdictions in estimating their companion animal population, only two of the nine states included an estimated number of animals potentially requiring shelter in their plans. All states specified which entities were in charge of providing or arranging housing and care for companion animals; however, only four supplied specific checklists of necessary supplies, and only two states listed an inventory of supplies on hand. Moreover, the majority of states did not specify where animals would be housed or procedures for sheltering companion animals, whether with their owners or separately. All of the state plans enlisted the aid of nongovernmental organizations to meet their animal care needs. However, less than half of states had written memoranda of understanding or mutual aid agreements between agencies. These agreements are important not only to ensure continuity, but to provide a measure of accountability and commitment between partners.
Recommendations and Resources
As companion animal safety remains a critical consideration for individuals and families, many organizations have created templates and kits to assist jurisdictions in emergency planning. For example, the Louisiana Department of Agriculture and Forestry's Cohabitated Human/Household Pet Sheltering Toolkit is a comprehensive planning document that contains information on planning and preparation, including a site selection worksheet, coordination and readiness checklists, and sample memoranda of agreement; operations, including public health and safety guidelines, personnel roles and responsibilities, and cleaning protocols; and templates for intake/discharge, veterinary records, volunteer registration, and pet owner agreements, among others.
Evacuation failures due to lack of sheltering options for people's cherished animal family members are unfortunately common. Jurisdictions can lighten burdens on the economy, public health, and public safety by implementing a rigorous planning process to ensure pets are cared for during times of disaster. Knowing that their pets are in safe temporary homes will pay dividends in emotional well-being for people who share their lives with animal companions.
Suggested Tools
---
Developing a Local All-Disaster Animal Evacuation and Sheltering Plan
Regional Institute for Community Policing
This document was created to assist local personnel in developing an evacuation and sheltering plan for animals. It contains tools for planning; forms for field rescue and transportation; and guidelines for public communications, among other essential considerations for mass shelters.
Cohabitated Human/Household Pet Sheltering Toolkit
Louisiana Department of Agriculture and Forestry
A collection of guidance documents, checklists, forms, and other templates to assist in offering cohabitated shelter for pets and owners.
For a list of all the tools included in this special collection, visit the Mass Sheltering Tool Index. A list of further readings are also available.