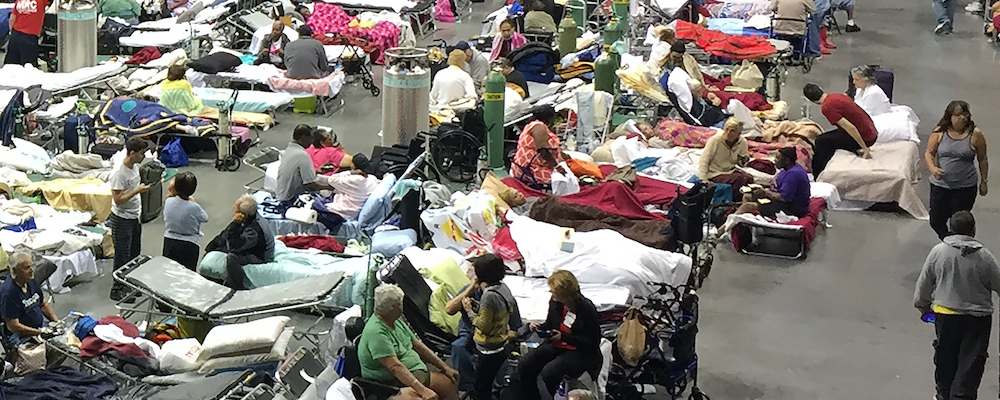 A shelter in Alachua County, Florida, provides services for those with various needs during Hurricane Irma. ©Alachua County, 2017.
By John Twigg
Implications for Public Health
People with disabilities face specific challenges in disaster shelters, including lack of accessibility and a shortage of personnel trained to recognize and support special needs. Organizations that serve individuals with disabilities should be consulted to ensure effective disaster planning, response, and recovery.
People with physical, psychosocial, and cognitive disabilities face particular challenges in disasters. They are less likely to receive timely hazard warnings, evacuation routes and public shelters can be difficult or impossible to access, and shelter facilities often fail to supply many of their needs.
Once in a public shelter, people with disabilities face another range of obstacles. They may not be admitted on the grounds that the shelter cannot manage their disability—particularly those with cognitive impairments or mental health issues. Registration and assessment procedures might not detect special needs, especially functional needs that help maintain independence. Signage, captioning, and translation might not be accommodated, restrooms, cots and bathrooms can be inaccessible, and it can be difficult to get necessary medication and medical equipment. Family, caregivers, and personal support networks may be discouraged or even barred from accompanying people with disabilities into shelters. Service animals can also be excluded.
People with disabilities—who make up about 15 percent of the global population—aren't adequately provided for in public shelters. Throughout the world, emergency preparedness, response, and recovery are often planned and implemented without due consideration of people with disability.
Best Practices for Disability Considerations in Shelters
These problems result mainly from institutional failings and resource shortfalls. A lack of planning and response communication, limited coordination between emergency managers and disability-serving organizations, and an acute shortage of shelter personnel trained to support those with disabilities can all be contributors to such issues.
Yet good disability practice in communal shelter management isn't inherently difficult. It includes basic activities such as advance planning, ensuring equal physical access, training professional and volunteer shelter staff, making special diets available, communicating appropriately, and providing necessary technical requirements, such as electrical access for medical and mobility devices or refrigeration for medication. Even stronger practices would involve people with disabilities in planning, managing, monitoring, and evaluating shelter activity and planning.
The Social Model of Disability in Shelter Management
Disability advocates have pressed for the adoption of a social model of disability, which is based on human rights. This model sees disability as the social consequence of having an impairment, which means that inequalities faced by such people can only be overcome if society becomes more inclusive. The United Nations Convention on the Rights of Persons with Disabilities, which requires states to take "all necessary measures to ensure the protection and safety of persons with disabilities in situations of risk" was founded on the social model of disability. Since its adoption in 2008, disability has become much more prominent in the international disaster policy agenda.
Concern for disability inclusion, rights, and standards in disasters has since been expressed in a number of other international policy instruments, notably the Sphere Humanitarian Charter and Minimum Standards in Humanitarian Response (which included commitment to disability inclusion in 2011), the Sendai Framework for Disaster Risk Reduction, and the 2016 World Humanitarian Summit (which endorsed the Charter on Inclusion of Persons with Disabilities in Humanitarian Action). The Inter-Agency Standing Committee—the primary mechanism for the coordination of global humanitarian assistance involving key UN and non-UN partners—launched guidelines on inclusion of people with disabilities in humanitarian action in 2019. National, regional, and international organizations have also produced a range of tools and guidelines for supporting and engaging people with disabilities and disability-serving organizations in disaster planning, response, and recovery.
Instituting Change
The practical challenge is getting new approaches to work on the ground and applying them effectively in public shelters. There is still a need to sensitize emergency management organizations and their staff through training, guidelines, and other technical support. Implementing organizations often have little in-house capacity or expertise in disability. In practice, responders have to balance the urgent need to provide assistance to large numbers of people with the special needs of specific groups. A primary driver of change may be equality legislation or the requirement for public service providers to ensure equal access for people with disabilities. This happened in the United States, where the Americans with Disabilities Act (ADA) spurred several federal agencies to produce guidance relating to disability and emergency management. However, we shouldn't assume that legislative innovation will translate easily and quickly into practice, especially since there have been so many instances of state emergency shelters in noncompliance with ADA. More specific legal provisions, standards, or localized considerations may be required to bring about measurable changes on the ground.
While the research reveals the many obstacles people with disability encounter in accessing emergency shelters, the findings also show that these can be overcome if appropriate changes are made in policy, practice, and approach.
Suggested Tools
---
ADA Compliance Tip Sheet
Disability and Health Program at Alabama Department of Public Health
The ADA Compliance Tip Sheet is a resource that helps shelter managers assess common accessibility barriers and find solutions.
Guidance on Planning for Integration of Functional Needs Support Services in General Population Shelters
Federal Emergency Management Agency
This document provides planning guidance that can be incorporated into existing shelter plans to State emergency managers and shelter planners to meet access and functional needs in general population shelters.
State of Texas Functional Needs Support Services Tool Kit
Texas Disability Task Force on Emergency Management
A comprehensive toolkit containing guidance, checklists, decision aids, and templates to assist individuals with disabilities and/or other access and functional needs.
---
For a list of all the tools included in this special collection, visit the Mass Sheltering Tool Index. A list of further readings are also available.