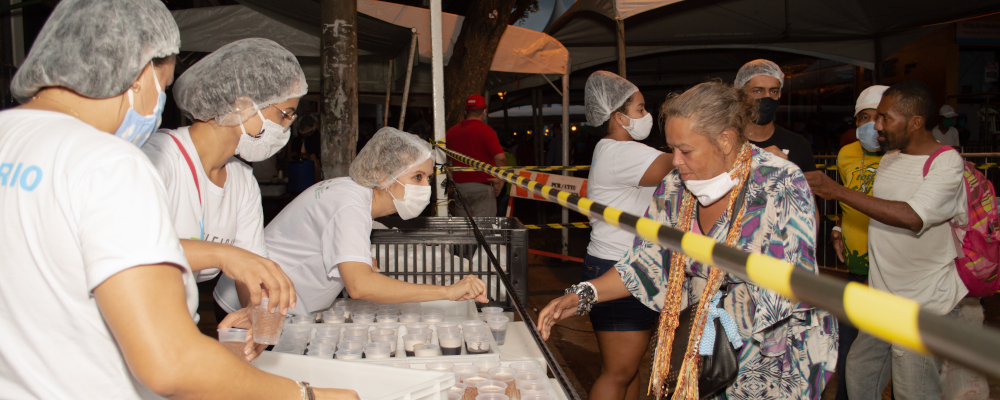 Volunteers serve meals early in the COVID-19 pandemic. Image credit: Shutterstock.
By Joshua Behr, Wie Yusuf, Jennifer L. Whytlaw, Nicole Hutton, Jennifer Marshall and, Kelsey Merlo
Implications for Public Health
The COVID-19 pandemic introduces new considerations that must be addressed to ensure safe evacuation and sheltering, including evacuee care, shelter operations, public messaging, and workforce dynamics.
Shelter staffing and management requires a range of expertise, including social-psychological and clinical skills. This has especially been the case during the COVID-19 pandemic, where the need to limit the spread of infection through distancing, heightened sanitation, and limited social interactions compounds the complexity.
Our CONVERGE COVID-19 Working Group identified issues that can impact the well-being of evacuees in congregate shelters. With input from more than 250 disaster professionals and researchers who participated in our Working Group sessions, we developed insights and knowledge useful for planning and operations in sheltering facilities under pandemic conditions. These takeaways, categorized below, should be fully considered in state and local sheltering planning policies and practices.
Shelter Operations
The number, type, and capacities of shelters can change during pandemics due to the need for social distancing, quarantining, and careful management of at-risk populations. Social distancing and quarantining might require shelter capacity to be adjusted downward, as well as additional sheltering venues to be identified to meet projected demands. Within shelters, internal movement, directional flow, visitation, and the ability to exit and re-enter should also be reconsidered.
Shelter Supplies
The COVID-19 pandemic has changed the types and amounts of supplies needed in shelters while simultaneously disrupting supply chains. Higher-level sanitation protocols require additional cleaning supplies, equipment, and training. More disposable products are needed for food preparation, as well as the delivery of medical services. These supplies must be planned for, procured, staged, inventoried, and stored safely. Anticipating shifts in demand for these products and equipment and identifying reliable supply chains ahead of time are necessary.
Infectious Disease Control and Client Care
The pandemic introduces new concerns related to protocols and training for initial and periodic infectious disease screening within shelters. Thought must be given to the setup of isolation areas and how to best staff and secure them. Prescription medication acquisition, distribution, and administration will also require additional planning.
Public Messaging and Communications
Anxiety about COVID-19 exposure in shelters is likely to be heightened, so messaging should effectively communicate risks and mitigation measures along with disaster updates delivered in a calm and reassuring manner. Communications should be tailored to clients who speak English as a second language, and to those who have sensory or cognitive impairments.
Workforce Staffing and Volunteers
The pandemic environment could decrease the number of staff and volunteers available to manage shelters, affecting workplace dynamics. Staff and volunteers have the same concerns about infection as the larger population, so some will be hesitant or unable to work. In some cases, a decline in experienced staff and volunteers could erode the natural continuity that comes from experienced personnel mentoring junior workers in an active shelter environment. Increased work demands also require innovations in work and rest schedules to reduce fatigue and maintain compassion. Attending to these workforce demands necessitates the rethinking of roles, tasks, and schedules to ensure adequate staffing.
Workforce Training
Changes in client care, security, and sanitation protocols mean that new or enhanced certification, training (e.g., functional, cross-training, and infection control), and delivery methods should be considered. Special attention must be paid to personal protective equipment, hygiene, and sanitation. Cleaning practices must be regular and monitored, requiring a compliance and reporting regimen. Staff will need to be familiar with screening and triage protocols to separate ill and vulnerable evacuees from those who are healthy. Additional training on communicating with diverse groups who are under stress might be needed to do this in a safe, respectful way.
Psychological Adjustment
Chronic and acute stressors are part of typical evacuation and sheltering and can be exacerbated in a pandemic environment. Shelter management should consider the longer-term impacts on well-being, workforce productivity, career satisfaction, and mental health that stem from evacuation and sheltering during a pandemic. Enhanced methods for training shelter staff and volunteers to identify and act on mental health issues should be explored, as should the potential of embedding mental health professionals into shelter management teams.
Conclusion
The COVID-19 environment means that planning practices and policies for nearly all aspects of evacuation and congregate sheltering must be revisited. Innovative methods and refined protocols should be developed to address the issues mentioned above. Grappling with the new reality of evacuation and sheltering under a COVID environment is necessary for the protection and well-being of both sheltered populations and sheltering teams.
Suggested Tools
---
CDC Interim Guidance for General Population Disaster Shelters During the COVID-19 Pandemic
Centers for Disease Control and Prevention
This document outlines a public health surveillance approach that may be used during a disaster response and reviews principles and practices of disaster surveillance. It provides key concepts and challenges to consider when conducting disaster surveillance.
Hurricane Key Messages: COVID-19 Annex
Centers for Disease Control and Prevention
A resource providing examples of public messaging to help people safely prepare, evacuate, and shelter for severe storms while protecting themselves and others from COVID-19.
A QuickGuide to Disaster Workforce Planning during the 2020 Hurricane-Coronavirus Pandemic Season and Beyond
University of South Florida
A guide to assist emergency planners in recruiting and developing a disaster response workforce during compounding disasters.