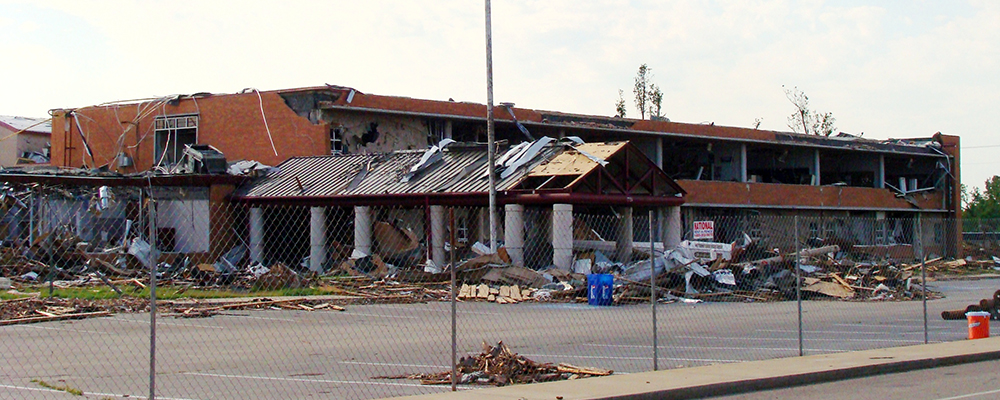 Joplin High School sits in tatters days after a 2011 tornado struck the town. Photo credit: Matt Jeppson.
Implications for Public Health
Reopening of schools after disaster restores routine and gives displaced families a reason to return. By prioritizing children's welfare after disasters, it is possible to accelerate everyone's recovery.
The night after a powerful 2011 tornado devastated Joplin, Missouri, C.J. Huff was having a hard time sleeping. Huff, superintendent of Joplin schools, was wedged on a folding cot in a makeshift emergency operations center in one of the few school buildings left unscathed by the storm. He'd been up for 44 hours straight and he had to meet with his executive team the next morning to plan for the upcoming academic year, which was just under three months away. Huff quickly scratched out a two-sentence agenda: "The Impossible Goal: School starts in 84 days. Let's get to work."
The storm had killed 162 people, including seven schoolchildren, and destroyed a third of the town's housing. Six of the town's ten school buildings—more than 600,000 square feet of educational space—were either demolished or badly damaged. Still, when Huff presented this wildly ambitious goal to his senior staff the following morning, they all gave their bleary-eyed assent.
Huff eventually had his maintenance crew salvage a scoreboard from the wreckage of a school stadium and converted it to a huge countdown clock that ticked off the days, hours, and minutes to the moment that school would open. Beneath the clock were the words, "The race is on."
Joplin's urgency to restore its schools wasn't merely an educational imperative; it was a conscious decision to place its children first. If the children were settled in to a normal routine the rest of the community could attend to the larger task of rebuilding the town. Everyone was invested in this particular goal. While it might not have been obvious at the time, when Joplin chose to prioritize rebuilding its child-serving institutions, it chose to accelerate the recovery of the entire community.
Several years ago, as my colleagues and I considered the plight of children and teenagers affected by Hurricane Katrina, we hypothesized that children are a bellwether of a community's recovery—if they've recovered, it is likely that many of the formal and informal systems in a community have recovered, as well. Conversely, if they have not recovered, it is because the community's systems are still disrupted.
Our reasoning was that children are the largest group who are wholly dependent on others for their welfare. Children are dependent on their parents and caregivers, who are in turn dependent on a long list of systems: housing systems, critical lifeline systems, health and human services systems, educational systems, and a variety of social support systems. It is as if children are the final domino in a long line, standing only when the others stand as well.
In the 1970s and 80s, psychologist Urie Bronfrenbrenner diverged from the then-common focus on the the family as the key predictor of a child's development, and instead looked at the impacts of various ecological systems in a child's life—parental employment, hospitals and day care systems, kinship and friendship networks, and of course, schools. We extended Bronfrenbrenner's argument to encompass that, if these systems are important for everyday childhood development and growth, then certainly their reconstruction—and the order in which it occurs—is critically important for recovery from a collective trauma.
Rebuild the schools, and children can return to a routine, particularly one that trains and promotes them to the next stage in their lives. Rebuild the schools, and displaced families will have a reason to return, parents can focus on reconstructing their lives, and one of the community's most important economic engines, its school district, is brought back to life. Our Katrina research and later work on the impacts of the 2010 Deepwater Horizon Oil Spill suggests that many of these extra-familial factors play a role in children's well-being, including the social disorder in a community (which exerts a negative influence on children's mental health), as well as the number and type of civic and social institutions that re-open in the community (with "pro-social" institutions exerting a positive effect).
Joplin did open its schools on time that August, with a vacant shopping mall serving as the high school and many other temporary spaces filling in as classrooms. Displaced students were bussed from neighboring towns and emergency housing. This re-opening of the Joplin schools provided communal meaning and purpose to a traumatized population, and it allowed Joplin residents to exercise what scholar Fran Norris and colleagues referred to as networked adaptive capacities, using their collective social and economic capital to adapt to the widespread destruction by quickly rebuilding the schools.
More than that, however, was that Huff's instinctual understanding of the need to concentrate on the reconstruction of schools—its most critical child-serving institution—provided a clear goal for community recovery by prioritizing children's welfare. It is a lesson worth considering for any community confronted with a collective trauma—by putting children first, it may be possible to accelerate everyone's recovery.
Suggested Tools
---
Disaster Recovery Tracking Tool
U.S. Department of Homeland Security Science and Technology Directorate and the Federal Emergency Management Agency
A web-based resource that local government stakeholders and others can use to track the quality and progress of disaster recovery
Children and Youth Task Force in Disasters: Guidelines for Development
U.S. Department of Health and Human Services Administration for Children and Families
Guidelines for considering children and youth's needs in disaster preparedness and response.
For a list of all the tools included in this special collection, visit the Children and Disasters Tool Index.
---