Rebuilding after Hurricane Katrina in New Orleans. @Mercatus Center at George Mason University, 2009.

By Stefanie Haeffele and Virgil Henry Storr
With hurricanes threatening the United States and the Caribbean, wildland fires raging in the West, earthquakes rocking Mexico, and floods ravaging southeast Asia, people may be left feeling hopeless and uncertain about how to recover. This is understandable—rebuilding is expensive and recovery is a long and daunting process.
Where there is community, though, there is reason for hope. Community—defined here as our leaders, relationships, and social ties—is a crucial resource that is vital to making recovery happen.
We have found that local leaders and enterprising residents can reduce the burdens of recovery, increase the benefits of returning, and increase the likelihood that others will also return. They do this by being a focal point for the distribution of goods and services, the restoration of social networks, and the collective action needed to solve common problems.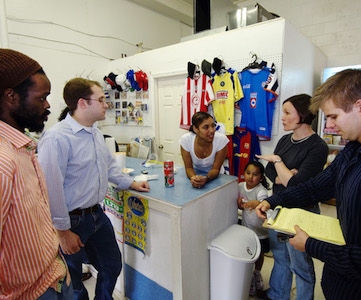 Scholars interviewing residents and business owners after Hurricane Katrina in New Orleans. @Mercatus Center at George Mason University, 2007.
Our research team interviewed hundreds of people who returned to New Orleans and those who decided to stay in Houston after evacuating after Hurricane Katrina. We also conducted fieldwork on the Rockaway Peninsula in New York after Superstorm Sandy. In each neighborhood we visited, we learned about the people who helped facilitate recovery.
Providing Goods and Services
After a disaster, supplies are typically limited and needs are extensive. Early estimates show that Hurricane Harvey caused more than $150 billion in damage and Hurricanes Irma, Maria, and Nate caused significant damage throughout the Caribbean and United States.
Local commercial and social entrepreneurs can help their neighbors obtain resources. They do so by reopening their businesses, such as coffee shops or furniture stores, or by identifying a new need within their community, such as a health clinic or a youth advocacy group.
These entrepreneurs also help facilitate the provision of goods and services by connecting those who need aid with those who can supply it. This often entails finding effective ways to attract donations and distribute them among members of the community. For example, after Superstorm Sandy, an orthodox Jewish community in Rockaway, New York, used a fund that was originally intended to help neighbors during the recession to take in donations. The Community Assistance Fund raised more than $11 million and distributed it in three phases, providing emergency funds, home repairs, and major rebuilding. Members of the community also surveyed the neighborhood and tracked unmet needs. When people and organizations reached out to provide donations, they were able to reference their list for the exact donations they needed the most.
Restoring Social Networks
Contacting family, neighbors, and coworkers can be a challenge during and after a disaster. Cellular service is often overloaded and evacuees can be dispersed across states, making it difficult to communicate and coordinate plans. Consider that days after Hurricane Maria devastated Puerto Rico, people in the mainland United States (including Supreme Court Justice Sonia Sotomayor) were still unable to contact friends and relatives on the island.
We know from our research and the research of others that social capital after disasters is an important source of material support, critical information, and community mobilization. After Hurricane Katrina, local leaders used the contact logs of their neighborhood associations and religious organizations to reach residents, help them return, and share information. After Superstorm Sandy, a youth group on the Rockaway Peninsula rallied volunteers and supplies through social media, as did numerous other groups around New York.
Overcoming Collective Challenges
Local commercial and social entrepreneurs also help residents overcome common challenges. As Texans showed in the days and weeks after Hurricane Harvey devastated Houston, their do-it-on-our-own attitude saved lives. Enterprising residents will need to establish formal and informal support systems not only to aid in physical rescue, but for emotional recovery as well, including relieving the stress and anxiety children face after disasters.
Even filling out the paperwork for government assistance can be difficult, especially for the disadvantaged residents who may not be adroit at navigating formal bureaucratic processes. But, residents can learn from and help one another to improve their outcomes. After Hurricane Katrina, community leaders and pastors helped neighborhoods organize to resist recovery plans that didn't make sense for their neighborhoods, and appealed to the Federal Emergency Management Agency on behalf of community members for trailers and assistance. Likewise, neighbors came together to hire contractors and order equipment, which helped save money and time during rebuilding.
Now, as residents of communities around the globe deal with a series of disasters that threaten to overwhelm public assistance, local leaders and enterprising residents will once again come to one another's aid. Encouraging neighbors to respond to emergent and ongoing needs and to help one another will help speed recovery and further strengthen their communities.