Risk Communication and Social Vulnerability: Guidance for Practitioners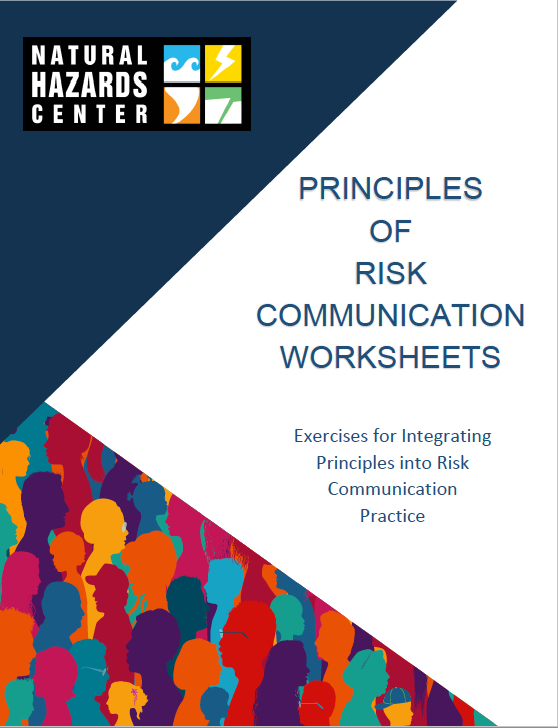 Project Purpose
In collaboration with partners at the U.S. Army Corps of Engineers Institute for Water Resources, the Natural Hazards Center research team has summarized the state of knowledge about risk communication, with a particular focus on the needs of vulnerable populations. Additionally, team created an associated annotated bibliography that synthesizes existing literature into formats that are useful to practitioners managing floods and other related natural hazard risks. The most recent product that expands on the discussion in the Principles of Risk Communication is a booklet containing a set of worksheets that walk through the actions needed to put the principles into practice. Please click on the images on this page to download the Worksheets, Guide, and Annotated Bibliography.
What is the Challenge?
For more than three decades, social scientists have sought to understand how to best communicate information about disaster risk to diverse members of the public, building a substantial body of research literature around this topic. This growing body of knowledge has informed best practice guidance that applies across diverse fields within the hazards and disaster arena. Yet this research does not always make it into the hands of practitioners who could apply these lessons in their community outreach and engagement efforts. This means that core principles of risk communication are not always adopted and socially vulnerable populations—those that face disproportionate disaster risk due to a variety of historical, social, economic, and political conditions—may not receive practical and actionable communications about disaster risk.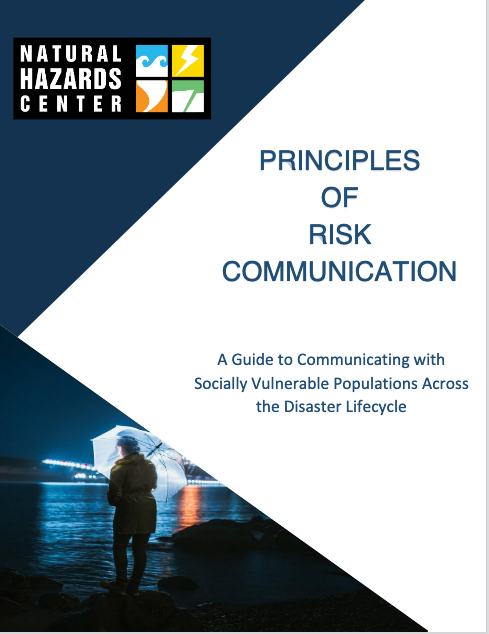 Project Outcomes
Three deliverables are now available from this project. The first, an annotated bibliography, summarizes academic research and practical guidance on the topic of hazards and disaster risk communication, with a particular focus on socially vulnerable populations. It features a range of risk communication lessons that apply across the disaster lifecycle. The research included in the annotated bibliography informed the core guidance document.
The second deliverable is a practitioner-oriented guide, synthesizes insights from the published literature into three overarching principles, including:
Communicate Through Familiar and Trusted Messengers;
Provide Clear, Actionable Information; and
Tailor Messages and Information Pathways for Target Audiences.
The guide highlights how general risk communication principles can be thoughtfully applied to groups that are often marginalized, overlooked, or difficult to reach. It incorporates practice-oriented tips and a series of examples that reflect how related concerns have been documented or analyzed by researchers at each stage of the disaster lifecycle, including preparedness, response, recovery, and mitigation.
The third deliverable, which builds on the guide, is a worksheet booklet that breaks each of the core principles down into three steps with questions and considerations to guide users in applying the principles to their own work. The worksheets also include exercises to be conducted before and after implementing the core principles to help characterize the community and reflect on the risk communication process.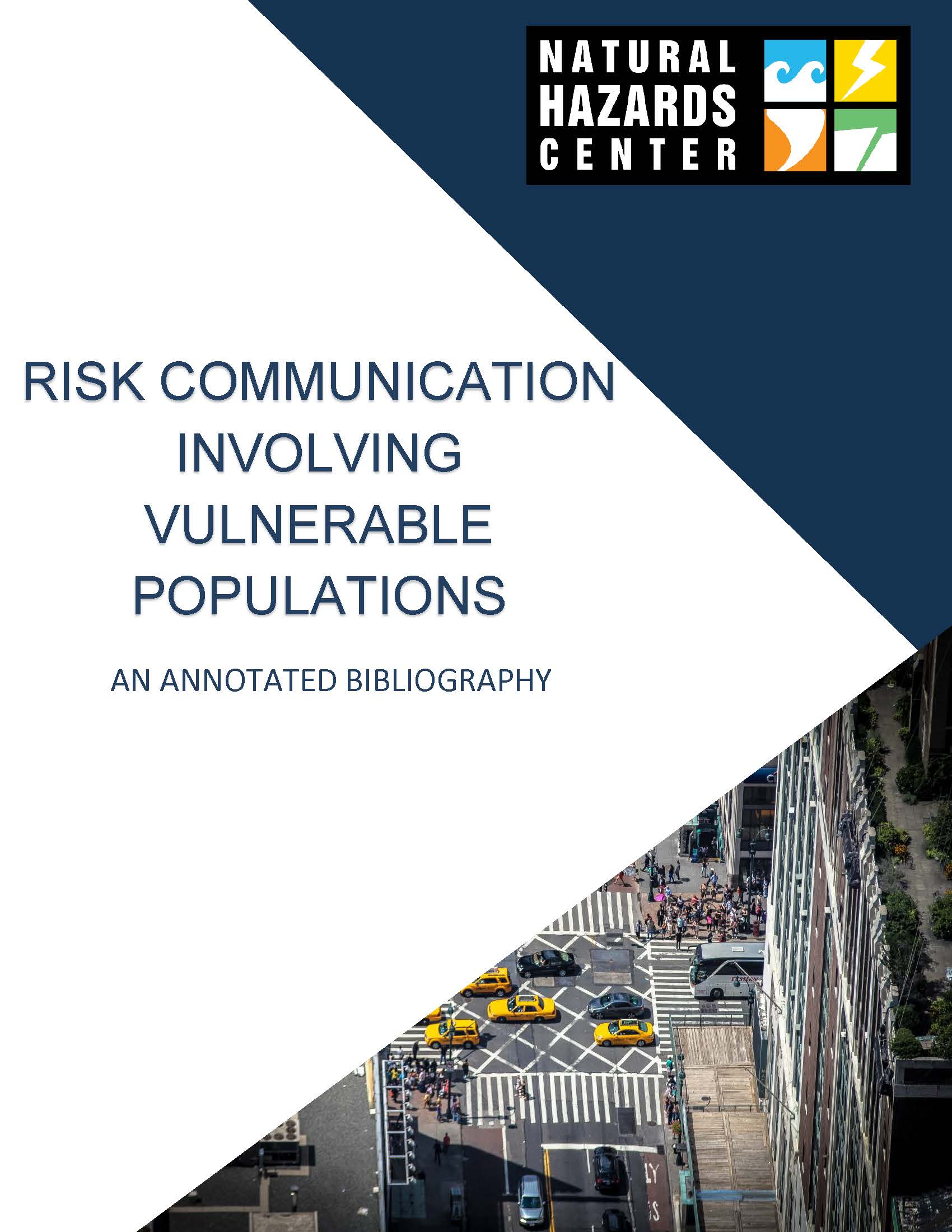 Project Lead: Nnenia Campbell, Natural Hazards Center (Nnenia.Campbell@colorado.edu)
Undergraduate Research Assistants: Kamryn Roper-Fetter and Mary Yoder, Natural Hazards Center
Sponsor: This project was produced with supplemental support to the National Science Foundation (NSF Award #1635593) from the U.S. Army Corps of Engineers Office of Homeland Security.
Principal Investigator: Lori Peek, Natural Hazards Center and Department of Sociology, University of Colorado Boulder (Lori.Peek@colorado.edu)
U.S. Army Corps of Engineers Program Manager: Ellen Berggren, Deputy, National Silver Jackets Program