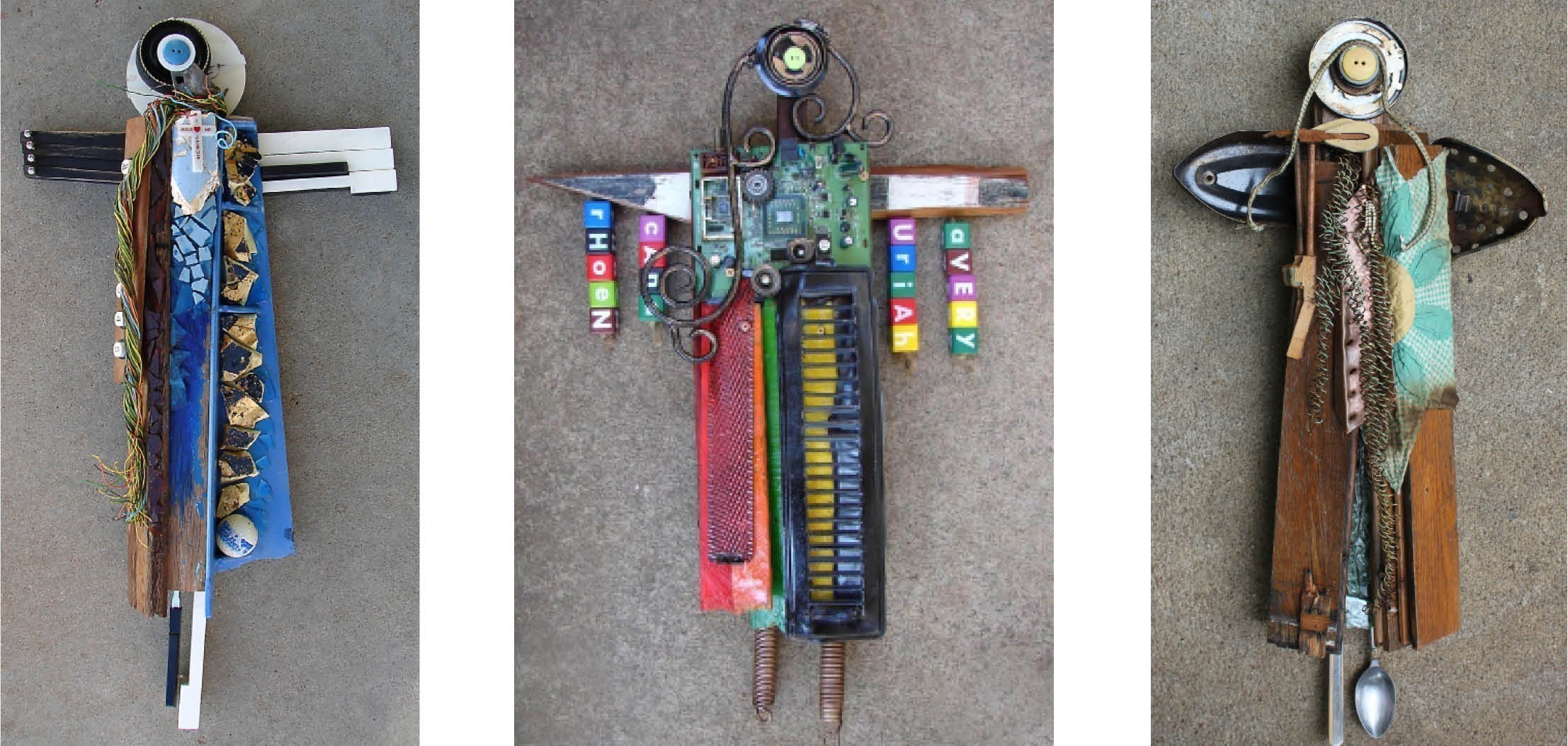 Angels © Tricia Courtney
In the late afternoon of Sunday, May 22, 2011, a catastrophic EF5 multiple-vortex tornado struck Joplin, Missouri. With a path that reached nearly one-mile wide, the tornado killed 158 people, injured another 1,150 and caused $2.8 billion in damages. Within minutes much of the city was turned into rubble.
In the aftermath of this devastating disaster, Joplin-based artist Tricia Courtney began to collect the tornado debris that was scattered everywhere. She used it to create Angels of Joplin, a series of assemblage sculptures. She has made and sold hundreds of angels and donated the proceeds for tornado relief. Courtney—herself a survivor of this tornado—shared her story and talked about her tornado experience and how her remarkable project came about.
When she was a little girl growing up in Tornado Alley, Courtney thought that storms were thrilling. "I used to love the dark skies, the humid breeze, and the rumbling of thunder, " Courtney said. "Occasionally the weather would be severe and some of my neighbors would come to our house and head to safety in the basement with us. My mom would make popcorn and I remember it was fun, not scary."
Two events in the early 1970s changed her carefree outlook on storms. "In May 1971 an EF3 tornado hit Joplin, killing one person and causing $20 million in damages," Courtney recalls. "Two years later a powerful thunderstorm with hurricane force winds took three lives, injured over 100 citizens, and destroyed many homes and businesses."
Courtney was deeply affected by these two events and rather than feeling excited when storms were near, she began to be distressed and nervous. "I was always keeping an eye on the sky," Courtney said. "And even when I told myself to be calm, there was this inner feeling of nervousness."
The days that led up to the 2011 tornado were no exception and Courtney recalls feeling anxious. She followed the forecasts on the Weather Channel closely. "The meteorologists were predicting a tornado outbreak for our area that Sunday afternoon," said Courtney. "My husband and I insisted that our two daughters stay home and not go out that night."
As Courtney and her family watched the approaching storms, neighbors started to ring the doorbell. "All of my neighbors have a standing invitation to hide in our cellar when the sirens sound," Courtney said.
As the neighbors filed in, the sirens were accompanied by a rolling rumble in the distance. It was very dark outside, Courtney remembered, and it was raining heavily. "We noticed that the rain didn't fall down, it poured horizontally. It was very strange."
After the sirens had stopped and the storm had past, news of the tornado damage began to trickle in. "St. John's Hospital had been hit and was on fire," Courtney said. "A church, the elementary school that our children had attended, a high school, the Wal-Mart and Home Depot had been hit. Fires where everywhere. We heard the sound of fire trucks, ambulances, and helicopters."
Courtney and her family went to McAuley High School where a triage station had been set up. Until the early morning , they helped serve coffee and sandwiches to patients who had been moved from St. John's to safety.
In the next few days, news about people who survived and who hadn't survived came in. "Our family knew several people who died in the tornado," said Courtney. "There were so many heart breaking stories."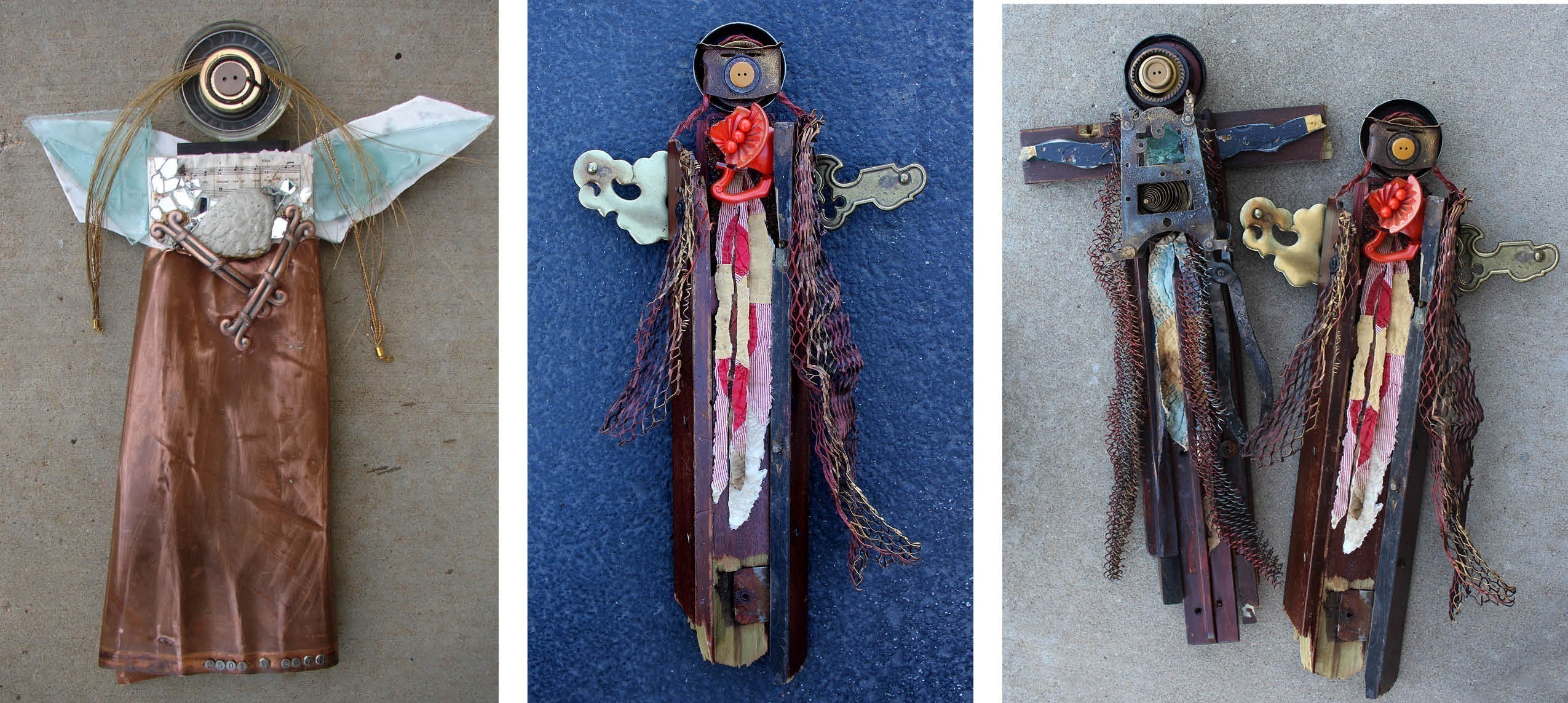 Angels © Tricia Courtney
Altogether 158 people died that day. The sheer scale of death and destruction was overwhelming, Courtney recalls. She drove to a friend's house and all she could see was debris. "It looked like a bomb had exploded and it reminded me of the images I have seen of European cities that were bombed during World War II," she said. "All the landmarks were gone, the only thing that I could see that told me where I was, was St. Mary's Church cross, which was left standing while the church around it was destroyed."
A week after the tornado, Courtney met with a friend who came into town from California to visit her parents and volunteer in the community. Her friend asked Courtney if she was going to make any art from the debris. "I said probably not, and told her about the time that I had visited Greenburg, Kansas, after the 2007 tornado," Courtney said. "I picked up a few pieces of debris—a broken mirror, scraps of metal, and scraps of wood, thinking I'd make an angel."
But instead, Courtney said, she felt strange about it. It didn't seem right to her to make and sell a piece of art that had come from so much sorrow. "I eventually made a small angel of the Greenburg debris and gave it to a friend of mine from Tulsa, Oklahoma, whose one-year-old son had died," Courtney explained. "To me that made sense."
Courtney, encouraged by other friends and family members, decided that if she were to start creating art from debris, she would make it a project to help the community. She designed a logo, built a Facebook page and began collecting debris.
In the past few years, she has made hundreds of angels. "Many people brought me debris from their homes, so I could create special angels for them or their loved ones," Courtney said. "Many of these people shared their stories with me. Where they were when the tornado hit, how they survived, and how they were coping."
Courtney made angels for doctors, nurses, firemen, policemen, teachers, and the volunteers who came to help. Making the angels was cathartic for her and others. She explained that after the tornado, people were all affected emotionally, spiritually, and mentally.
"I realized that creating these angels from the debris of this traumatic event was my way of touching these people's lives in more ways than one"
"Many of us felt helpless, especially in regard to aiding those who were affected in a more physical way, with the loss of loved ones, homes, and businesses," Courtney said. "I realized that creating these angels from the debris of this traumatic event was my way of touching these people's lives in more ways than one."
Courtney felt that through the broken pieces of debris, she could give survivors a symbol for putting their lives back together, piece by piece. "I know that healing is happening when I see tears of joy from the survivors who receive the angels, Courtney said.
The project was incredibly successful. Altogether Courtney made around 500 angels. She donated many of them to charity auctions and she heard that some of them sold for as much as $1000—one even fetched $3000.
The money she raised from selling the angels—around $12,000 in total— went to several different charities. Joplin Area Catholic Schools, Art Feeds, Children's Center, St. Ann's School, Spiva Center for the Arts, Audubon Society, Joplin High School to name a few. The production of the angels has since slowed, although Courtney still creates them on request. To order an angel you can email her at courtney.tricia@gmail.com
Courtney is currently writing a book about Angels of Joplin, which will include images of the tornado's destruction and the angels she's created.