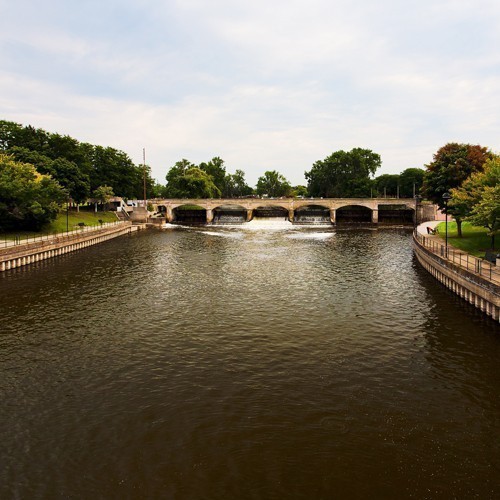 ©George Thomas, 2014. The Hamilton Dam on the Flint River. The decision to use the Flint River as Flint, Michigan's primary water source led to widespread lead contamination.
Last We Knew: State and local authorities in Flint, Michigan have been under scrutiny since the city's water supply was found to be widely contaminated with lead last year. The contamination is the result of a 2014 budgetary decision to switch the supply source from Lake Huron to the Flint River. The more corrosive river water interacted with lead pipes causing lead to leach into the water.
Shortly after the switch, residents complained of foul-smelling, discolored water but were told it was safe to drink. Later, an independent investigation Virginia Tech and the U.S. Environmental Protection Agency found lead levels were dangerously high and another study found that the number of children under five with elevated levels of lead in their blood had doubled since the switch was made.
The situation was blamed on failures at every level of government, from city authorities to Michigan Governor Rick Snyder's administration to the EPA.
The Latest: Although harsh criticism has been leveled against those involved in the debacle, Michigan Attorney General Bill Schuette turned up the heat recently by filing criminal charges against three officials in charge of overseeing water quality.
The three men—a Michigan Department of Environmental Quality district engineer and district supervisor, as well as a Flint utilities manager—where charged with a total of 13 felony and misdemeanor charges related to tampering with evidence, violations of the Michigan Safe Drinking Water Act, and misconduct in office, according to The New York Times.
The charges stem from accusations that the MDEQ employees knowingly mislead EPA and public health officials about the safety of the water, didn't use proper anticorrosion treatments, and illegally asked residents to flush their lines before testing for lead. The utilities manager, Michael Glasgow, (who was something of a sympathetic figure during the crisis) was cited with tampering as well. If found guilty, the men could face steep fines and prison time.
Coming Up: For the many Flint residents who want to see someone held responsible for the fiasco, the charges are a start—and Schuette has promised others will be coming down the pike.
"These charges are only the beginning," Schuette told The Times. "There will be more to come—that I can guarantee you."
It's difficult to say exactly who else will be charged, but when asked if Snyder—who has stated (somewhat questionably) that he was uninformed about the crisis—was in the running, Schuette said, "There's no target, and no one's off the table," according to The Times.
Meanwhile, at least one legal expert points out that regardless of the target, Schutte's cases might be hard to win.
"The Flint case is not nearly as open and shut as suggested by many," writes Jonathan Turley, Shapiro Professor of Public Interest Law at George Washington University, in an op-ed for USA Today. "The most immediate problem with these cases is that this is a highly complex area of overlapping rules and jurisdictions. The reporting rules are rife with differing administrative interpretations and practices."