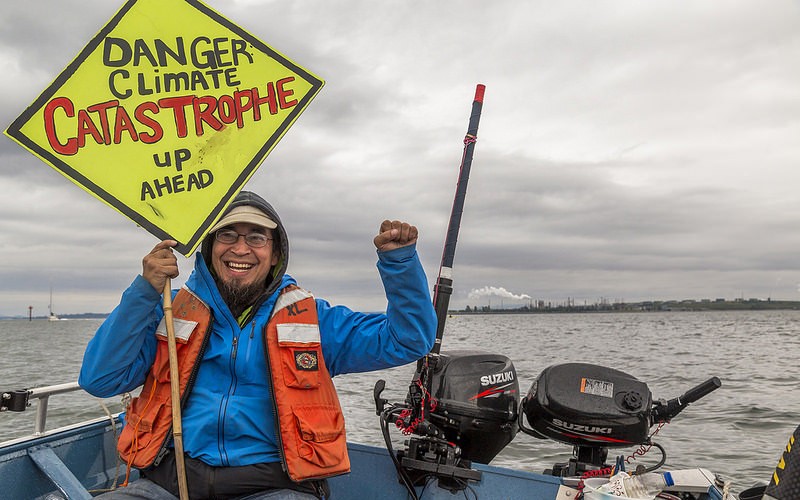 ©Backbone Campaign, 2016. A protester takes part in a campaign to bring awareness of the effect of the fossil fuel industry on the climate in Anacortes, Washington in May.
Last We Knew: In October 2015, a special report by the Los Angeles Times, as well as reporting by PBS Frontline and InsideClimate, found internal memos that indicated Exxon Mobil had duped the public about the contributions of greenhouse gases to global warming since at least 1989. The reports led two congressmen to request that the company be prosecuted under the RICO (Racketeer Influenced and Corrupt Organizations) Act for propagating misinformation, much in the same way that cigarette manufacturers were charged in the 1990s for downplaying the risks of smoking.
The State of New York took similar action a month later, but using a different tack—investigating the company under the state's Martin Act, which gives the attorney general broad powers to ferret out financial fraud, according to The New York Times.
That investigation focused on determining if the oil giant lied to investors about the risks climate change might have on business prospects, but also looked at whether Exxon misled the public.
After providing millions of pages of requested documents, Exxon has since thwarted the investigation by instructing its accounting firm PricewaterhouseCooper to withhold information subpoenaed by the New York State attorney in August. The company cited a Texas law that considered providing the information as a violation accountant-client privilege.
The Latest: The New York Supreme Court this week ruled that Exxon's interpretation of the law was flawed and that in any case, New York law, not Texas law, is what applied in the suit, according to The Washington Post. New York does not recognize accountant-client privilege.
The ruling clears the way for the continuation of the New York investigation, which Exxon has criticized as a politically motivated fishing expedition. The company holds that subpoenas, such as the one issued by New York and other states, hamper the industry's free speech and ability to conduct internal research.
Coming Up: Unsurprisingly, Exxon attorneys said they will appeal the most recent decision.
In the meantime, the company has also requested that a federal court in Texas block similar subpoenas by the Massachusetts attorney general. The judge has not issued the order, but is looking into whether the attorney general acted "in bad faith" in issuing the subpoenas, according to the Post.