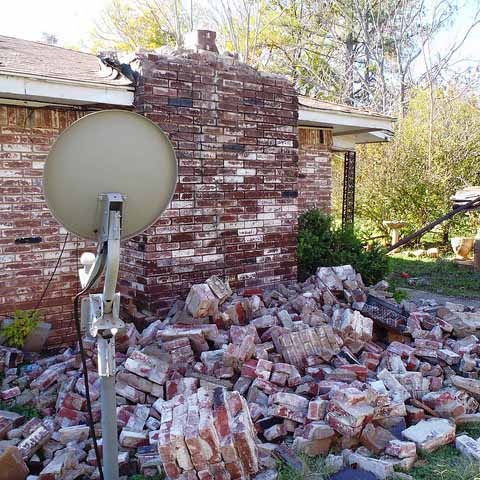 ©Brian Sherrod, USGS. Damage to a home in central Oklahoma from the magnitude 5.6 earthquake on Nov. 6, 2011. USGS geophysicists believe the earthquake was induced by injection into deep disposal wells in the area.
Last We Knew: For the past six years, numerous states not normally known for earthquake activity have experienced increasing numbers of small, geographically concentrated quakes known as swarms. The phenomenon was long suspected to be linked to the practice of deep well injection mining—a process that deposits the wet, sandy waste from hydraulic fracturing operations into deep underground wells.
Despite studies from states such as Oklahoma, Arkansas, and Ohio (as well as internationally) that indicated there was a connection, the correlation was often disputed, especially by the gas and oil industry. While some states and local governments heeded the studies, banning fracking and wastewater disposal or shutting down wastewater wells, others were more cautious, citing the need for further data to make a more definitive connection.
The need to strike a balance was especially prevalent in Oklahoma, which has had a sharp uptick in quakes and where one out of every six jobs is related to gas and oil. Tensions over the divided interests were apparent last year as lawmakers accused the Oklahoma Geological Survey and the University of Oklahoma of stacking science in favor of the gas industry and leaving residents at risk.
The Latest: This year has brought a turnaround in favor of public safety, with the Oklahoma regulators making strides in a plan to limit the volume of wastewater injected in several areas of the state.
This week, the Oklahoma Corporation Commission has requested that well operators reduce the amount of waste deposited by 40 percent below 2014 totals, according to the New York Times. The request, which would apply to 411 injection wells in and around Oklahoma City, is an expansion of a similar request made for northwest Oklahoma in February.
Operators in the prescribed area, which covers about 10,000 square miles and 600 wells, will have about two months to come into full compliance, according to Reuters.
Coming Up: Whether or not the operators do comply with the commission request is somewhat up in the air. Although many companies have voluntarily followed commission suggestions to drill shallower wells or shutter wells in earthquake zones, the recent edict will probably require a reduction in production, according to the Times. That could be a hard sell considering the puny nature of current oil prices—and considering that the authority of the Corporation Commission to make such demands has been questioned in the past.
Still, the commission has vowed to take those who don't cooperate with the reduction request to court, according to the Times. Previous incidents of noncompliance leave no doubt that they would. In the meantime, legislation passed the state House of Representatives Monday that would clarify the commission's reach.