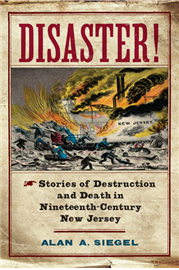 People, according to author Alan Siegel, have been fascinated by disaster since the time of the biblical flood. After all, he explains in the introduction of his book Disaster!, almost all cultures tell ancient stories of catastrophic events that devastated the land and annihilated the people. Siegel's book is meant to satiate this macabre appetite for death and destruction.
The book chronicles five different types of disasters—fires, steamboat disasters, train wrecks, shipwrecks, and natural disasters—that befell the people of New Jersey in the 19th century. It is primarily written for a lay audience interested in disaster or New Jersey history, yet its content, based almost exclusively on newspaper articles, might also be useful for academics interested in 19th century disaster news reporting.
Prone to large-scale disasters
The Victorian era, with its rapid urbanization and industrialization, was prone to large-scale disasters. Fires, for example, were common in 19th century urban America, where many buildings were densely inhabited, ramshackle wooden structures, heated with fireplaces and lit by oil and gas lamps. It only took one careless moment to set a building ablaze. Fires, especially with non-existent or poorly staffed and equipped fire brigades, could spread at a frightening speed. Besides occurring in densely populated urban areas, the worst fires in 19th century New Jersey happened on the Jersey Shore, according to Siegel.
Of all the seaside resort fires described in the book, the devastating fire that set ablaze the Mount Vernon hotel in Cape May is the most remarkable. The building, like most other hotels at the time, was entirely constructed of wood. Able to accommodate an astounding 2,100 visitors, it was trumpeted as the largest hotel in the world when it was built in 1855-1856. Even before it was completed, the hotel, which wasn't much more than a giant wooden tinderbox, burned to the ground. Unable to escape and overcome by the dense smoke, the hotel manager, his two daughters, one son, and the housekeeper perished in the flames. The culprit arsonist, the wife of an Irishman who claimed the hotel manager owed him $100, was arrested just days after the fire.
The fire wasn't an isolated event: Cape May was plagued with several other equally devastating fires throughout the 19th century. Inexplicably, the author notes, the loss of several hotels failed to alert Cape May's town leaders to the dire need for a city fire department. Rather than taking a cue from these tragic events, the hotels were rebuilt as soon as they had burned down. Eventually, the era of Cape May's grand hotels came to a fiery end in 1879, when the third major conflagration in a little more than 20 years broke out in the Ocean House hotel. The fire spread and destroyed some of the resort's oldest and biggest hotels. Cape May never fully recovered from what the New York Times called "the most destructive fire which has ever visited any sea-side resort" (p. 16).
The Victorian Era was a period of stunning and historic advances in science and engineering. People were hungry for greater speed and capacity, often at the cost of safety. The shipwrecks, steamboat disasters, and train wrecks, so vividly described by Siegel, were often caused by overcrowding, technical failures leading to fires and explosions, and non-existent safety laws.
More people died in shipwrecks along the Jersey Shore than from all other 19th century catastrophes combined.
Maritime disasters stand out as particularly deadly and gruesome. In New Jersey, according to Siegel, more people died in shipwrecks along the Jersey Shore than from all other 19th century catastrophes combined. The worst and best-documented wreck was that of the New Era on November 13, 1854. The ship, carrying 384 passengers, had left Germany on September 28, 1854. After a very tumultuous crossing during which a cholera outbreak killed 40 people, the ship struck a sand bar off Deal Beach. The sea was so rough that rescue boats could not reach the stranded vessel until the next day. Rescuers were able to save 135, mostly male, passengers who had been strong enough to hold on to the capsized boat for more than 24 hours.
Of heroes and villains
This disaster and all the other catastrophes described by Siegel captured the attention of contemporaries and, in some cases, spurred new regulations and innovations to avoid future tragedies. Siegel's stories, based on newspaper articles, successfully highlight the different manner in which heroes, villains, and survivors were described by reporters and understood by the public.
His methodology, albeit interesting for aforementioned reasons, also contributes to an overall one-dimensionality that can't be disguised by the author's beautiful writing style. It seems that journalists at the time were primarily focused on giving a detailed and sensational account of a disaster's destruction and of the occasional hero's actions. The impact of disasters on survivors' lives and livelihoods is largely neglected. As a result the stories compiled by Siegel feel somewhat pragmatic and lack a certain element of compassion toward people who had been duped by these devastating tragedies.
The book teaches us an important lesson: during the Victorian era, which was characterized by widespread poverty, disease, and frequent disasters, people were emotionally desensitized to suffering. They weren't interested in a story about survivors who lost everything in a fire. They didn't want to hear about the emotional impact of losing a loved one in a sea of flames. The average reader wanted to know who lit the fire, how high the flames were, and how the heroic firefighters put it out. Journalists responded to this need and news reports of calamities, all similar in style and content, became commonplace in newspapers.
Because Siegel chose to base his compilation on these news reports and did not further contextualize the accounts, his book seems somewhat repetitive and doesn't keep you engrossed from start to finish. However the individual chapters are well written and very vivid. For this reason Disaster!, besides being of interest for a lay audience, makes for an excellent reference book for scholars interested in secondary sources that discuss natural and manmade disasters.