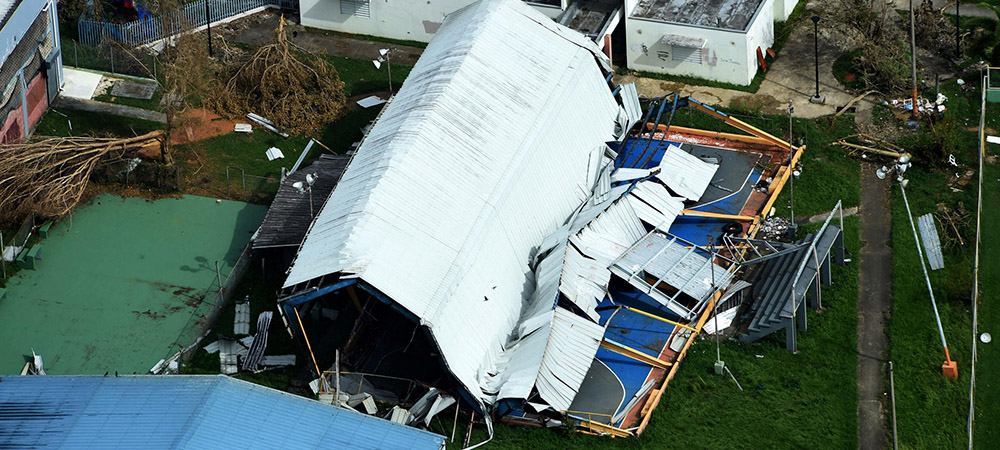 An aerial view shows damage to a sports field in Puerto Rico follwing Hurricane Maria. Extensive damage caused by the hurricane is expected to cause thousands of families to leave the island. ©Nicholas Dutton, U.S. Air Force, 2017.

The destruction caused by Hurricane Maria is evident in Puerto Rico and across the Caribbean, but places far from the islands are also reeling as hundreds of thousands of displaced people find shelter in the mainland United States. While the imperative to help those forced to relocate is straining social systems on many levels, schools are especially impacted.
Currently, mainland schools—especially those in Florida, Pennsylvania, Texas, and New York—are seeing a surge of new students as Puerto Rican residents relocate, with even more expected in the next few months. As the situation progresses, schools will have to tackle the double whammy of increased attendance and students suffering from trauma.
"We will take them in our schools, we will enroll them, we will provide them services," Broward County Public Schools Superintendent Robert Runcie told the South Florida SunSentinal. "We will treat them equitability. We will do what we can to ensure that they have the best educational experience we can provide given that they're going through some significant challenges."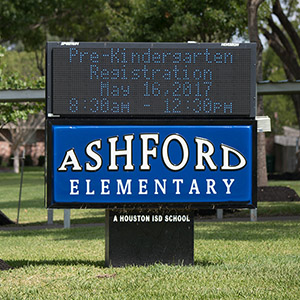 A sign for an elementry in the Houston Independent Schools District offers registration sign up. Area schools, already challenged by Hurricane Harvey, are estimated to receive the third largest population of students displaced by Hurricane Maria. ©Lance Cheung, U.S. Department of Agriculture, 2017.
While school officials remain focused on student outcomes, large-scale attendance influxes come with a number of logistical problems.
For instance, schools not only have to make room for extra students, but they have to determine which grade level to place them in without the benefit of previous school records. Many students are also arriving with no proof of immunization or even basic documents such as birth certificates.
Although Puerto Rico's Department of Education has created a web portal to facilitate information exchange, the fact that the island's school system was in crisis even before the storm means that grade-level standards might not be comparable to intake schools. Accommodations for English Language Learners will also be a consideration.
In addition to the added work of determining where to place new students, there will be significant unplanned for expenses.
As an example, several school districts in Florida have already seen upticks of around 2,000 students each. That scenario could require hiring a minimum of an additional 67 teachers (assuming a student-teacher ratio of 30-1). Based on Florida's average teacher salary of just under $48,000 per year, those districts could pay $3.2 million extra in teacher salaries alone.
On top of that, they'll also have to find space for additional classrooms and absorb the costs of transportation, meals, books, technology, and the requirements of students that are essentially classified as homeless.
For struggling districts—especially in places like Florida and Texas that are dealing with their own hurricane fallout—the costs could be staggering and likely to grow as more and more people make their way off the island.
"Everybody is related to somebody on the island and they may not want their kids out of school for long periods of time," said Miami-Dade Schools Superintendent Alberto Carvalho told the Miami Herald in September. "I think it is very, very likely that we will see a surge in the hundreds to perhaps a few thousand."
The situation in Puerto Rico is still dire, and many more residents are expected to migrate to the mainland in coming months—and while this increase will impact school enrollments initially, it could translate to permanent demands on affected districts. Estimates suggest that between 10-14 percent of the population will relocate, and many won't return to the island that has long been beset by failing infrastructure and debt crises.
Of course, this isn't the first time disaster has driven large amounts of children to far away schools. During Hurricane Katrina, districts in Houston, Atlanta, and elsewhere all saw huge influxes of displaced students. The same dynamic was witnessed in South Florida after the Haitian Earthquake in 2010. Other smaller events, such as nearby school closures, can also strain the resources of individual districts.
There are many organizational factors involved in how schools will weather the inrushes of students, and varying federal, state, and local policies determine the financial resources they have to deal with them. Even the disaster themselves can sometimes provide solutions—for instance, Florida's Orange County School District has been recruiting teachers migrating from Puerto Rico to staff its overflow.
Still, as we see increasingly large-scale disasters, it might be wise to begin helping schools prepare for the cascading impacts of disasters in the same way we help them prepare for the disasters themselves. Because one thing we do know is that following these traumatic events, schools are on the frontlines of making sure that students recover and don't experience lifelong negative impacts.
The good news is that educators, who deal with a myriad of childhood issues outside of disasters, have a good understanding of the role they play in the everyday outcomes for students. That knowledge was reflected by Jesus Jara, deputy superintendent of Orange County Public School District as he recounted the district's primary concerns to the Associated Press.
"Our No. 1 priority from Day 1 was to welcome our fellow American citizens into our community and into our schools, to bring normalcy back into their life."