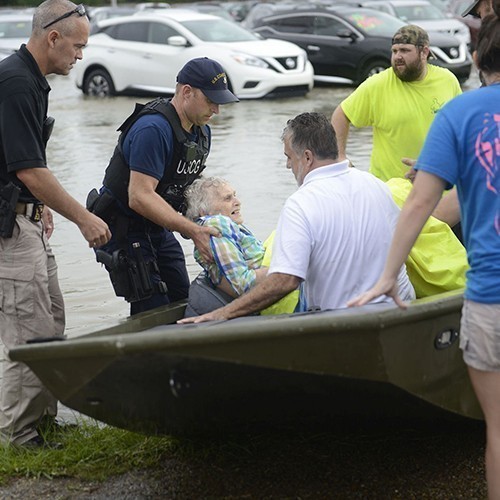 ©U.S. Coast Guard, 2016. Coast Guard Chief Petty Officer Jon Tatroe helps members from a flooded assisted living home in Baton Rouge, Louisiana, on August 14.
Generally days of downpours, widespread flooding, and watery rescues tend to get people talking. Not so much in Southeast Louisiana recently.
On August 11, rain started falling in the area near Baton Rouge and Lafayette. By August 14, a large swath of the southern portion of the state was deluged, with some towns getting between 20-30 inches of rain. Thirteen people died in the rising water, at least 60,000 homes were damaged (possibly more), and 30,000 people were rescued.
Instead of generating a flurry of notoriety, though, it seems communication was lacking all around—from emergency officials to the public, from forecasters to news outlets, and from news outlets to the rest of the nation. And sadly, even the information that was imparted sometimes fell on deaf ears.
"Overall there was a lack of preparation and really anticipation in this case that was inappropriate," Louisiana congressman and Baton Rouge resident Garrett Graves told The Atlantic. "I think we could have mitigated some of the loss, in fact a good bit of the loss, had there been communication about the threat of the flood."
There's a lot of speculation about what elements conspired to keep the mammoth storm on the down-low, but one of the front runners is that it wasn't a hurricane or another type of named stormed.
For those in harm's way, it's often easier to see the specter of danger in a familiar event with a name. Inland tropical depressions or mesoscale convection systems just don't invoke the sense same sense of dread—or preparedness.
"It is not easy to convince the public to get ready for an extreme rainfall event unless a major hurricane is bearing down, because people are conditioned to understand the impacts a major hurricane brings," Ken Graham, a meteorologist at the New Orleans Baton Rouge National Weather Service office told The Washington Post.
For many in the storm's path, that meant the outlook went from rainy day to disaster very quickly.
"With a hurricane, they kind of warn you. But this, they didn't warn you," Jayda Guidry, told The Post after evacuating her home. "We just thought it was raining."
Others also reported not understanding how serious the situation was.
"We got no calls, no texts, no nothing," Linda Smith told NPR. "So that's why I didn't panic because I didn't hear a siren. I didn't hear anything."
It's not that there weren't warnings, Graham said. In fact, there were days of warnings.
"We began communicating the threat for southeast Louisiana five days in advance of this event, using strong language and leveraging the resources of social media and our partners in local media and government to communicate threats to the public," he told The Post.
The problem with such alerts, however, is that forecasters can't say precisely which communities will get heavy rain or how much (and heaven forbid they try and don't get it right). Lacking that specificity can lead people to shrug off the risks as not likely to be applicable to them.
Another downfall of unnamed, vague-destination weather events is that they aren't likely to draw the type of media attention needed to communicate urgency to the public and rise high in social media trends.
Because national news agencies tend to track warnings from places like the National Hurricane Center, there's the potential that local, but deadly, events can go unnoticed.
"It's not our authority to write advisories on things that are not hazardous cyclones," James Franklin of the National Hurricane Center told NPR. "There are often a lot of mixed signals out there, because the media is really focused on what [the National Hurricane Center] is saying about a storm, instead of the local office."
Unfortunately, in the case of the recent floods, many media outlets were slow to pick up the story even after it was clear that it was a catastrophic event. Reasons for this ranged from the fact the storm ramped up during a time when less seasoned journalists were on staff to heavy news coverage of the Olympics and the election.
Criticized by readers and local news groups about the dearth of info available, outlets such as the New York Times and the Dallas Morning News agreed that they should have done better.
Despite all the blame-laying and mea culpas, however, there is one group that probably should take on a bit more responsibility—not for the lack of information, but for not accessing it. As Graham reminds us, it's ultimately up to each individual to make sure they know their risks and are ready to meet them head on.
"Preparedness needs to be an active, ongoing effort in every household to improve our nation's resilience to extreme events," he told The Post. "We can't stop extreme floods from happening, but we can improve our societal preparedness and response to improve our nation's overall resiliency."