A helicopter drops water on the Waldo Canyon Wildfire near Colorado Springs in 2012. Wildfires are one of many hazards Colorado planners have to prepare for. ©Master Sgt. Jeremy Lock, U.S. Airforce, 2012.
The town of Larkspur, Colorado—located less than 40 miles from the Waldo Canyon Fire site and in view of the Black Forest Fire burn scar—was recently troubled to learn that it didn't have a wildfire protection plan.
"I was totally surprised," said Linda Black, the town's Program Development Manager. "The fire protection district was shocked. Everybody was surprised."
For those without experience in small town governance (Larkspur has less than 200 residents) the oversight might seem glaring. But in small towns and municipalities, and even those that are much larger, critical planning can go unaddressed for reasons that range from lack of information to overwhelmed staff to an absence of organizational memory. With all the pressing concerns of keeping a town running from day to day, the capacity to adequately plan for hazards can be elusive.
Enter the Planning for Hazards project, an effort that provides state-specific tools and techniques to help Colorado communities assess their natural hazard risk and address it using land use plans, codes, and standards.
The project arose from a Colorado Department of Local Affairs (DOLA) experience helping city and county governments with long-term recovery following the 2012 wildfires and 2013 floods. During that process, it became clear that local governments would benefit from a comprehensive guide—one customized to the Colorado landscape—that could show them how to use land use planning to reduce hazard risk.
"Local governments wanted to learn about strategies to better protect existing and future development from floods, wildfires, and more," said DOLA Hazards and Land Use Planner Waverly Klaw. "With much of the national focus on mitigating the impacts of sea level rise, the major focus of this project was to make the tools, resources, and guidance contextually applicable to Colorado communities."
To do that, the project tapped numerous experts from nearly every entity that might be involved in hazards across the state—including state, county, and local planners; federal partners; researchers; emergency managers; flood professionals; foresters; water conservation experts; housing officials; insurance specialists, and more. The group collected their wealth of knowledge on an easy-to-navigate website that includes information sorted by hazards, tools and models for creating codes and policy, webinars and videos, and datasets to guide decision making. They didn't stop there, though.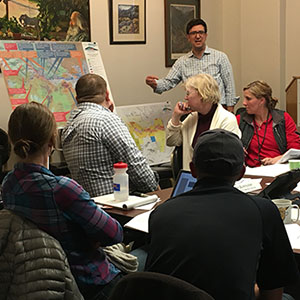 Community representatives attend a Planning for Hazards implementation project in Manitou Springs. Photo courtesy of the Colorado Department of Local Affairs.
The project—which was funded through a U.S. Department of Housing and Urban Development Community Development Block Grant-Disaster Recovery (CDBG-DR) Resilience Planning grant— also includes regular presentations, workshops, and trainings to help users implement the strategies outlined in the guide. Since its rollout in 2016, more than 1,500 people have attended.
"They realized that just having the information out there wasn't enough," said Andrew Rumbach, an urban and regional planning professor at the University of Colorado Denver who worked extensively on the project. "The big goal is to get communities to proactively plan for hazards, and to do what it takes to get them there."
That's the true value of the project, according to Black, who learned about Larkspur's missing wildfire protection plan while doing "homework" to attend one of the workshops.
"It made us go and look at our existing plans," she said. "It was a good starting point for us, because we found we had some gaps. The training helped us focus on what we needed to get from the guide."
Not only that, Black said, but the opportunity to interact with other officials from cities of various sizes that were going through the same process helped provide perspectives and insights that wouldn't be available from the website alone.
"You could do it on your own, but that's not going to be as beneficial as being in the room with other individuals," she said. "Hearing their ideas, and their expertise, and what they were working on was really useful."
Attendees at the events also have the chance to connect with state and federal officials who can be helpful and learn about processes and requirements that might not be always be readily apparent.
Like hazards, those processes and the way they're applied aren't static—so neither is the guide. Over the past three years, the project team—an ongoing partnership between DOLA and the University of Colorado Denver—has updated the site with examples of best practices and community successes. An upcoming re-release is planned to keep that momentum going.
"The re-release of the guide includes new tool profiles, new model code language, and new case studies and ensures that users of the guide have the most up-to-date information on these issues," Klaw said. "The website will also feature revised workbooks for leaders who are utilizing the planning process we have developed to identify, select, and implement strategies for reducing risk."
While Planning for Hazards is Colorado-specific, the premise behind it is beginning to spread beyond the state. A Federal Emergency Management Agency workshop, which was based on the guide and developed with the assistance of DOLA and the Colorado Division of Homeland Security and Emergency Management, will soon be available to communities across the nation. States such as Washington and Utah, have also expressed interest in creating their own similar state guides.
Black, for one, would agree that this is one effort that Colorado shouldn't keep close to its vest.
"This should be offered nationally," she said. "Every municipality, every county, every unincorporated area should have access to something like this."
The Planning for Hazards project will be featured in a session at the Natural Hazards Workshop on July 17 in Broomfield, Colorado.