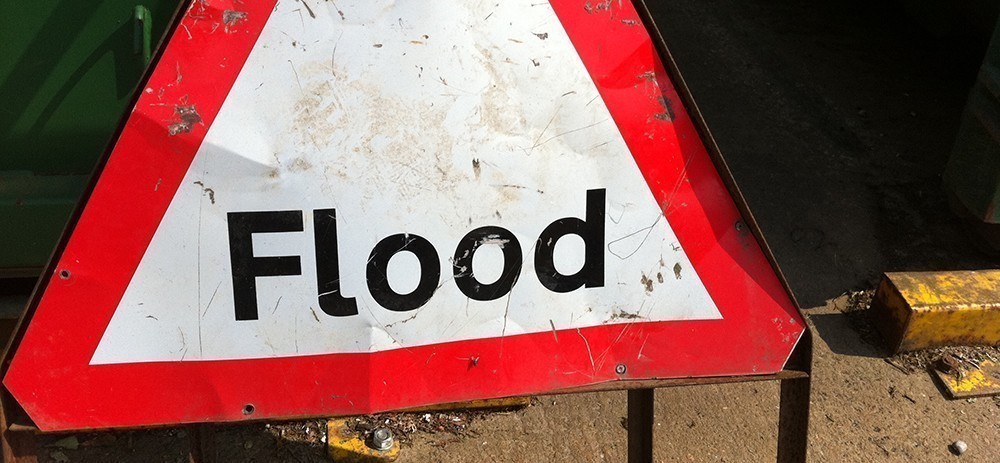 © Howard Lake
By Elke Weesjes
In mid-April a low-pressure system produced record-breaking rain in and around Houston, Texas. The result was widespread and severe flooding—the worst since Tropical Storm Allison in 2001. Eight people lost their lives in flood-related incidents and nearly 1,200 homes and apartments were inundated with water.
The water rose quickly in the early morning, and if it wasn't for smartphone flash flood alerts waking people, the disaster could have been more deadly. Although the alerts, which are issued by the National Weather Service, are a step in the right direction, there are some flaws in the system, according to Philip Bedient, director of the Severe Storm Prediction, Education, and Evacuation from Disasters Center at Rice University in Houston.
"During these recent floods in Houston, we got these very general alerts on our iPhones saying the county is under a flood watch, but the county is 1,700 square miles," Bedient told Citylab. "By the time you realize the water's in your roadway and it's six inches deep, it's probably too late."
Besides being too general, the alerts are also difficult to understand and act on according to Bedient.
"Nobody understands what six inches of rainfall in three hours means," he told The Urban Edge, a Rice University blog. "You need a simplified system that's communicating to the public whether their area is in trouble."
To address these and other problems, Bedient designed the Flood Alert System (FAS), now in its third version. Rather than warnings by the county, FAS3 provides specific local flood warnings by monitoring key watersheds. The system—which uses a combination of cameras; rain gauges; radar, and digital modeling—is interactive and provides real time updates every five minutes, according to Bedient's website.
FAS was originally designed for Texas Medical Center and has been operational since 1997. The system has guided the center through several major storms, [Bedient said]. One example of how FAS has helped the medical center was by accurately predicting the peak surge of nearby Brays Bayou during and immediately after Hurricane Ike. Although FAS data indicated the waters were rapidly rising, it also showed that the building was not at risk of flooding—saving the medical center from a costly and unnecessary evacuation.
The next step would be broader implementation of the system, but that isn't as easily done as said, according to Elizabeth Basha, a University of the Pacific professor who has built an automated flood sensing system in the Honduras. She points out that technology like FAS, while relatively inexpensive, requires long-term inspection, maintenance, and infrastructure monitoring.
David Maidment, a hydrologist and civil engineer at The University of Texas at Austin, has overcome some of these these hurdles to see his brainchild, the National Flood Interoperability Experiment (NFIE), go into operation next month.
Like Bedient, Maidment wanted to create a system that predicted floods locally and well in advance. So after the October 2013 floods in Austin, Maidment teamed up with Harry Evans of the Austin Fire Department. Both men saw a glaring gap between national flood forecasting and local emergency response.
Eager to close this gap, Maidment and Evans brought together researchers, federal agencies, commercial partners, and first responders to develop a technology infrastructure that uses cloud computing to store and analyze data from the four federal agencies that deal with flooding—the U.S. Geological Survey, the National Weather Service, the U.S. Army Corps of Engineers, and the Federal Emergency Management Agency.
"What we're doing is treating the whole country as one big flow network like it was a set of pipes under the city," Maidment told KXAN, Austin's NBC affiliate. "All the rivers and streams in the country, just one, big network. Atmosphere to the oceans, coast to coast."
The result of all this is a national real-time flood information service that can precisely predict local floods in a matter of minutes, Maidment told Houston Public Media.
The National Weather Service will put NFIE forecasting models into operation in June, but sorting and analyzing the data is a monumental task—predictions for the general public aren't expected until next year. Still, that delay is a small obstacle compared to the impact such a system will have on limiting flood loss.
"Nobody had a clue it was possible," Maidment said. "And you better believe, predicting floods in 10 minutes for the whole country has generated waves in Washington."