By Elke Weesjes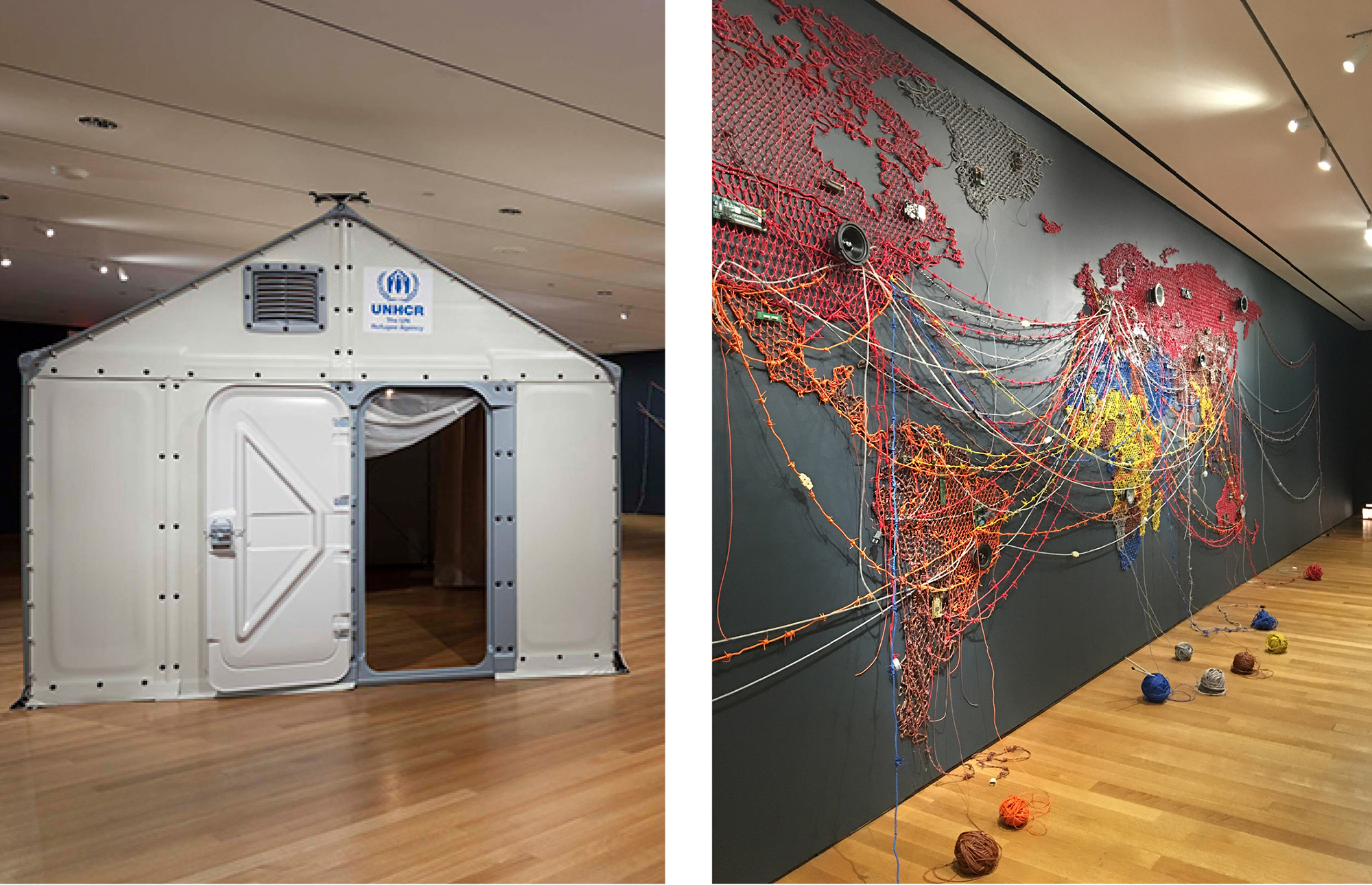 (l) Temporary Shelter jointly designed by IKEA Foundation, UNHCR and Better Shelter © Elke Weesjes 2016 (r) Woven Chronicle by Indian artist Reena Saini Kallat © Elke Weesjes 2016
Museum of Modern Art New York City
October 1 2016 till January 22, 2017
Organized by Sean Anderson, Associate Curator
INSECURITIES: TRACING DISPLACEMEN AND SHELTER at New York City's Museum of Modern Art explores the ways in which contemporary architects, artists, photographers, and designers have addressed notions of shelter, borders, and safety in light of recent global refugee emergencies. It is part of Citizens and Borders, a series of projects at MoMA that offer a critical perspective on the histories of migration, territory, and displacement.
This powerful and timely multimedia display includes interactive maps, elaborate art installations, and photographs of refugee camps and types of shelter. Functional objects distributed by UNICEF—including as plastic tarpaulins, water containers, a School-in-a-Box (containing materials to set up a makeshift school for about 80 students), and Adolescent Kits for Expression and Innovation filled with art and craft supplies—are also featured.
One of the exhibit's art installations, Woven Chronicle by Indian artist Reena Saini Kallat, is especially worth mentioning. This very large and colorful artwork traces the history of forced displacement due to natural disasters, war, famine, and economic hardship. It resembles a map of the world meticulously woven out of electrical wire that's treated like yarn. The map is overlaid with additional strands of wire that identify numerous migration routes. Many of these strands morph into barbed wire to remind visitors that the world is often not an inviting, warm, or nurturing place for migrants and displaced individuals. The installation comes with a sound component—factory sirens, ship horns, electric pulses, and engaged phone tones that reflect the nomadic and vulnerable nature of a migrant's journey. The piece stands out not just in size—it takes up a full wall—but also because it stimulates all the senses and encourages the viewer to take a step back and absorb the story the artist conveys.
The exhibit's center piece is a modular emergency structure jointly designed by the Swedish IKEA Foundation, the United Nation's High Commissioner for Refugees, and the Better Shelter organization. The 190-square-foot steel-framed and polyolefin-paneled shelter takes about four hours to assemble without the need of additional tools than the ones included. It comes—in proper IKEA fashion—flat-packed with panels, pipes, connectors, and wires in cardboard boxes. A textile sheet with aluminum woven into the material lays over the roof reflecting the sun during the day and keeping heat in at night. A solar panel on the roof provides enough energy to keep a light burning inside the shelter after dark and a door lock keeps people and their belongings safe.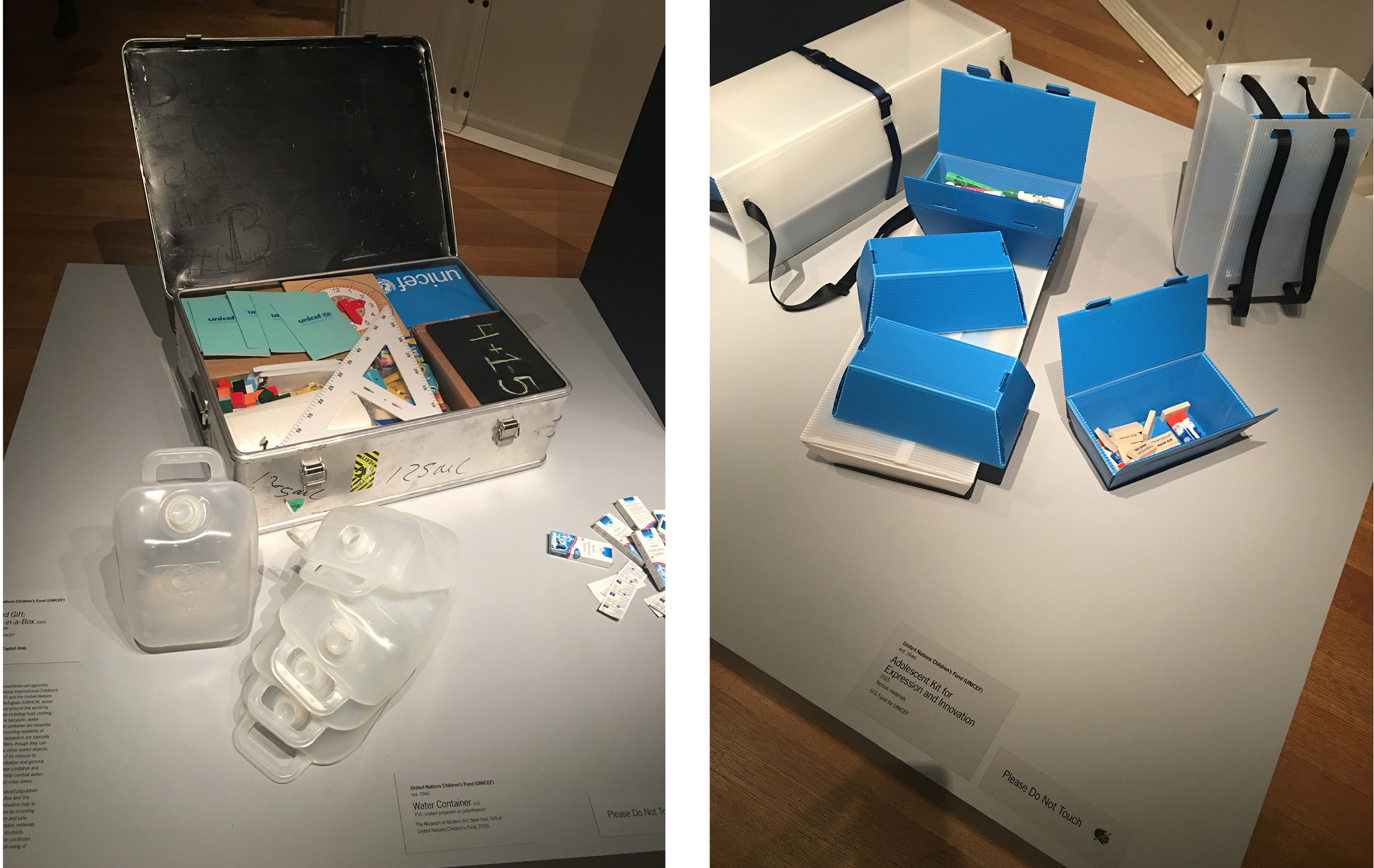 (l) The UNICEF School-in-a-Box contains materials to set up a makeshift school for about 80 students © Elke Weesjes 2016 (r) The UNICEF Adolescent Kits for Expression and Innovation filled with art and craft supplies © Elke Weesjes 2016
Visitors can access the unit and for just a moment you can begin to imagine what it is like to live in temporary housing with your family. The units can stand in for the standard UNHCR tents that are half the size of the IKEA design, can't be locked, and have the life span of about six months. The IKEA shelters, on the other hand, were designed to last at least three years. Since 2015, the UN High Commissioner for Refugees has sent more than 16,000 units all over the world.
Besides shelters and migration, pieces in the exhibit focus on borders and how so called border thinking establishes the ways in which we, as societies and cultures, isolate ourselves and keep others out. An extract of UNITED's List of Deaths1 emphasizes exactly how deadly that attitude can be. The installation takes up an entire wall just outside of the exhibit's gallery and offers a striking view of the death "wrought by Europe's inhumane migration policies" (UNITED, 2016).
The full list includes the details—name, age, country of origin and cause of death—of more than 22,000 migrants and refugees who died attempting to enter Europe, or "Fortress Europe" as UNITED calls it. This piece, unlike most of the other objects and artworks, is remarkably political and in-your-face. The sheer number of names on the list, including many young children, is a stark reminder of the human tragedy that is the refugee crisis.
While art and photography can't solve the refugee crisis and well-designed shelters are little more than a Band-Aid to address this complex problem, Insecurities: Tracing Displacement and Shelter is nonetheless important. When it comes to the refugee crisis, widespread compassion fatigue has set in. As the continuing war in Syria has faded into the background, the world has seemingly moved on. This exhibit, however, forces visitors to once again focus on what is happening in Europe and the Middle East and more importantly, what we can do to help ease some of the problems.
References
UNITED. 2016. "UNITED List of Deaths presented at MoMA exhibition" October, 7, 2016 http://www.unitedagainstracism.org/blog/2016/10/07/united-list-of-deaths-presented-at-moma-exhibition/ (accessed on December 9, 2016).
---
UNITED for Intercultural Action is a European network against nationalism, racism, fascism and in support of migrants and refugees founded in 1992. ↩