By Hannah Brenkert Smith and the WiRē Team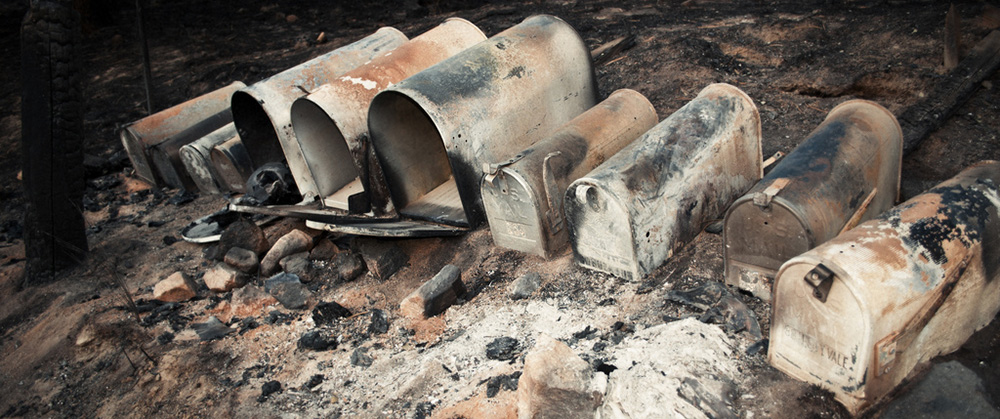 Charred mailboxes remain after a fire ripped through mountain communities near Boulder in 2010. ©Jeff Ruane, 2010.
The Sunshine Fire, which started in Sunshine Canyon just west of Boulder in the early morning hours of March 18, 2017, was a near miss. Near-miss events evoke different responses in the people that experience them.
For many residents, they serve as a wake-up call. The surprise or worry caused by the event can motivate them to reassess their property and plans for an emergency. These residents see new opportunities to reduce risk and prepare for the inevitable. Other residents, however, will see an event like this as an indicator that they are less vulnerable to wildfire than they thought. This line of thinking could lead them to let their guard down.
Regardless of how people respond to a near miss, though, it's clear that we need to learn to break the cycle that causes devastating wildfires. Reliance on fire suppression and building in susceptible areas has increased risk. The good news is that developing collaborations between the research and practitioner communities in order to infuse social science into programs shows promise for a new future.
In the case of the Sunshine Canyon event, Boulder narrowly evaded what could have been a devastating fire. The vast resources deployed in response reflect the scale of potential losses, but also reflects U.S. capacity to respond to wildfires that threaten communities.
For more than a century, the nation has dedicated a massive amount of resources to ensure the protection of both lives and property. Since 2000, the annual expenditures for fire suppression have exceeded $1 billion. Unfortunately, our wildfire suppression efforts have resulted in unintended consequences—including the buildup of vegetation, which exacerbates wildfire risk in many landscapes.
The Wildfire Suppression Cycle
In addition to the buildup of fuels, building continues to expand the wildland-urban interface (WUI), further contributing to the losses associated with increased fire activity. This growth doesn't just populate within the WUI—it effectively expands the footprint of the WUI itself, allowing for more dangerous interactions. In recent years dramatic increases in wildfires and their severity have been accompanied by clear evidence that projects the trend will continue as climate-related changes increase fire frequency and lengthen the fire season.
As a nation, we spend a lot of time and money fighting and suppressing wildfires to protect homes and communities. The current system of wildfire suppression puts us on a repetitive path with large fires that put firefighters at risk, burn homes, degrade water quality, and cost billions of dollars to fight. Each year, this cycle repeats and we react with further suppression and rebuilding rather than proactively addressing the problem.
Can We Break This Cycle?
There will always be wildfires. In fact, fire plays an important role in many ecosystems and we must continue to safely and effectively respond to and suppress dangerous wildfires. However, if we want to create safe and resilient communities, we must transform our relationship with fire from one where we react to wildfire events to one in which we take action before wildfires occur.
This transformation needs to include decision making on how and where we choose to fight fires and it must ensure that fire-affected communities rebuild in ways that don't recreate previous hazards. This kind of transformation will require deep and continued engagement with communities so we can reduce risk, reduce our reliance on fire suppression, and improve ecosystem health.
Such a transformation can be called by another name—adaptation. Fostering fire adaptation can help break the current cycle. Adapting to wildfire necessitates creating safe and resilient communities in an environment that lets fire play its natural role without destroying lives and property.
The Wildfire Research (WiRē) Team is an effort to do just that. WiRē is forging a new path to wildfire adaptation using strong researcher-practitioner partnerships, applied social science, and wise investments. Made up of team members from the University of Colorado, the U.S. Forest Service, the U.S. Geological Survey, the Bureau of Land Management, the West Region Wildfire Council, and FireWise of Southwest Colorado. WiRē brings an interdisciplinary focus to homeowner mitigation of wildfire risk and community adaptation. Applying the expertise from many fields—sociology, economics, fire management, and community development—is an effective approach that can be replicated in fire-prone communities across the nation.
How WiRē Works
The WiRē team gathers information about communities, their residents, what they think about wildfire, and the fire risk to their properties. The team then uses this local, community-specific information to develop and improve programs to support fire adaptation. This partnership approach helps communities create their own plans for fire adaptation based on characteristics that are unique to them and their strengths.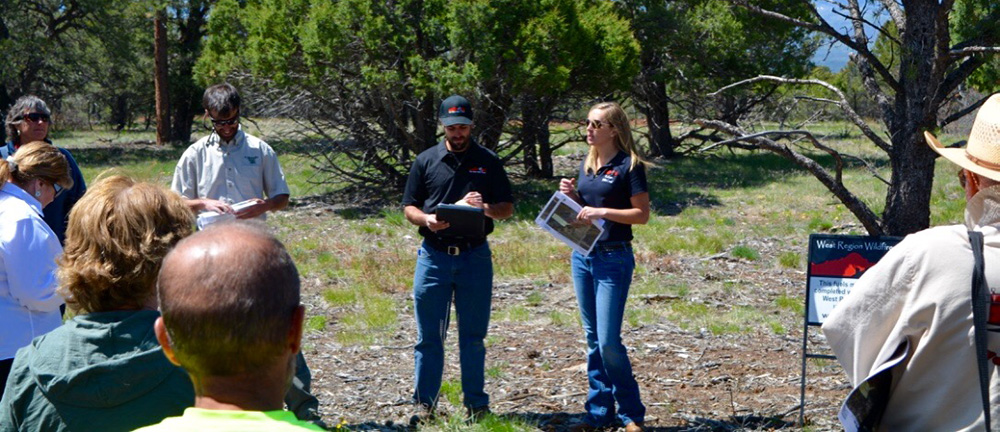 Jaime Gomez and Lilia Falk of WiRē meet with community members about effective wildfire mitigation. ©Colorado Association of Realtors, 2016.
Keeping the community at the forefront of this in-depth work results in positive changes that become long-term solutions. The partners involved really understand what residents think and know about wildfire and the local barriers to wildfire risk reduction. Their involvement in the collaborative process enables them to expand their toolkit for community engagement and they are invested in the community.
The WiRē team has seen innovations in community engagement that result in more private property owners taking steps to mitigate. We have also witnessed a dramatic shift in local government understanding of the barriers to risk reduction and seen officials carve new approaches to support fuel reduction. This applied science approach helps local wildfire management practitioners understand how best to invest their limited resources.
Living with Wildfire
The near-miss wildfire last week was an important reminder that in some places, including in Boulder's backyard, wildfire season is now nearly year round. Indeed, wildfire is a growing threat to lives, homes, and communities, particularly in the West.
And yet, the potential to transform our nation's relationship with wildfire exists and it rests with all of us. Developing an understanding of the benefits wildfire can play in helping us manage our public lands is only one step on the road to wildfire adaptation. But fire can only be allowed on the landscape near homes and communities when the conditions are appropriate—if private property owners take action to reduce risk and when the public supports forest and fuel management that reduces catastrophic risk. This is how we will break the cycle we've been locked into for the last century. This is how we will adapt.
To learn more about the work WiRē does, please visit their website or contact Hannah Brenkert-Smith at hannahb@colorado.edu or Patty Champ at pchamp@fs.fed.us.