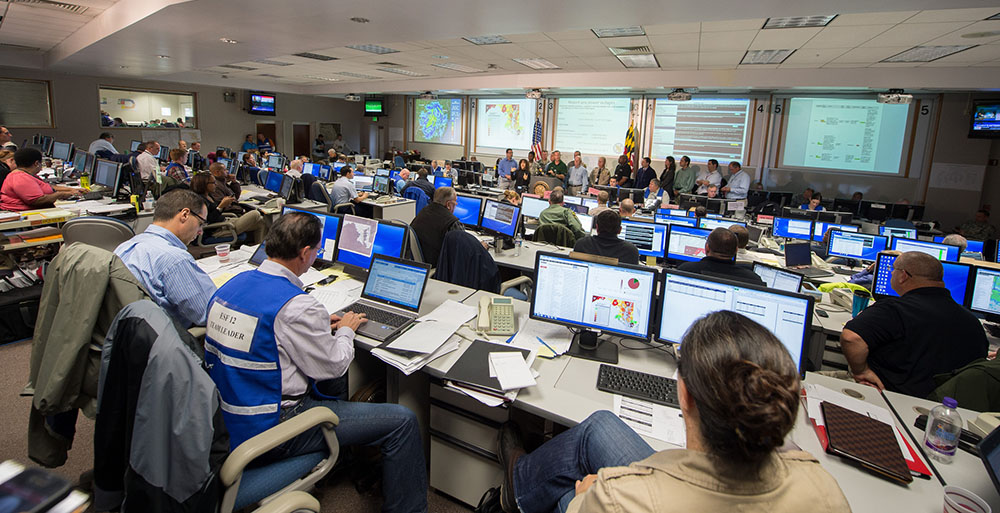 Officials hold a press conference on Hurricane Sandy at a Maryland Joint Information Center. Sandy is among recent high-cost extreme events that have caused federal agencies to look for other ways to fund disaster assistance. ©Jay Baker, 2012.
Disasters are expensive and each year the price tag goes up. Last year, insurer payouts for natural disaster claims worldwide nearly doubled to $50 billion. The United States has averaged more than $27 billion a year in disaster assistance obligations over a ten-year period, and the National Flood Insurance Program is in debt to the tune of about $23 billion.
There's got to be a better way, right? That's the question the Federal Emergency Management agency is asking—and the answer might lie, at least partially, in a plan to use a disaster deductible approach to coax U.S. states into investing in mitigation and resilience.
FEMA's plan (which is open for public comment until March 21) aims to reduce the cost of disasters by rewarding state investments in mitigation and risk-based planning. The agency posits that such a plan would help states better predict their disaster-associated spending and use taxpayer dollars more effectively.
While a similar model is in place for the agency's Fire Management Assistance Grant Program, the idea of implementing it in the scope of disaster wasn't met with complete enthusiasm. Many states see it as an additional financial burden and one that doesn't take into account their individual needs and ability to pay, according to the National Governor's Association.
"Adopting this approach would shift some responsibility away from the federal government to states," wrote outgoing FEMA Administrator Craig Fugate in a January 3 editorial. "But at the same time, a deductible would encourage state governments to implement proven initiatives that we know lower the costs of dealing with disasters, for everyone, over the long term. After all, the most important decisions to manage future risk happen at the local level."
A dated, but long-accepted metric holds that for every dollar spent on mitigation, four disaster-spending dollars are saved. With that in mind, it seems fair to incite states to invest in staving off disaster costs.
"The current system is basically all-or-nothing," Fugate told Governing in December. "It treats all states the same. It doesn't recognize states that do things to buy down future risk, and it doesn't do anything to provide incentives to states [to mitigate disaster risks]."
State representatives, however, have countered that argument by pointing out they already have incentives to keep cost low—the 25 percent in matching funds they must pay to receive federal assistance.
Regardless of which side of the argument is more valid, the fact is, states are likely to have to pay more for disasters in the future. Congress has suggested both raising the threshold for receiving disaster funding, or simply declaring fewer disasters—in which case, local governments would be left holding the bag entirely.
"Left unaddressed, politicians and budget slashers will take drastic action to curb skyrocketing disaster costs on their own in coming years," Fugate wrote in his editorial. "In so doing, they'll likely hone in on simple solutions that transfer costs and miss the real opportunities we have to save taxpayer dollars while making America more resilient as well."