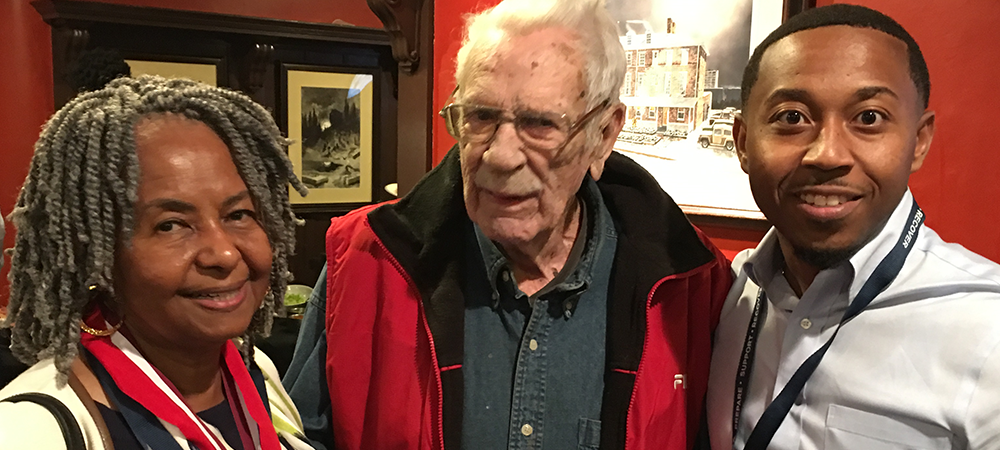 Russell Dynes, center, with Norma Anderson and Marccus Hendricks at the Bill Anderson Fund Fall Workshop in 2017. Dynes was known for his generous mentorship of new scholars. Photo courtesy of the Disaster Research Center
As the field of hazards and disaster research matures, it's not surprising that in recent years we have seen the passing of so many of its academic heroes. Not surprising, but painful nonetheless—especially when one of those heroes is Russell Dynes.
Dynes, whose work was foundational to understanding human behavior in disaster, died on February 10, 2019. He was 95.
As an early pioneer of disaster research, Dynes had a huge impact on scholarship in the field. He was an expert in the sociology of organizations, among other things, and he brought those insights to the study of emergency management. In his classic works, Dynes and his collaborators at the Disaster Research Center—which he co-founded and directed for many years—developed a series of typologies to describe how organizations respond to disaster and to characterize the roles that people within those organizations play.
Dynes also worked in the area of the sociology of science, and he spent much time tracing the roots of the field. He wrote a classic piece on the 1755 Lisbon earthquake that examined the letters of philosophers Voltaire and Rousseau; ferreting out what was perhaps the first recorded discussion of what we would now refer to as the social roots of risk.
"Although Russ is gone, 'loss' is not quite the right word to use," said Lori Peek, director of the Natural Hazards Center. "He has left an incredible legacy in his wake. Not only of writings that we consider required reading around here, but also of an academic family that he helped build through the Disaster Research Center. The work of this community has been deeply enriched through his many scholarly contributions and his commitment to others around him."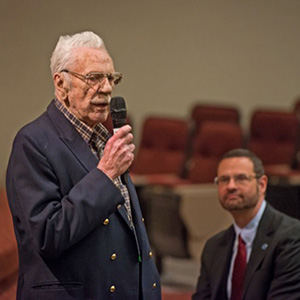 Russell Dynes speaks at the 50th anniversary of the Disaster Research Center, which he co-founded in 1963. Photo courtesy of the Disaster Research Center.
Dynes was born in Canada in 1923 and later immigrated to the United States. During World War II, he served in the U.S. Army where he worked to build a supply pipeline from India and into China. After the war he continued his studies, earning bachelor's and master's degrees from University of Tennessee and a PhD in sociology from The Ohio State University in 1954. His early work focused on the sociology of religion, and served as a basis for his future work in disaster.
By all accounts, Dynes was an engaging, unassuming figure known for his aversion to technology—he was still tapping away on the keys of a typewriter long after computers were the rage—and his ability to make personal connections. Many disaster researchers have tales to tell of anxiously meeting the vaunted luminary, only to be put at their ease. Tricia Wachtendorf, now a director of the Disaster Research Center, remembers first meeting Dynes, along with Enrico "Henry" Quarantelli, as a graduate student.
"It was like meeting rock stars," she writes in a memorial post. "But these rock stars were humble, kind, and generous mentors. As soon as Russ found out I was from Canada, he went on to share his origin story from north of the border, finding a way to connect and make this nervous graduate student still contending with imposter syndrome feel at ease."
Dynes is survived by three sons and four grandchildren. His full obituary can be found on his family's memorial site and memories can be left there, as well as on the Disaster Research Center's memorial.