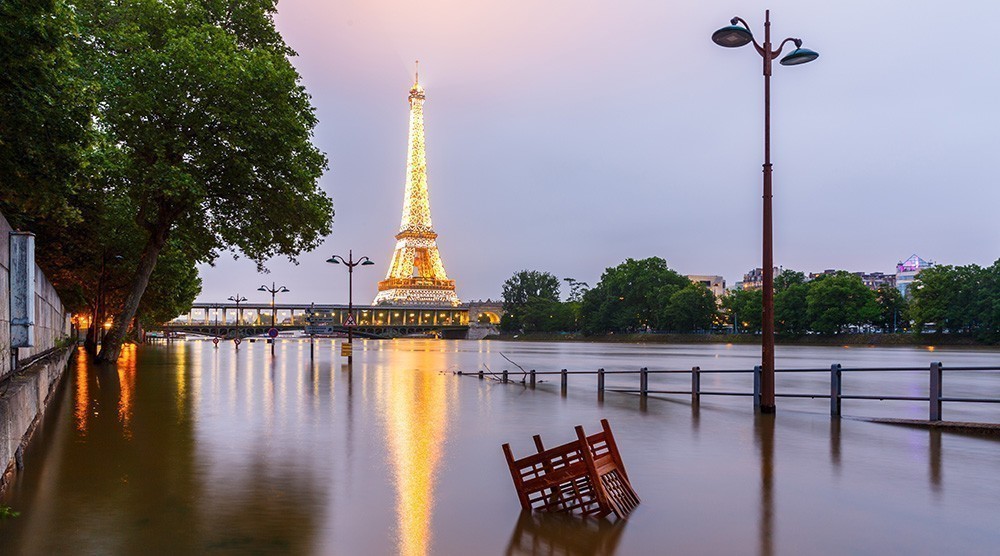 © Loïc Lagarde
By Elke Weesjes
In early June, a slow-moving storm system caused widespread flooding across Europe, killing 19 people in four different countries and causing large-scale evacuations.
It wasn't only residents that were evacuated—in Paris, where the Seine rose 20 feet above normal levels and inundated much of the city's historic center, artwork was also scuttled as museums scrambled to move their world-renowned collections to safety.
The staff of the Louvre and Orsay museums, home to famous works such as da Vinci's Mona Lisa and Degas' Little Dancer of Fourteen Years, moved a total of [35,000 pieces]http://(bit.ly/28RUrPR) from basement levels to upper floors.
"For the museums, even if fortunately there isn't any flooding of storerooms as of today, there is an automatic process [when the river rises] above 5.50 meters (18 feet) to move works in the deepest storerooms higher," Reuters quoted Paris deputy mayor Bruno Julliard as telling France Inter radio on June 3.
Fortunately, only the Orsay museum suffered—very minimal—water damage.
"There were small infiltrations in the basement but we are not up to our ankles in water," Orsay museum spokeswoman Amélie Hardivillier told the New York Times on June 6. "All of the artworks were evacuated on Friday, so there is no damage."
The Louvre and Orsay—which both reopened on June 8, five days after their emergency closure—were well prepared after holding a dry run of their respective emergency flood plans earlier this year. The Louvre plan requires art to be moved from lower levels to higher levels of the museum within 72 hours of the 18-foot rise mentioned by Julliard. For the Orsay, it's 96 hours.
Rising sea levels and increased storm frequency are threatening museums worldwide
While it's comforting to know that emergency procedures are keeping the great artworks of Paris safe, France is far from the only place where cultural artifacts are threatened by flood.
Rising sea levels and increased storm frequency are threatening museums worldwide and, subsequently, it is now their duty to play a more active role in safeguarding cultural heritage from the impact of climate change.
In the case of older museum buildings like the Louvre and the Orsay, this can mean putting in place elaborate evacuation plans that mobilize hundreds of specially-trained volunteers to prevent water from entering by building sandbag dams and blocking air ducts. Newer buildings, such as the Whitney in New York City and the Pérez Art Museum in Miami, Florida, have been able to incorporate flood prevention into their construction.
Halfway through its construction, the new Whitney building was hit by Superstorm Sandy and more than five million gallons of water flooded the site, The Atlantic reported. The disaster was a wake-up call for Whitney architect Renzo Piano, who hired naval engineers to create a custom flood-mitigation system for the building following the storm. One of the features of this innovative system is a 15,500-pound water-tight door, similar to those on U.S. Navy Destroyers.
"Buildings now have to be designed like submarines, " Piano's assistant Kevin Schorn, told The Atlantic.
The Whitney is now protected against a flood level of 16.5 feet (seven feet above the water level during Sandy) and can withstand an impact from up to 6,750 pounds of debris.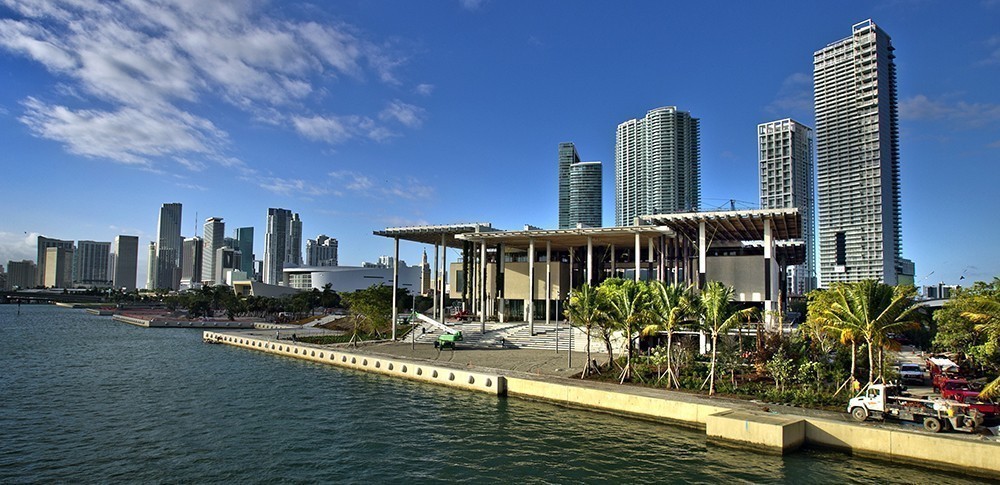 Construction of the Pérez Art Museum in Miami, Florida © Visit Florida 2013
The architects of the Pérez Art Museum, which was completed in 2013, also incorporated flood prevention. The three story structure was elevated about eight feet above sea level, has standby generators in case of a power failure, hurricane resistant glass, a porous-floored parking garage and rain gardens, both of which were designed to capture rain water and funnel it into the ground water system, thus reducing local flooding.
In recognition of these and other architectural achievements, the Pérez Museum received a Leadership in Energy & Environmental Design (LEED) Gold Rating for its innovative, durable, and sustainable design.
For museums worldwide that struggle with the impacts of climate change, the Pérez serves as a model of how to withstand those impacts, not only by being environmentally sustainable, but also by actively minimizing contributions to climate change. And that is becoming increasingly important if we want to preserve our cultural heritage, said English art critic and Guardian writer Jonathan Jones.
"[The flooding in Paris] is not just a bizarre consequence of a bit of bad weather. It is a stark warning that civilization can only survive in harmony with nature," he writes. "If we destroy our planet, we destroy not just our current way of life but the human heritage itself – the high points of civilization will be forgotten, drowned, ruined, effaced."