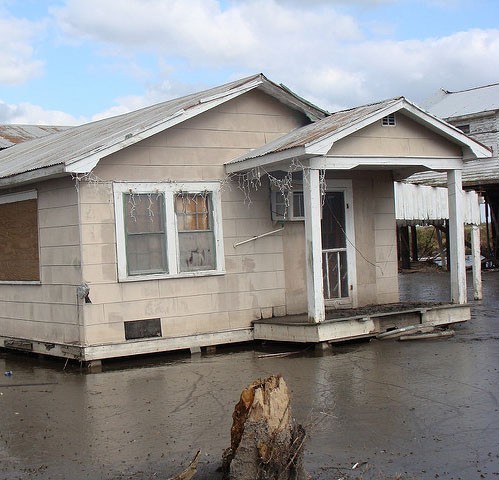 ©Karen Apricot. A home in Isle de Jean Charles is surrounded by water after a 2007 storm.
For a small group of Native Americans in Louisiana, the concept of home has been eroding for decades—literally and figuratively. Since the 1950s, the bayou has aggressively gnawed away at the island that the Isle de Jean Charles band of Biloxi-Chitimacha-Choctaw Indians call home, and with it has gone family members and a way of life.
Now, however, a one-of-a-kind plan to relocate island residents has gained footing, giving hope not only that the band might regain its disappearing culture, but also that it will serve as a blueprint for other sinking communities.
"If you ask us, it's worth saving. But is it possible at this point? I think it is just beyond," Tribal Executive Secretary Chantel Comardelle told the Guardian. "We're trying to replace what has been lost. And we're trying to pave the way so other communities can have a smoother ride."
The tribe's strategy is notable in that it will rebuild both the physical and cultural aspects of Isle de Jean Charles out of harm's way and that it will do so ahead of a disaster—relatively speaking. Since the island was settled in the early 1800s, it's lost approximately 98 percent of its landmass, according to the Lowlander Center, an advocacy group that has worked with the community for nearly a decade. The loss is attributable to both sea level rise and sediment mismanagement due to oil industry activity in the area.
As the land receded, Isle de Jean Charles has become more vulnerable to the increasingly extreme weather. Storms today can leave the community entirely cut off from the mainland and receding waters leave behind a range of public health hazards.
Despite the difficult conditions, however, residents of the island haven't wanted to leave. The tribe has twice voted to stay put, according to the Guardian—including once in 2002, when the U.S. Army Corps of Engineers offered them assistance after determining a flood protection system wouldn't extend to the island.
"No one likes to leave an area where they have history, a lot of memories," said Deputy Chief Boyo Billiot told Reuters. "We are people of the bayou."
Billiot's sentiment and the desire to stay in the face of so many hardships, even when assistance is available, speaks strongly to the vital role place and culture plays in threatened communities—a role that many relocation schemes either aren't sensitive to, or can't focus on because of their scope.
Funding opportunities, too, can be a barrier. Communities from Missouri to Alaska have learned that, even when the need and will to relocate is present, rarely is the money available outside of a federally declared disaster. That's not the case with the Isle de Jean Charles which, after many years of piecemealing small grants to support planning, was awarded significant funding through National Disaster Resilience Competition this year.
The award, which gets support from the U.S. Department of Housing and Urban Development and the Rockefeller Foundation, will funnel $48 million to the tribe's new location, expected to be north of Houma, Louisiana (a town that many of members moved to when they were forced to leave the island).
The new design will incorporate about 100 sustainable homes; a healthcare center; a produce market; a tribal center, and land for grazing, citrus orchards, and places to grow rice and raise crawfish. Plants native to the Island will be relocated, as well as other elements that represent the band's connection with their natural environment.
Even more importantly, though, the new site will allow those forced out by the water to flow back into the community.
"We're getting more and more people that want to move back because those that left, when they were living back here [they] had no rent, no mortgage," resident Boyo Naquin told the Guardian. "And now, they are living poor and have to have two families living together to make ends meet. This is going to put them in a good position to get back on their feet."
For a more in-depth look at the people and process involved in relocating the Isle de Jean Charles, be on the look out for the April Natural Hazards Observer, devoted to issues related to Native Americans and Disaster.