Enrico L. "Henry" Quarantelli didn't necessarily set out to blaze a trail in the sociology of disasters, but it's difficult to imagine where the field would be if he hadn't started down the path.
For nearly 60 years, his work has permeated almost every aspect of disaster studies and his insightful research serves as the basis for many of the preparedness, response, and recovery activities used today. Professor Quarantelli passed away April 2, 2017. He was 92 years old.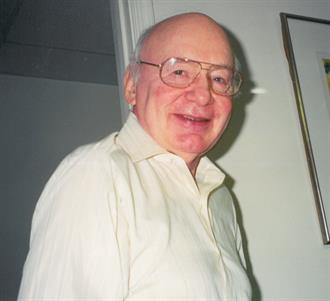 Enrico L. Quarantelli. Photo courtesy of the Disaster Research Center.
"I think perhaps his main gift to us and to the world was the gift of clear thinking about disasters," Jim Kendra, co-director of the University of Delaware Disaster Research Center, stated in a recent memorial to Professor Quarantelli. "He gave us methods and an art for seeing through the myths and misconceptions of these events, and for developing a better understanding of causes and consequences."
Professor Quarantelli earned his PhD from the University of Chicago in 1959 and began teaching there the same year. His work in the field was sparked by his involvement with the University of Chicago National Opinion Research Center, where he pioneered some of the earliest systematic research on the sociological aspects of communities in disasters.
He went on to cofound the Disaster Research Center at The Ohio State University along with Russell Dynes and Eugene Haas in 1963. The center, which moved to University of Delaware in 1985, was the first of its kind and has been a leader in field investigations and other aspects of the study of disaster ever since.
Along with a prolific body of research—including more than 400 publications—Professor Quarantelli also left a legacy in the ways in which disaster research is carried out. Notably, he was in the vanguard of researchers to employ quick response methods, in which researchers enter the field as soon as possible after disaster to gather perishable data.
Professor Quarantelli doesn't leave any immediate family, but by all accounts, those he taught and worked with considered him a father figure and patriarch of disaster research. Even after reaching the pinnacle of success in his field, he was known for his pragmatic and humble approach to learning, and for helping generations of researchers carry their work forward.
The Disaster Research Center has created a memorial page where those interested can read more about Professor Quarantelli's life and work, and leave thoughts, memories, and condolences. A celebration of his life is also planned on June 9. RSVPs are requested by June 1.