Flooding on Fanno Creek in Portland, Oregon. ©Tom Good, 2012.
Communities at risk for flooding are used to facing distinct challenges, but a recently proposed federal budget could magnify those trails.
Cuts are planned for many disaster-related programs, including rollbacks that eliminate funding for floodplain mapping, limit the ability to forecast extreme weather, and do away with programs that help prepare for and mitigate flooding. An arbitrary surcharge to flood insurance policies to support the construction of a border wall is also suggested.
The budget outline, released by the U.S. Office of Management and Budget Thursday, would decrease the Federal Emergency Management Agency's budget by $3.6 billion or about 11 percent, according to the Washington Post.
The outline includes a plan to end support for the National Flood Insurance Program's flood mapping products, which provides publicly accessible Flood Rate Insurance Maps (FIRMs) and risk assessments used to help communities determine flood risk and make development and infrastructure decisions.
"The Budget proposes eliminating the discretionary appropriation for the NFIP's Flood Hazard Mapping Program, a savings of $190 million, to instead explore other more effective and fair means of funding flood mapping efforts," the outline states. The mapping program has not been without its detractors, especially homeowners whose insurance rates suddenly increase as areas are mapped for the first time or updated to more accurately reflect risk.
Still, flood experts consider the program an essential piece of U.S. floodplain management. In written testimony to a congressional committee that is now reviewing reauthorization of the NFIP, Association of State Floodplain Managers Executive Director Chad Berginnis pointed out that more money is needed for the program, not less.
"The National Flood Mapping Program (NFMP) authorized by Congress in 2012 Reform Act was one of the most important elements of the legislation and is the right approach," Berginnis wrote. "A stepped up commitment to mapping flood risk is essentially critical as the administration and Congress plan a major investment in building and repairing infrastructure."
Budget appropriations in the past five years have fallen "far short" of the $400 million * per year set out in the 2012 legislation, according to the testimony.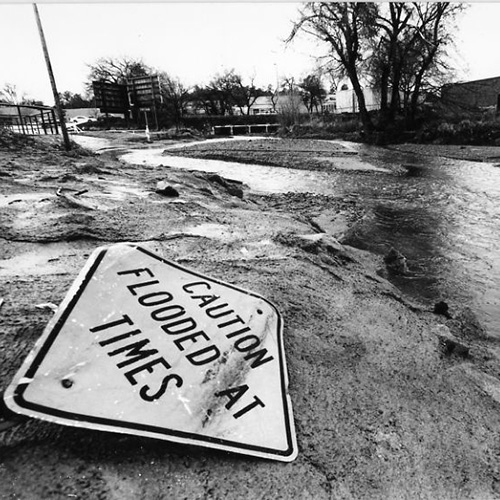 Flooding in Arizona. ©Delphic, 2004.
Another worrisome element in the budget outline is $667 million in cuts to state and local grant funding, including the FEMA Pre-Disaster Mitigation Grant Program and a scheme to restructure preparedness grant cost-sharing—both measures that could make it difficult for communities to build resilience to flooding and other disasters.
"Cuts to these disaster response programs would leave communities in the lurch to recover in the aftermath of a flood, hurricane, or tornado," writes water policy analyst Rob Moore in a National Resources Defense Council blog post. "Communities would have to rely on Congress to either make special appropriations (something Congress has done in 6 of the last 10 years due to FEMA already lacking adequate funding) or go without assistance."
Cuts to agencies outside of FEMA will also threaten those affected by flooding. For instance, a proposed 17 percent reduction in the National Oceanic and Atmospheric Administration's budget would have a lasting impact on NOAA's ability to forecast hurricanes and extreme weather events, and hobble the administration's research on sea-level rise and coastal resilience.
"Cutting NOAA's satellite budget will compromise NOAA's mission of keeping Americans safe from extreme weather and providing forecasts that allow businesses and citizens to make smart plans," former NOAA Administrator Jane Lubchenco told the Washington Post.
Similarly, the planned elimination of the U.S. Housing and Urban Development's Community Development Block Grant Program—a subsection of which helps low-income communities recover from disasters—could leave flood-affected areas without the resources to rebuild.
Even while these drastic reductions across agencies weaken the nation's ability to prepare for and respond to floods and other disasters, a proposal to add a surcharge paid by NFIP policyholders adds insult to injury. The added amount paid through the program—which is currently $24 million in debt—would be used to fund the border wall put forward by the Trump administration.
No explanation was given for why flood insurance policyholders might be expected to foot the bill for an immigration enforcement project, but the idea immediately drew the ire of politicians, especially those representing communities hard hit by Superstorm Sandy.
"President Trump now wants to pay for his giant wall on the backs of New Jersey storm victims and other homeowners who pay flood insurance, coupled with deep cuts to national security assets and disaster preparedness that would only weaken — not strengthen — our nation's security," New Jersey Senator Robert Menendez wrote in an email to the Asbury Park Press. "I have never seen such a wildly misguided set of priorities and I will do everything in my power to stop it."
On the bright side, there is hope that many of the suggested budget reductions will never come to fruition. In a useful blog post on the budget approval process, the Union of Concerned Scientists points out that "running the gauntlet of Congress" will be difficult, especially with a raft of cuts that will weaken red and blue states alike.
"There is certainly reason for concern about the vulnerability of specific federal programs and line items to spending cuts. People who care about science and research, public health, innovation and clean energy, international diplomacy, extreme weather and climate change need to be vigilant in articulating the importance of these priorities to their congressional delegations," UCS writes. "But the reality is that our system of checks and balances, as well as good ole' fashioned local politics, will make enacting the president's budget nearly impossible."
*This article has been corrected. Budget appropriations have fallen far short of the $400 million per year set out in 2012 legislation, not $4 million.