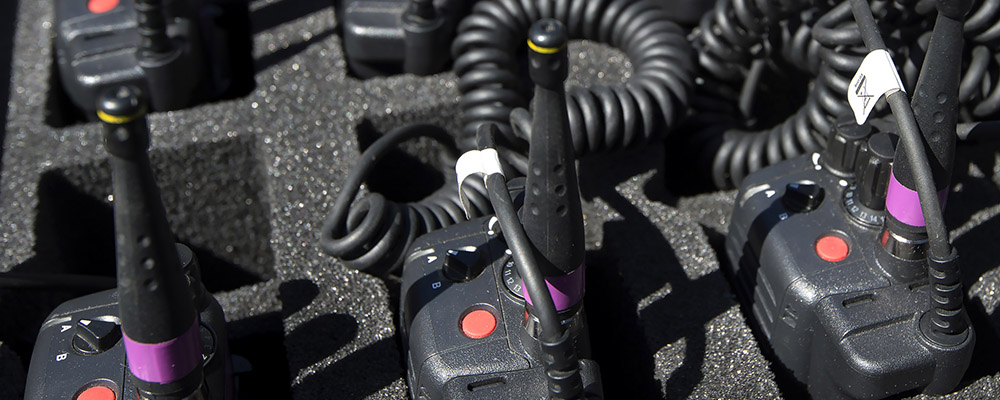 Interoperable radios await distribution after the launch of a provincewide communication network in Alberta, Canada. ©Chris Schwarz/Government of Alberta, 2016.
A single national communication network that would homogenize emergency communications is finally gaining traction, but exactly how—and if—states will use it is still unclear.
FirstNet, which was mandated by Congress in 2012, has been in the works for nearly 16 years—ever since 9/11 made it apparent that first responders needed a system that allowed disparate organizations to communicate more effectively in emergencies.
Until recently, efforts to build such a network have been hampered by a number of factors including advances in the type of information to be shared and tussles over where the network would live on the wireless spectrum.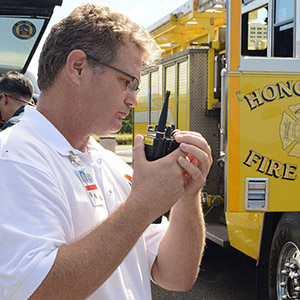 Norman Skorge of Ocean Safety and Lifeguard Services listens to radio communications during a rescue exercise near Honolulu to identify shortfalls in communication and coordination of response. ©Tara Molle, U.S. Coast Guard, 2016.
Tangible steps toward making the network a reality were made in March, though, when AT&T was awarded a $6.5 billion contract to begin building the system. The company expects to invest another $40 billion of it's own funds over the life of the network—about 25 years.
"For FirstNet, AT&T is building an entirely new communications network," Chris Sambar, a senior vice president for AT&T, told the Washington Post on August 2. "We want this to be the most secure network on Earth. We'll make sure it's as close to bulletproof as possible."
In return, AT&T will be able to sell bandwidth during downtimes on the dedicated spectrum space and will collect revenue from service plans—similar to a cell phone plan—that will be purchased by agencies.
Those service plans were rolled out to states in mid-June for a review period of up to 45 days. After that time, states have another 90 days to either opt in to the network or opt out and provide their own radio access network that will be compatible with FirstNet—a particularly onerous process.
"If you are going to opt out, you are going to have to jump through a lot of hoops to make sure you are technically interoperable, financially viable—there is a whole litany of things and it's a long process to opt out," FirstNet spokesperson Ryan Oremland told Emergency Management. "In designing this, Congress wanted the network to be interoperable, so there are a lot of checkpoints if you want to opt out."
As of August 17, FirstNet had announced that 15 states and territories had signed on to participate in the network.
While some states have looked into creating their own networks, the thinking has been that the obstacles to opting out will make FirstNet the most reasonable choice—indeed, one study found it found it to be the only choice.
A recent move by Verizon, however, might change that. The telecommunications giant announced on August 16 that it would be building its own network dedicated to public safety.
Although company spokespeople indicated that the network was meant to complement, not compete with, FirstNet, having an out-of-the-box solution to at least some of the opt-out hurdles is bound to muddy the waters.
Public safety-focused organizations, such as the International Association of Fire Chiefs, however, have pushed for state governments to opt-in to the network and there's concern that too many opt-outs could lead to the same fragmentation that FirstNet was created to avoid in the first place.
While it remains to be seen how participation in the network pans out, it's clear that the conversation about public safety interoperability isn't quite over. And with the majority of states and territories left to decide which direction to head, it's a salient point that state leaders say they're once again feeling the pinch of unfunded federal mandates.
"If the federal government wanted to be helpful, they could have by making an appropriation," former Maryland Governor Martin O'Malley told the government IT website StateScoop . "Instead, almost 15 years later, the solution they come up with is 'let us monetize your public safety broadband and eventually we'll get around to building a national network.' I wouldn't want to take that chance if I were a governor."