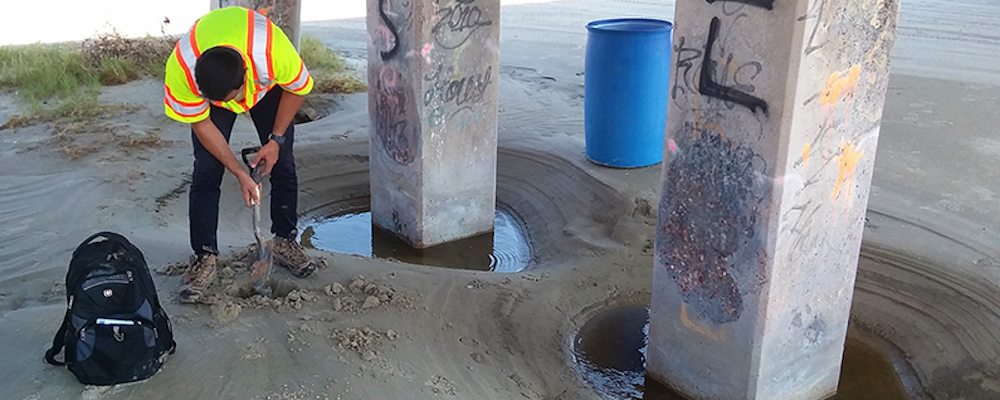 Examining scour holes at the San Luis pass after Hurricane Harvey (Image: Stephanie Smallegan with the Structural Extreme Events Reconnaissance team.
The Natural Hazards Engineering Research Infrastructure (NHERI) CONVERGE facility announces the release of its eighth online training module: Collecting and Sharing Perishable Data. This module provides an overview of what perishable data is, how to ethically collect it, and why such data is vital for advancing hazards and disaster research.
Developed with supplemental support from the Centers for Disease Control and Prevention to the National Science Foundation, this module discusses the importance of collecting and sharing perishable hazards and disaster data. This course is part of a series of online training modules designed to support students and emerging researchers to conduct ethical and methodologically sound studies.
The National Science Foundation-funded CONVERGE facility is headquartered at the Natural Hazards Center and is led by Lori Peek, sociology professor and director of the Center. "Social scientists and engineers have been collecting perishable data in the aftermath of disaster for decades," said Peek. "This module emphasizes how this research has advanced knowledge while also highlighting new frontiers for ethical post-disaster data collection and sharing."
---
---
Perishable Hazards and Disaster Data
The Collecting and Sharing Perishable Data Training Module defines perishable data and summarizes why and how it is collected by researchers from different disciplines. Drawing on empirical research, the module describes timelines and methods for collecting perishable data and provides examples of tools that facilitate perishable data collection and dissemination.
"There are some impressive new tools for researchers to collect, manage, and publish perishable data," said Candace Evans, a graduate research assistant at the CONVERGE facility and co-lead developer of the module. "For example, the RApp application — developed by the NHERI RAPID Facility at the University of Washington — includes field manuals, damage assessment protocols, and pre-existing survey instruments to facilitate field research planning and data gathering. Data collected using the RApp are automatically stored on the NHERI DesignSafe Cyberinfrastructure, which promotes secure data management and publication," Evans said.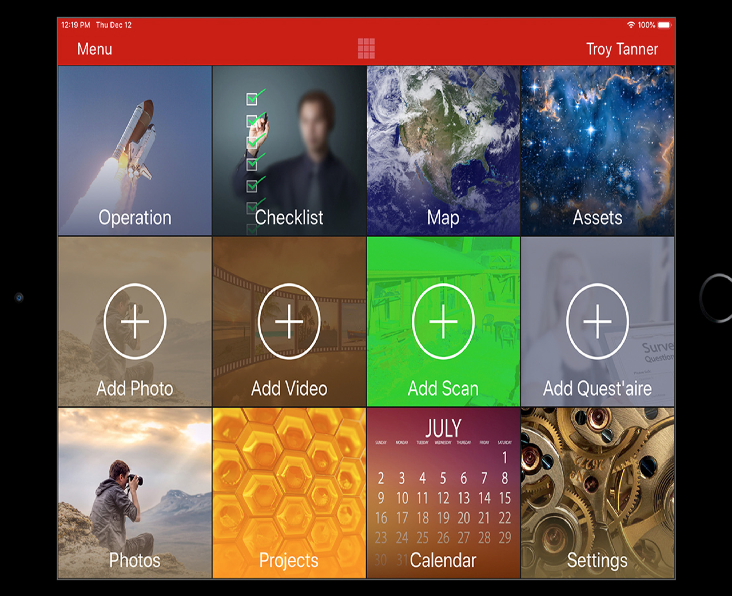 The Collecting and Sharing Perishable Data Training Module discusses how the RAPID App (pictured above) provides researchers with equipment, software, training, and other support services needed to collect, process, and analyze perishable data from natural hazards and disaster events. (Source: Berman JW, Wartman J, Olsen M, et al. 2020. Natural hazards reconnaissance with the NHERI RAPID Facility. Frontiers in Built Environment, 6. doi:10.3389/fbuil.2020.573067.)
The interactive module includes sliders, tables, and call-out boxes to present key concepts and case studies. The material summarizes common ethical and logistical challenges to collecting and disseminating perishable data, as well as strategies researchers can use to overcome these obstacles.
"There are specific challenges associated with the condensed timelines for collecting perishable data from disasters," said Rachel Adams, research associate at CONVERGE and co-lead developer of the module. "This module offers actionable recommendations for addressing these challenges. We really want to promote ethical and methodologically sound research practices," Adams said.
The final lesson includes examples of how perishable data has advanced our understanding in natural hazards and disaster research, practice, and policy. The module also includes links to additional resources and references to long-standing programs that support the collection of perishable data such as the Earthquake Engineering Research Institute's Learning from Earthquakes Program and the Natural Hazards Center's Quick Response Research Award Program.
The new module, like the others in the series, concludes with a 10-question quiz. Upon successful completion of the quiz, users receive a certificate, which is worth one contact hour of general management training through the International Association of Emergency Managers (IAEM) certification program.
The CONVERGE website includes lists of available resources and previously released modules on topics of social vulnerability and disasters, disaster mental health, cultural competence, Institutional Review Board procedures, emotionally challenging research, gender-based violence in fieldwork, and broader ethical considerations. The modules as well as supplementary materials including the CONVERGE Assignment Bank and Annotated Bibliographies are available for free online.
The next training modules to be released in the series include:
Public Health Disaster Research (in partnership with the Centers for Disease Control and Prevention)
Reciprocity in Field Research (in partnership with the U.S. Geological Survey)
To receive updates and information on new CONVERGE training modules and other resources, please subscribe here.
---
About the Natural Hazards Engineering Research Infrastructure
Funded by the National Science Foundation, the Natural Hazards Engineering Research Infrastructure—NHERI—is a network of experimental facilities dedicated to reducing damage and loss-of-life due to natural hazards such as earthquakes, landslides, windstorms, and tsunamis and storm surge. It is supported by the DesignSafe Cyberinfrastructure. NHERI provides the natural hazards engineering and social science communities with the state-of-the-art resources needed to meet the research challenges of the 21st century.
---
Acknowledgements
This CONVERGE Training Module is based upon work supported by the National Science Foundation Natural Hazards Engineering Research Infrastructure (NSF Award #1841338) with supplemental funding from the Centers for Disease Control and Prevention. Any opinions, findings, and conclusions or recommendations expressed in this material are those of the authors and do not necessarily reflect the views of the NSF or CDC.